2013 Japanese American Leadership Delegation
Overview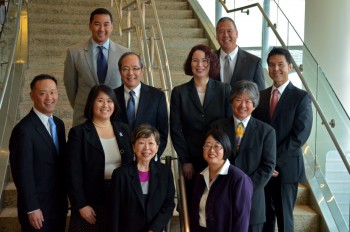 The 2013 Japanese American Leadership Delegation traveled to Japan March 8-16, 2013. For the first time in 12-year program history, the delegation visited Fukushima, one of the hardest hit regions by the March 11th disasters and nuclear crisis. They visited Fukushima Prefectural Medical University, an agricultural monitoring center, an elementary school and participated in the symposium "Towards Common Ground: Connecting Diverse Voices for the Future," sponsored by the Japan Foundation Center for Global Partnership. They then traveled to Tokyo to meet with senior leaders in the business and government sectors including Prime Minister Shinzo Abe and Foreign Minister Fumio Kishida. Click here for the press release.
Report
Click here to download the 2013 JALD Report.
Photos
Click here for photos from the 2013 Japanese American Leadership Delegation.
2013 Delegates
Julie Azuma (New York, NY)
President & Founder, Different Roads to Learning, DRL Books, Inc.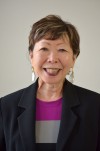 Julie Azuma started Different Roads to Learning in 1995. The company sells educational products for children diagnosed with autism, Asperger's Syndrome and other developmental disabilities. In 1999 she created DRL Books Inc., which publishes books and curricula related to teaching functional, social and academic skills to individuals with Autism and Asperger's Syndrome. Ms. Azuma received a B.F.A. in Apparel Design from Washington University in St. Louis. She had a career in the apparel industry as a designer and merchandiser working at many corporations. When her older daughter, Miranda, was diagnosed with autism at the age of six, Julie left the apparel industry to begin a niche business related to educating children on the spectrum. Ms. Azuma serves as the President of the Board of Asian Women in Business (AWIB), President of the Board of the Eden II and Genesis Foundation, and Vice President of the Japanese American Association of New York.
---
Marion Friebus-Flaman (Schaumburg, IL)
School Principal, Thomas Dooley Elementary School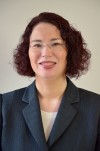 Marion Friebus-Flaman is the Principal of Thomas Dooley Elementary School in Schaumburg, IL. She has participated in the planning and development of a Japanese-English Dual Language program at the school, where half the students are native speakers of Japanese and half are native speakers of English. By the time they finish 6th grade, the goal is for each student to be bilingual, bi-literate and bi-cultural. This program is the first of its kind in the U.S. Dr. Friebus-Flaman spent the first six years of her life in Japan, and prior to her time with the Schaumburg School District, she spent six additional years as a foreign lecturer/instructor at two Japanese national universities. She has served as a member of the Illinois English Language Learner Assessment Advisory Committee and the Illinois Governor's Task Force on Growth Models. Dr. Friebus-Flaman holds a B.A. in English from Southern Illinois University at Carbondale, M.A. in TESL from the University of Illinois at Urbana-Champaign, M.S. in Educational Administration from Northern Illinois University and Ph.D. in Education from Capella University.
---
Martin Y. Iguchi (Washington, DC)
Dean & Professor , Georgetown University, School of Nursing & Health Studies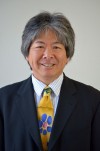 Martin Iguchi is the Dean of the Georgetown University School of Nursing & Health Studies. He is also an adjunct behavioral scientist at the RAND Corporation, where he formerly served as the director of the Drug Policy Research Center. Prior to joining Georgetown, Dr. Iguchi served as chair of the Department of Community Health Sciences within the School of Public Health at the University of California at Los Angeles. Dr. Iguchi has a long record of NIH and foundation funded research and scholarship aimed at improving public health. He has conducted extensive research on the intersections of drug addiction, drug policy, the criminal justice system, health disparities and HIV transmission. He is widely published and holds editorial roles with a number of scholarly journals, including senior editor for Addiction and member of the editorial boards for Drug and Alcohol Dependence and the Journal of Drug Policy Analysis. The recipient of a master's degree and Ph.D. in experimental psychology from Boston University, Dr. Iguchi is a fellow of the American Psychological Association and an elected member of its board of scientific affairs. He holds a B.A. from Vassar College.
---
Kenzo Kawanabe (Denver, CO)
Partner, Davis Graham & Stubbs LLP
Kenzo Kawanabe is a commercial litigator and Partner at Davis Graham & Stubbs LLP (DGS). He represents corporate clients in a variety of matters relating to contract disputes, business torts, products liability and intellectual property. He has significant litigation and trial experience in high stakes cases. Prior to joining DGS in 1998, he served as a law clerk for the Honorable Mary J. Mullarkey, Chief Justice of the Colorado Supreme Court. During law school, he studied Japanese law in Tokyo. Mr. Kawanabe also contributes significant time to community service. He was Chair of the Board of Directors of the Denver Foundation, one of America's oldest and largest community foundations. He also was Board Chair of the Colorado Lawyers Committee, a consortium of over 50 law firms dedicated to assisting children and the disadvantaged. He is on the boards of Colorado Legal Services and the Center for Legal Inclusiveness and serves as a member of the Chief Justice Commission on the Profession and U.S.-Japan Council. Mr. Kawanabe holds a B.A. from the University of Colorado and a J.D. from Georgetown University.
---
Emily Murase (San Francisco, CA)
Executive Director, San Francisco Department on the Status of Women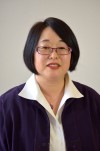 Emily Murase serves as Executive Director of the San Francisco Department on the Status of Women, where she oversees a $3.5 million budget to promote the human rights of the women and girls of San Francisco. Previously, she served in the first Clinton White House as Director for International Economic Affairs (1993-1994), after working for AT&T Japan in Tokyo, and she later worked in the International Bureau of the Federal Communications Commission. In 2010, Dr. Murase was elected to the San Francisco Board of Education and is the first Japanese American to serve on the school board. In 2009, Emily was named Woman of the Year by California State Senator Leland Yee and was recognized for her contributions to the women's community by the Democratic Women's Forum. Dr. Murase holds an A.B. in modern Japanese history from Bryn Mawr College (including a year at Tsuda College in Tokyo), a Master's degree from the Graduate School of International Relations & Pacific Studies at UC San Diego, and a Ph.D. in Communication from Stanford.
---
Verne Naito (Portland, OR)
Vice President, Naito Corporation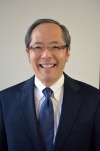 Verne Naito is a Vice President at Naito Corporation, a family owned and managed business. He oversees property management, real estate investments, financial management and new business development. In its 92-year history, the company has been an importer, distributor, retailer and real estate developer. Prior to joining Naito Corporation, Mr. Naito worked in management consulting and finance in high tech. Mr. Naito has held board and advisory board positions in numerous nonprofit and business organizations including: The Asian Pacific American Chamber of Commerce; Harvard Business School Alumni Association of Oregon; University of Portland, Center for Entrepreneurship; Japanese American Citizens League Portland Chapter; Portland Japanese Garden Society and Portland State University, Center for Japanese Studies. Mr. Naito received his B.A. from Pomona College and MBA from Harvard Business School.
---
Kelly Ogilvie (Seattle, WA)
Founder, Chairman, President and Chief Operating Officer, Quemulus, Inc.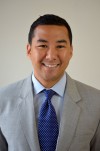 Kelly Ogilvie is Founder, Chairman, President and Chief Operating Officer of Quemulus, Inc., an "e-wallet" application accessible from a website and mobile devices. He is also Founding Partner of Social Milli, LLC, a social media consultancy that advises small and medium sized businesses on social media strategy. Prior to founding Quemulus and Social Milli, Mr. Ogilvie was Founder, CEO and President of Blue Marble Biomaterials. Before that time, Mr. Ogilvie worked with the Seattle Chamber of Commerce to promote business interests in Washington State, and also worked for Microsoft co-founder Paul Allen's Vulcan Real Estate division on developing the South Lake Union Corridor. He began his career in former Washington State Governor Gary Locke's office coordinating outreach efforts. Mr. Ogilvie also spent time as Deputy Director for former Mayor of Seattle Greg Nickels and currently serves on the Board of Directors of Extraordinary Futures and the External Advisory Board of Washington State University's Center for Environmental Research Education and Outreach. He attended Seattle University, where he received a B.A. in Humanities and International Business.
---
Eric Takahata (Honolulu, Hawaii)
Managing Director, Hawaii Tourism Japan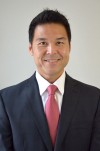 Eric Takahata has more than 20 years of experience in promoting tourism marketing and sales between the United States and Japan. He currently serves as Managing Director for Hawaii Tourism Japan, and is the official marketing contractor for the Hawaii Tourism Authority in Japan. He successfully created and implemented Japan Airlines Hawaii route marketing promotions, which increased JAL's profitability on the Hawaii route. Mr. Takahata holds a B.B.A. in M.I.S. from the University of Hawaii, where he was a Western Athletic Conference Scholar Athlete.
---
David Yamahata (Pasadena, CA)
Deputy Chief, Los Angeles Fire Department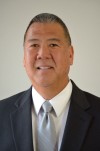 David Yamahata is a 35-year veteran of the Los Angeles Fire Department. He has served 16 years as a Chief Officer and with his most recent promotion, is the first Japanese-American to reach the rank of Chief Deputy in the Department's history. As Chief Deputy, he is responsible for supervising all fire and emergency medical service resources, serving the 470 square miles of the city of Los Angeles, as well as the Metropolitan Fire Communications dispatch center. As former Chief of Staff for the Fire Department, he served as a liaison between the Fire Department and the Mayor, City Council members and their staff in managing issues within the community to ensure public safety for the citizens of Los Angeles. Chief Deputy Yamahata holds a B.A. in Biology from University of California, Los Angeles. He has a Master's Degree in Emergency Service Administration from California State University, Long Beach. He completed the National Fire Academy's Executive Fire Officer Program in 2006.
---
Amy D. Yamashiro (Arlington, VA)
Data and Evaluation Coordinator, Arlington Public Schools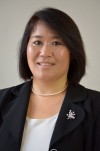 For over twenty years, Amy D. Yamashiro has worked in schools/education administration, as lead researcher, professor, classroom teacher, as Board Member for an independent elementary and middle school and on community and school advisory/task force committees. Her current work serves the Arlington Partnership for Children, Youth and Families. She makes data-driven recommendations to the County and School Boards concerning programs and policies for children, youth and families. In addition, Dr. Yamashiro is an Adjunct Professor at George Mason University's Graduate School of Education, Co-Coordinator for the Institute for Educational Leadership's Education Policy Fellowship Program and Educational Consultant on assessment/evaluation and educational research. She also serves on the Board for the Dream Project, Inc. She holds a B.A. in Psychology from Yale University, M.A. in TESOL from the School for International Training, and Doctorate in Education from Temple University.