2014 Asian American Leadership Delegation
2014 Program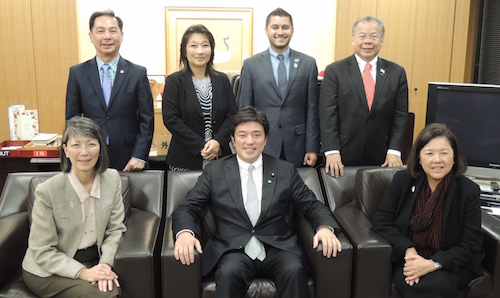 The 2014 Asian American Leadership Program (AALD) selected five state elected officials from diverse Asian American multicultural backgrounds and different regions of the country. The program consisted of a one-week trip from November 14-22, when the Delegation traveled to Tokyo and Kyoto to meet with Japanese political and government leaders, business executives and non-profit leaders to exchange ideas as well as create networks that can mutually benefit the U.S.-Japan relationship. The U.S.-Japan Council partnered with the National Asian Pacific American Caucus of State Legislators and the National Conference of State Legislatures for the program.
After the program, participants will have opportunities to continue pursuing an active role in U.S.-Japan relations by connecting with USJC's extensive international, national and regional networks. The Council will also continue its collaboration with the National Asian Pacific American Caucus of State Legislators and the National Conference of State Legislatures. There is a network already in place for the delegates to further their interests in U.S.-Japan relations, and USJC encourages them to remain connected.
Reflections
Click here to read reflection essays by the 2014 participants.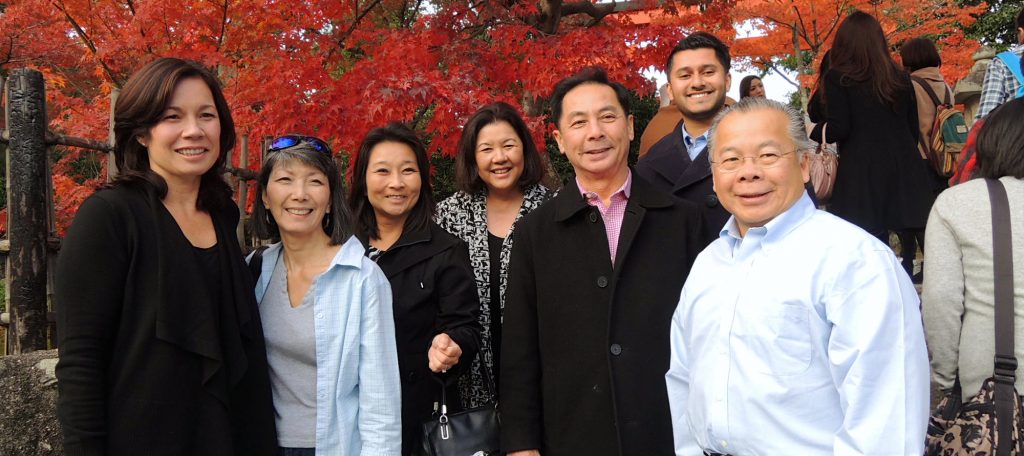 Summary
Japanese and American government leaders the legislators met included Mr. Yasuhide Nakayama, State Minister for Foreign Affairs; Mr. Naoki Takashima, President of the Tokyo Metropolitan Assembly; and Mr. Jason P. Hyland, Deputy Chief of Mission at the U.S. Embassy in Tokyo. Business leaders included representatives of Keidanren (Japan Business Federation) and Keizai Doyukai (Japan Association of Corporate Executives); Mr. Tadashi Yanai, Chairman, President and CEO of Fast Retailing Co., Ltd. and UNIQLO Co., Ltd.; Mr. Yorihiko Kojima, Chairman of the Board of Mitsubishi Corporation; and Mr. Yoshiyuki Kasai, Chairman Emeritus of JR Central.
They also met with the Japan Foundation and noted American and Japanese scholars. In Kyoto, the legislators met with Mr. Daisaku Kadokawa, the Mayor of Kyoto; Dr. Koji Murata, the President of Doshisha University; and Mr. Seiki Kuroda, the President of Kyoto Shimbun, among others.

On November 21, the last day of the program, the delegates spoke at a panel discussion in Tokyo titled "Diversity in Leadership: The Journey of Asian American State Legislators," discussing their varied personal and professional journeys as Asian Americans. USJC President Irene Hirano Inouye—who accompanied the delegation along with Irene Kawanabe, Director of the National Asian Pacific American Caucus of State Legislators—served as moderator.
State Minister for Foreign Affairs Nakayama came to the reception afterwards and delivered a toast. "Tonight's gathering is something that means a lot to the development of Japan-U.S. relations," he said, explaining that he wanted to do this as his last duty before he returned to his constituency (the House of Representatives had been dissolved earlier that day). "I sincerely hope that everyone gathered here today could join me to expand and strengthen Japan-U.S. relations, and actively contribute to promoting peace and prosperity in the Asia-Pacific [region]."
Photos
See photos from the program here.
2014 Delegates
Representative Sylvia Luke – House of Representatives, State of Hawaii
Assemblyman Raj Mukherji – General Assembly, State of New Jersey
Representative Sharon Tomiko Santos – House of Representatives, Washington State
Representative Hubert Vo – House of Representatives, State of Texas
Representative Donald Wong – House of Representatives, Commonwealth of Massachusetts
---
Representative Sylvia Luke
House of Representatives, State of Hawaii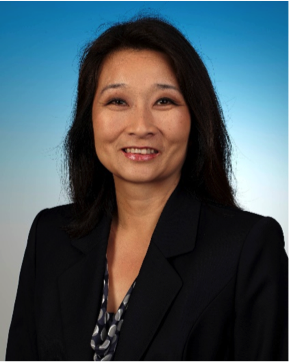 Representative Sylvia Luke was born in Seoul, Korea. She immigrated to Hawaii in her early childhood, attending and graduating from public schools. She received her B.A. from the University of Hawaii at Manoa in 1989 and received her law degree from the University of San Francisco Law School in 1995 where she was a member of the USF Law Review.
Representative Luke represents the 25th House District (Makiki, Punchbowl, Nuuanu, Dowsett Highlands, Pacific Heights and Pauoa) and is currently serving her seventh term. She is the Chair of the House Finance Committee but has also served as the Vice Speaker of the House; chair of the House Committee on Judiciary; Vice-Chair of the House Committee on Legislative Management; Vice Chair of the House Committee on Economic Development and Business Concerns; and Chair of the Select Committee on War Preparedness.
In 2000, she was awarded the Hawaii Technology Association Award for Outstanding Civic Leadership and the Korean American Coalition Pioneer Award in Leadership in 2003, as well as awards from the AARP and the Humane Society. Recently, she was the recipient of the 2014 Hawaii Women Lawyers Distinguished Service Award. In addition to her position in Legislature, she works an attorney for Cronin, Fried, Sekiya, Kekina and Fairbanks.
---
Assemblyman Raj Mukherji
General Assembly, State of New Jersey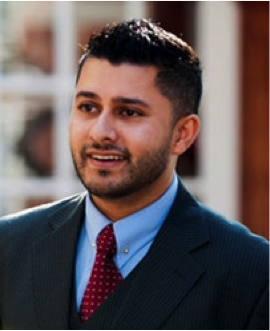 Assemblyman Raj Mukherji is a businessman, former Deputy Mayor of Jersey City, and former Sergeant in the Marine Corps Reserve. He sits on the Assembly Budget, Commerce and Economic Development, and Labor Committees. At 24, Raj was appointed Commissioner and Chairman of the Jersey City Housing Authority where he earned nationwide acclaim for his oversight and various reforms before being appointed Deputy Mayor of Jersey City. In 2013, Raj won a six-way Democratic primary election for Assembly and won the general election by a 20-point margin.
The son of Indian American immigrants, Raj supported himself beginning in high school as an emancipated minor when economic circumstances forced his parents to return to their native India. Raj's late father could no longer work as a result of a pituitary tumor and stroke but could not afford health coverage without employment. This experience shaped Raj's perspective and interest in healthcare policy.
Raj founded an Internet consulting and software development company in middle school and sold it to a larger technology company to enlist in the Marines two weeks after 9/11 at age 17, where he served in military intelligence. He earned his bachelor's degree from Thomas Edison State College, an individualized Master of Liberal Arts focused on national security from the University of Pennsylvania, and a Juris Doctor, cum laude, from Seton Hall Law School.
Assemblyman Mukherji is the second South Asian legislator in New Jersey history and is presently the only Bengali legislator in the United States.
---
Representative Sharon Tomiko Santos
House of Representatives, Washington State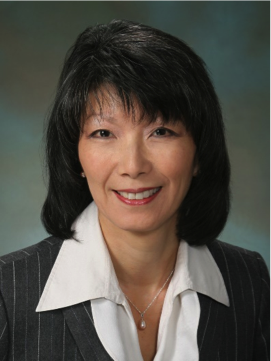 A community activist for more than 35 years, Sharon Tomiko Santos was elected to the Washington State House of Representatives in 1998. Representative Santos chairs the House Education committee and serves on the Business & Financial Services and the Community Development, Housing & Tribal Affairs committees. She also serves an appointment to the Washington State Educational Opportunity Gap Oversight and Accountability committee.
Her legislative proposals reflect her strong advocacy for quality public education for all students, for ensuring a well-trained educator workforce, and for closing the opportunity gap among different groups of students. In addition to education issues, her key policy interests include civil rights, women's rights, economic and environmental justice, and affordable housing. She believes in a level playing field to enable everyone a fair chance to succeed in school, in employment, and in life.
Representative Santos has served on many boards, including the National Asian Pacific American Caucus of State Legislators, the National Asian Pacific American Women's Forum, and the Seattle Chapter of the Japanese American Citizens League. She has received numerous awards for her legislative and community service, including the Kip Tokuda Community Leadership Award from the Asian Pacific Islander Community Leadership Foundation and the Leadership & Vision Award from Junior Achievement of Washington. A graduate of the Evergreen State College and of Northeastern University, Representative Santos has worked in the banking industry, on staff to local public elected officials, and in senior management positions for non-profit organizations.
---
Representative Hubert Vo
House of Representatives, State of Texas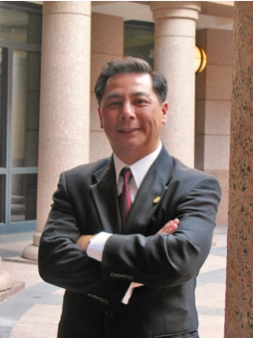 Representative Hubert Vo has proudly represented House District 149 in southwest Harris County since 2005. He currently serves as Vice-Chair of the House Committee Economic & Small Business Development and as a member of the Government Efficiency and Reform Committee and House Administration. He was elected by his colleagues as Chair Pro Tempore of the House Democratic Caucus. In the private sector, Hubert is a successful businessman, real estate developer and entrepreneur in the Houston area. After attending the University of Houston during the day and working as a machinist in the evening, he received a Bachelor of Science degree in mechanical engineering.
Hubert has devoted his time, inside and outside of the Legislature, as an advocate for education, health care, public safety and economic development. Speaking Spanish, Vietnamese, French, and English, he can seamlessly communicate with a vast spectrum of District 149 residents.
Hubert is dedicated to improving the quality of life for all Texans. He stresses the importance of education and healthcare in the cultivation of a flexible and reliable workforce for the 21st century economy. He believes strongly in the role of business within the community and the need for collaboration towards the goal of retaining American jobs while expanding job creation and development. Hubert is committed to working across party lines and partnering with his constituents to help District 149 achieve its goals and maximize its potential.
---
Representative Donald Wong
House of Representatives, Commonwealth of Massachusetts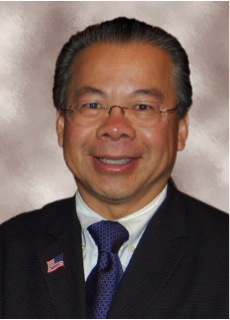 Donald Wong is serving his second term as Massachusetts State Representative of the 9th Essex District. He is also a co-owner of both his family's restaurant Kowloon on Route 1 and Nam Pai Academy in Chinatown.
His grandparents were the first to immigrate to the United States. Donald believes that success begins with family and communities. "Public service and paying forward was instilled in me by my parents and grandparents." He has taken this lesson to heart and has applied it throughout his career.
Donald supports his communities through a range of social initiatives; he has helped create safer communities with Neighborhood Crime Watch and Saugus Speak Out. With his business sense he has won battles to retain and fund schools, community services and the betterment of all communities. He is a co-founder and director of the Saugus Business Partnership, a board member of the Saugus Business Education Collaborative, Wang YMCA, member of The Hundred Club, a member of the Mason/Shriners, a past board member of the Asian American Commission, and past member of the Chinatown Neighborhood Council. Donald's work with communities in Massachusetts has also motivated him to advocate for greater diversity in government. "This country is made up of a mixture of all races and creeds. In order for government to understand the country's need, it has to represent that diversity." That is why Donald has helped to form an Asian Caucus at the State House.