2016 Japanese American Leadership Delegation
Overview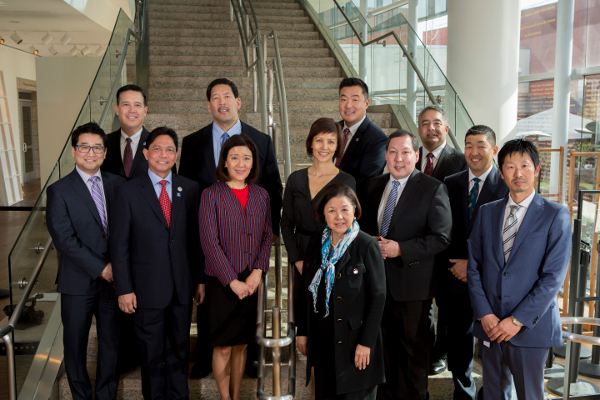 The 2016 Japanese American Leadership Delegation traveled to Tokyo and Kobe from March 5 to 12, and attended a pre-trip orientation in Los Angeles from January 29 to 30. The ten delegates of the 2016 Japanese American Leadership Delegation (JALD) program returned home on March 12 after a full week of meetings, discussions and networking opportunities with Japanese leaders. The purpose of the program is to build people-to-people relationships with Japanese leaders from various sectors of society in order to strengthen and diversify U.S.-Japan relations.
This year's delegation visited Kobe in Hyogo Prefecture. The delegates participated in a symposium titled "Toward a Secure Society: Challenges in Diversity and Inclusion", co-sponsored by USJC and the Japan Foundation Center for Global Partnership (CGP), with support from Kobe Shimbun, the U.S. Consulate General in Osaka-Kobe, the Hyogo Prefectural Government, the Kobe City Government and the Hyogo International Association. It was very well received, with over 120 individuals in attendance, including the Kobe Vice Mayor and the Hyogo Prefecture Vice Governor. The group also toured the Shu-Shin-Kan Sake Brewery, as well as the Kobe Biomedical Innovation Cluster.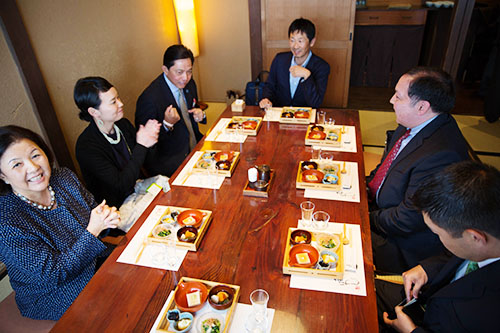 In Tokyo, the group met with Prime Minister Abe, with whom they discussed the strong relationship between Japanese Americans and Japan, the fifth anniversary of the Great East Japan Earthquake, and more. Irene Hirano Inouye thanked the Prime Minister for his speech at the 2015 USJC Annual Conference and said that USJC will continue to support Tohoku through TOMODACHI.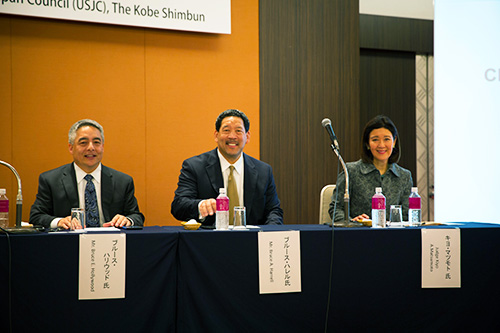 The delegates also met with many other individuals and organizations, including HIH Princess Takamado, the Ministry of Foreign Affairs, Keidanren (Japan Business Federation), Keizai Doyukai (Japan Association of Corporate Executives), Forum 21, Ambassador Masaharu Kohno, Japan Foundation CGP, the U.S. Embassy, Former Speaker of the House of Representatives Yohei Kono, Representative Taro Kono, the Japan-U.S. Parliamentary Federation and other Diet members.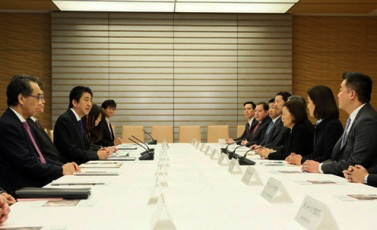 USJC Board Members Scott Sato, Ernest M. Higa, Paul Yonamine, as well as Council Leader Janelle Sasaki, shared their experience as Japanese Americans living and working in Japan with the delegation.
The JALD program is sponsored by the Ministry of Foreign Affairs and organized by USJC.
---
"As I got to know the incredibly talented and accomplished members of the delegation, for the first time, I met folks who lived the same experience [as me]. It is difficult to find words that can describe how it felt to make this personal discovery with my remarkable new friends, while experiencing the culture of my birthplace. It was surreal."

– Mr. Bruce Hollywood
"We took great pride that our delegation reflected the evolving and diverse faces of our Japanese American heritage, racially, and with regard to generational roots . . . What unified and inspired each of us was the desire to understand more about our shared Japanese cultural roots and the manner in which we could further contribute to the enhancement of relations between the United States and Japan."

– Judge Kiyo Matsumoto
---
Report
Click on the image below to see the 2016 JALD Report.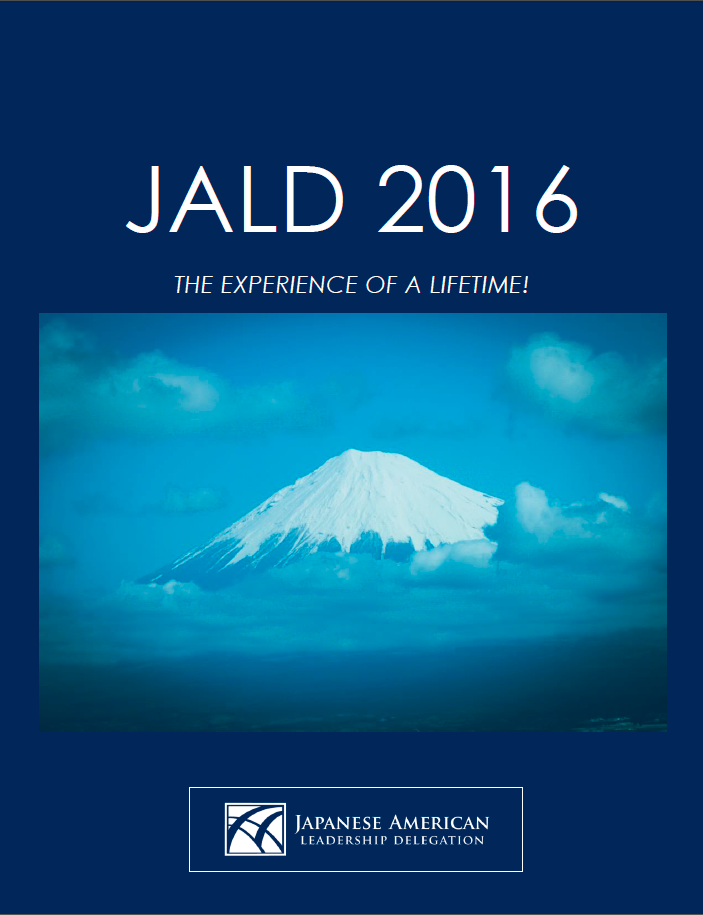 ---
2016 Delegation
Bruce Harrell (Seattle, WA)
City Council President
City of Seattle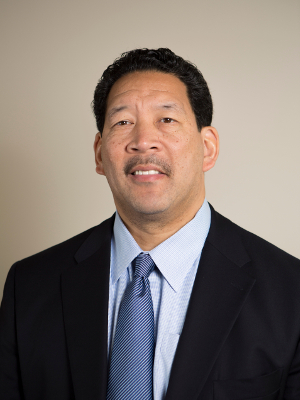 A native of Seattle, Mr. Bruce Harrell has spent over 25 years as an attorney and community volunteer. He was re-elected to the City Council in 2014 by the people of Seattle. In 2015 he was unanimously elected by his fellow Councilmembers to serve as Council President. Mr. Harrell serves as the Chair of the Council's Education, Equity, and Governance Committee and Vice Chair of the Human Services and Public Health Committee. He is currently working with the Seattle Women's Commission to develop policy on the wage gap between women and men in Seattle. He has served as the chief legal and business advisor to telecommunications companies, lending institutions, housing corporations, religious institutions and nonprofit groups. Mr. Harrell attended the University of Washington (UW) on a football scholarship, where he received a B.A. in Political Science. He became the 8th leading tackler in UW history and in 1979 was voted Defensive Player of the Year. He went on to earn a J.D. from the UW School of Law and later an M.A. from Seattle City University. Mr. Harrell was elected to the UW Alumni Board of Trustees and in 2008 and was honored by the university as a "Husky Legend."
Prefectures in Japan of ancestral origins: Kumamoto
---
Eric Shintaro Hiraga (Denver, CO)
Executive Vice President, Chief of Staff
Denver International Airport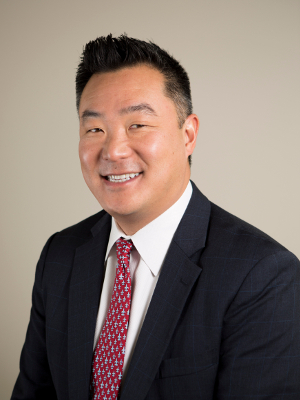 Mr. Eric Hiraga was appointed in January 2012 by Mayor Michael B. Hancock to serve as Chief of Staff at the Denver International Airport (DEN). He supports the Chief Executive Officer for oversight of DEN's divisions and is responsible for overseeing the airport's Executive Office, Air Service Development, Government Affairs, Customer Service, and Strategic Planning sections. Prior to joining DEN, Mr. Hiraga served as Vice President of Development Finance for a Denver-based real estate development firm. At the Department of Finance for the City and County of Denver, he worked as Debt Administrator. Prior to that, he was an International Trade Specialist for the Mayor's Office of Economic Development and International Trade. Mr. Hiraga received a B.S. in International Affairs from the University of Colorado at Boulder. In addition, he received the Peace and Friendship Fellowship from the Japanese Ministry of Education and studied foreign relations at the University of Tsukuba, Japan. In 2008, he was awarded the German Marshall Memorial Fellowship, a leadership development program for emerging leaders in the United States and Europe. In 2010, he completed the Senior Executives in State and Local Government Program at Harvard University's John F. Kennedy School of Government. Mr. Hiraga currently serves as President of the Japan America Society of Colorado.
Prefectures in Japan of ancestral origins: maternal side from Fukuoka, paternal side from Tokyo
---
Bruce E. Hollywood (Washington, DC)
Fellow
White House Leadership Development Program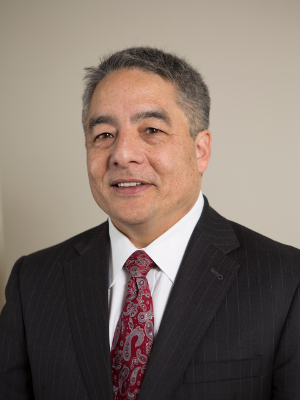 Mr. Bruce Hollywood is a Fellow in the White House Leadership Development Program. This new program is sponsored by the Executive Office of the President and is designed to build enterprise leaders to work on the federal government's highest priority and highest impact challenges. His focus during the Fellowship is improving Service Member and Veterans' Mental Health services. His previous position was Deputy Division Chief for the Joint Operational War Plans Division. In this position, on behalf of the Chairman of the Joint Chiefs of Staff, he enabled the formulation and maintenance of relevant and integrated campaign and contingency plans. Mr. Hollywood spent 21 years on active duty in the United States Air Force in Space and Missile Operations, retiring as a Colonel in 2007. He currently serves as the Executive Director of the Japanese American Veterans Association and is on the Board of the National Japanese American Memorial Foundation. He has two masters degrees and attended the Command and General Staff School at Fort Leavenworth, the Air War College at Maxwell AFB, and the Massachusetts Institute of Technology Seminar XXI program in Washington, DC.
Prefectures in Japan of ancestral origins: Shizuoka
---
Stan Masamitsu (Honolulu, HI)
President
Tony Group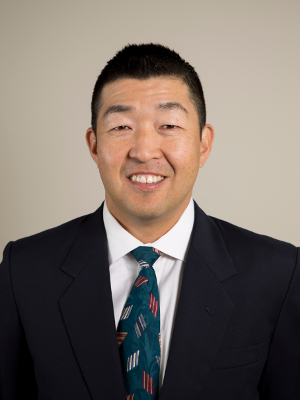 Mr. Stan Masamitsu has been President of Tony Group since 1996. He consolidated Hawaii operations into one contiguous location in 2000, and conceptualized, built and relocated dealerships into Hawaii's first and only auto mall, Tony Group Autoplex (representing Honda, Nissan, Volkswagen, & Hyundai brands). The company ranked as the 39th largest company overall and third largest automobile retailer in the latest Hawaii Business Top 250 list (2014). It is the current winner of Honda's President's Award, given annually to dealerships for overall excellence (4-time recipient). Mr. Masamitsu serves on Boards of several organizations, including the Hawaii Automobile Dealers Association, Leeward YMCA and Better Business Bureau Hawaii. In 2006, he was named Pacific Business News' "40 Under 40" Business Leader of the Year. Mr. Masamitsu's family moved to Hawaii from Japan at when he was age seven. He holds a B.S. in Business Administration from the University of Southern California.
Prefectures in Japan of ancestral origins: maternal side from Shizuoka, paternal side from Kochi
---
Kiyo Matsumoto (Brooklyn, NY)
United States District Judge
United States District Court for the Eastern District of New York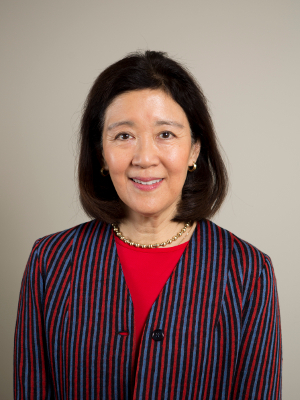 Judge Kiyo Matsumoto is a federal district judge of the United States District Court for the Eastern District of New York. She joined the court in 2008 after being nominated by President George W. Bush and confirmed by the Senate on a majority vote. Born to second-generation Japanese American parents, she became the second Asian Pacific American woman to serve as a federal district court judge. Judge Matsumoto was a private practice attorney in Washington State from 1981 to 1983. She then joined the U.S. Attorney's Office as an Assistant U.S. Attorney for the Eastern District of New York, where she presided as Chief of the Civil Division and Chief of the Financial Litigation Unit until 2004. She also served as an Adjunct Professor of Law at New York University School of Law from 1998 to 2004. She has served on the board or is a member of several organizations including the Federal Bar Council, the American Bar Association, the Asian American Bar Association of New York, the National Asian Pacific American Bar Association, the Japanese American Association, the Japanese American Citizens League and the Japanese American Lawyers Network. Judge Matsumoto received a Bachelor's Degree with high honors from the University of California, Berkeley and a Juris Doctor from the Georgetown University Law Center.
Prefectures in Japan of ancestral origins: maternal side from Tokyo and Nara, paternal side from Fukuoka
---
Monte Del Mar (NODA) MESA (Tamuning, Guam)
General Manager
Guam Premier Outlets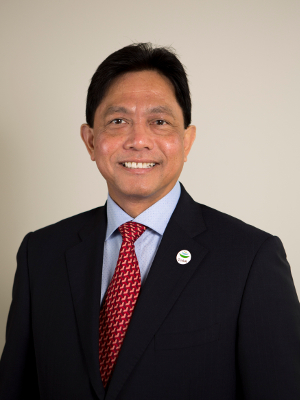 Mr. Monte Del Mar (Noda) Mesa has worked with members of the Japan Association of Travel Agents (JATA) over the past ten years, promoting Guam in Japan with the Guam Visitors Bureau. He has served as General Manager of the Guam Premier Outlets and Tumon Sands Plaza since 2001. Mr. Mesa has served on many community organizations; he is currently Board Director for the Guam Economic Development Authority and a past President of the Guam Nikkei Association. He is also an active member of the Rotary Club of Tumon Bay. He was awarded the 2009 Golden Latte Tourism Award from the Guam Visitors Bureau and the 2005 Outstanding Volunteer Award from the Guam Red Cross. Mr. Mesa attended Golden West College in Huntington Beach, California, and the University of Guam.
Prefectures in Japan of ancestral origins: Chiba
---
Eric Nakajima (Amherst, MA)
Director
Massachusetts Broadband Institute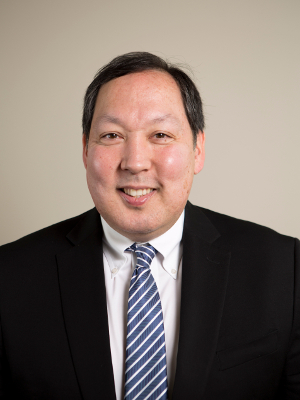 Mr. Eric Nakajima is Director of the Massachusetts Broadband Institute (MBI) at the Massachusetts Technology Collaborative. MBI is chartered and funded by the Commonwealth of Massachusetts, with the mission of partnering with the public and private sectors to extend the availability and utilization of broadband infrastructure throughout Massachusetts. From 2012 to 2015, he served as Assistant Secretary for Innovation Policy in the Massachusetts Executive Office of Housing and Economic Development. There, he led strategic initiatives to accelerate the growth of the Commonwealth's innovation economy, including initiatives to promote entrepreneurship, advanced manufacturing, collaborative industry/university research and commercialization. Among other projects, he led the Commonwealth's effort to develop the Massachusetts Green High Performance Computing Center and establish the Advanced Manufacturing Collaborative. Mr. Nakajima was a member of former Governor Deval Patrick's economic development team from 2007 to 2015. He holds a Master of City Planning from the University of California, Berkeley and a Bachelor of Arts from the University of Massachusetts at Amherst.
Prefectures in Japan of ancestral origins: Tochigi, Fukushima
---
Darren T. Nakata (Portland, OR)
Attorney-at-Law
Perkins Coie LLP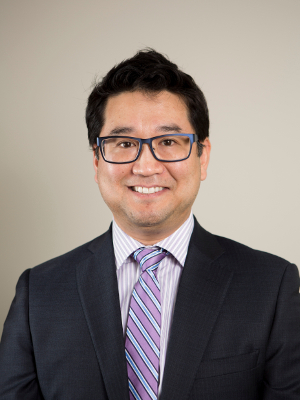 Mr. Darren Nakata, a Portland native, began his legal career in New York City at Cravath, Swaine & Moore. He currently practices law at Perkins Coie, the largest Pacific Northwest-based law firm with 1,000 attorneys in 19 offices around the world. He structures and executes business deals across the United States and abroad, advises entrepreneurs, startups and established companies, and leads high-profile mergers, acquisitions and corporate finance transactions. He serves as the Secretary of the Executive Committee of the Board of Directors of the Japan-America Society of Oregon. He is also on the Board of Directors of the Oregon Nikkei Endowment and the Oregon Korea Foundation. He is pro bono counsel to entrepreneurs and startups for the Lewis & Clark Small Business Legal Clinic, and has received Perkins Coie's 2014 Pro Bono Leadership Award and the Empire (New York) State Counsel Award for Pro Bono Service. Mr. Nakata earned his B.S. and M.S. from Stanford University and his J.D. from the University of Michigan Law School.
Prefectures in Japan of ancestral origins: Okayama, Fukuoka
---
Mark Yokoyama (Alhambra, CA)
Chief of Police
Alhambra Police Department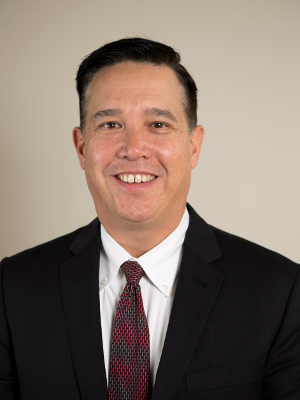 Police Chief Mark Yokoyama has 28 years of law enforcement experience and eight as Chief of Police. He is the first Asian police chief in Orange County, CA. In his current capacity as the Chief of Police at the Alhambra Police Department in Los Angeles County, he leads, directs and coordinates the activities of the Department's 150 employees to ensure the community's safety. Among other accomplishments, his agency facilitated cross-cultural communications through the use of social media and technology to foster community relations and engagement. They also created an award-winning mental health evaluation team consisting of trained police officers and a clinician from the Los Angeles County Department of Mental Health. Mr. Yokoyama is also a police academy instructor and Adjunct Faculty member at several Southern California community colleges, where he specializes in cultural diversity, community policing, community relations, and leadership and ethics in law enforcement. He holds a B.A. in Public Administration from the University of La Verne, an M.A. in Behavioral Science – Conflict Resolution from California State University, Dominguez Hills, and an M.A. in Public Policy, Executive Leadership from the University of Southern California.
Prefectures in Japan of ancestral origins: Kumamoto, Fukuoka and Hiroshima
---
Tasha A. Yorozu (San Francisco, CA)
Managing Attorney
Yorozu Law Group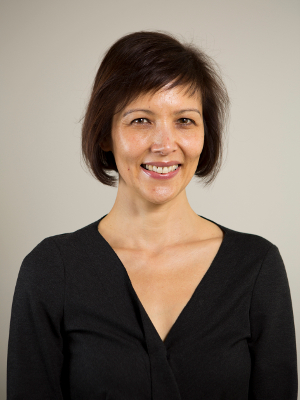 Ms. Tasha Yorozu is an attorney specializing in cross-border transactions, M&A, technology licensing and employment law. She advises on corporate structure, tax strategy, intellectual property protection, corporate governance and best practices. She has assisted numerous Japanese corporations in expanding their business operations in the United States. She has also consummated many M&A and strategic alliance deals. Raised in the Kansai area, Ms. Yorozu seamlessly navigates between Japanese and U.S. corporate cultures, social mores, languages and legal frameworks. She serves on the Board of Directors for the Japanese Chamber of Commerce of Northern California and the San Francisco-Osaka Sister City Association. She is also active with the U.S.-Japan Council and the Alliance Forum Foundation. She regularly contributes business articles to J Weekly Magazine. Ms. Yorozu holds a Bachelor of Arts from Bryn Mawr College, a Master of Business Administration from Willamette University, and a Doctor of Jurisprudence from the Willamette University College of Law.
Prefectures in Japan of ancestral origins: Hyogo, Osaka, Ehime
---
Background
The relationship between the U.S. and Japan is considered by many as the most important bilateral relationship in the world, and Japanese Americans are uniquely positioned to help shape it. The connections between Japanese and Japanese Americans are complex. While World War II played a major role in severing ties between Japanese Americans and Japan, today's opportunities for collaboration and mutual benefit are great and demand a renewed commitment to involving Japanese Americans in U.S.-Japan relations.
The Japanese American Leadership Delegation provides Japanese American leaders with the opportunity to become acquainted or re-engaged with Japan and participate in discussions related to the role that Japanese Americans can play in addressing key issues that face both countries, now and in the future.
The first delegation was invited by the Ministry of Foreign Affairs (MOFA) to visit Japan in 2000. It included third and fourth generation Japanese Americans selected from various professional fields including the educational, cultural, philanthropic, legal and political sectors. Since the initial trip, delegations of Japanese American leaders from throughout the United States have visited Japan every year since 2002.
Program Alumni
JALD Alumni have created a network to ensure that the commitment to strengthening U.S.-Japan relations is maintained. There have been JALD national reunions and several alumni groups have traveled back to Japan together to build on and sustain important relationships built on the program. Alumni of the program are invited and encouraged to join the U.S.-Japan Council's national networking of Japanese American leaders known as Council Members and participate in Council programming and events.