2021 Members Forum: Registration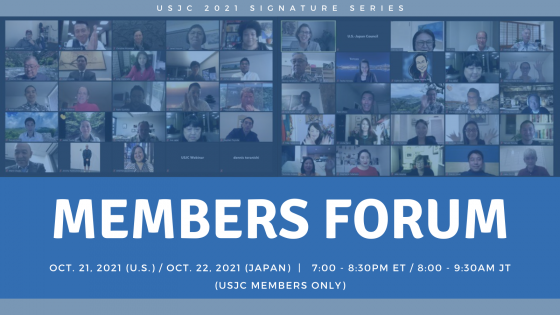 USJC Members Forum (Members Only)
Date: October 21, 2021 (U.S.) / October 22, 2021 (Japan)
Time: 7:00pm – 8:30pm ET / 8:00am – 9:30am JT
Where: Virtual Event
Registration: Click here. This event is members only. If you have not received an invitation, please contact Wendy Abe at [email protected].
Members of the U.S.-Japan Council are invited to join us for the Members Forum on October 21, as the next installment of our 2021 Signature Series that kicked off earlier this month with the Bilateral Boardroom. This virtual event will highlight a range of voices within the USJC community. Attendees will hear from USJC leadership and share their own visions for USJC's future, and network with other members through breakout sessions hosted by the USJC Board of Directors.
Click here to read more about the event's featured speakers and more.