Requests for Proposals (RFP)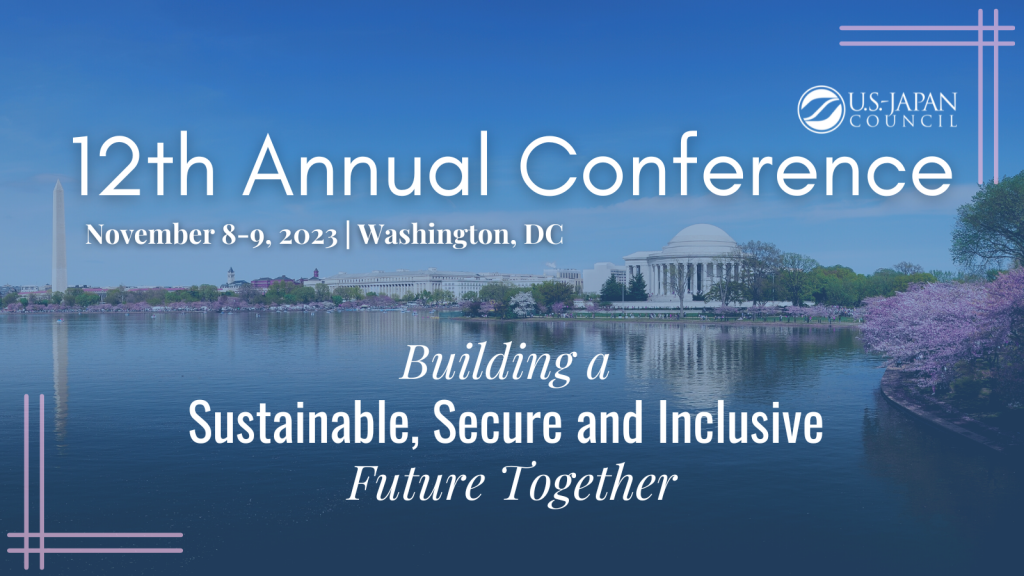 Request For Proposals: "Building a Sustainable, Secure and Inclusive Future Together"

In a world facing numerous challenges, charting the course between the United States and Japan is more important than ever. The January 2023 Biden-Kishida joint statement emphasized the need for timely action to address a myriad of issues in the Asia-Pacific region. This year also sees Japan and the United States hosting important high-level multilateral meetings: the G7 Summit in Hiroshima, Japan (May) and the APEC CEO Summit in San Francisco, CA (November). Both events will look at security, economics, health and other key issues and will prioritize the need for sustainability, security and inclusivity. The USJC 2023 Annual Conference will convene leaders in Washington, DC to discuss these issues and priorities, collaboratively set the agenda and fortify the networks needed for mutual prosperity.
This year, USJC is looking for interested individuals to help us co-create the Annual Conference. We will be accepting proposals to organize conference sessions to be held on November 8 and 9. If interested, please review the following in its entirety and send a brief abstract (50-100 words) by March 17 to [email protected]. Selected abstracts will then be asked to submit a full proposal by April 14. We look forward to receiving your proposals!
If you would like to share this opportunity with others, feel free to circulate this document.
Annual Conference At a Glance
Wednesday, November 8 will have public and private sessions scheduled throughout the day. These sessions will be for small (25-150 participants) to medium (150-300 participants ) size groups. There will not be a general plenary session on this day.
Thursday, November 9 will be organized around an all-day general plenary session (700-800 participants) with small to medium size breakout sessions scheduled throughout the day.
Guidelines for Proposals
EXPECTATIONS:
Co-creation of this conference is a collaborative process between you and USJC. Thus, the session lead serves as the main point of contact between the co-presenters and USJC and engages in the following duties and responsibilities:
Working with USJC as needed to refine a proposal under review or an accepted proposal to align with the conference goals;
Preparing session information for use on the conference registration website and USJC's marketing and promotion resources, as needed;
Inviting, confirming, and liaising with agreed upon speakers on an ongoing basis;
Submitting a final list of technology requirements needed onsite at the venue (due to USJC by August 31);
Submitting final presentation materials, if applicable (due to USJC by September 30); and
Working with USJC on any special needs or requests for the successful execution of the session.
USJC will provide oversight and feedback on accepted proposals to maintain alignment with the conference goals. In order to support you for a successful conference experience, USJC will:
Manage the conference registration process;
Market and promote the conference and its sessions;
Maintain creative control over the conference program content;
Provide logistical support as the liaison with the conference venue;
Cover reasonable, agreed upon costs associated with execution of the session (e.g. function space rental, audio/visual equipment, etc.); and
Provide any additional information as needed and is helpful.
IMPORTANT NOTE: Please note that all materials or information presented at the conference will be made publicly available through marketing/promotion and event execution, and stored on USJC's public resources (e.g., the USJC website, social media, etc.) and private databases. Sessions may be video and/or audio recorded for public access. All arrangements and intended use of materials or information will be disclosed and agreed upon in advance. USJC will make reasonable accommodations to not share or disclose sensitive or proprietary information with the public, upon request. Please send any questions or comments to [email protected].
TOPICS:
We encourage submitting proposals that align with the conference theme. Potential topics may include:
Climate and sustainability
Regional security and stability
Trade and economics
Business and investment
Technology and medical innovation
Digitalization and connectivity
Mental health and wellness
Education and workforce
Art, culture, and sports
Women's leadership and empowerment
Diversity, equity, and inclusion (DEI)
Next generation leadership
Local community issues
… and more.
This is not an all-inclusive list of potential topics. If you do not see your topic listed above, please feel free to send us your abstract; we will be happy to consider it.
SELECTION PROCESS TIMELINE
Selection will be a two-step process with the following timeline:
1. Abstract:
Submit a brief abstract of 50-100 words describing your topic or idea for your session to [email protected] as a Word, Google Docs, or PDF file. Please indicate your name, title, affiliation, mobile number, and email address when you submit your proposal.
The first priority due date of this abstract is March 17, and you will be notified by March 31 with a decision. If accepted, you will be asked to submit a full proposal. USJC will continue to accept and review abstracts and full proposals on a rolling basis after the first priority due date listed above until April 14 or all open session slots are filled.
2. Full Proposal:
Once your abstract is accepted, submit a full proposal by April 14. USJC will review and issue final decisions by April 28. See Required Information for Full Proposals for more detailed instructions.
For accepted proposals, USJC will follow up with you to coordinate the date and time of your session to be held onsite at the conference venue.
Required Information for Full Proposals
Please submit your full proposal as a Word, Google Docs, or PDF file to [email protected]. All proposals submitted to USJC must be in English and include the following:
Your contact information
Provide your name, title, affiliation, phone number, and email address.
Potential Speakers List
Provide a list of people who may be considered as speakers or co-presenters in the session (name, title, affiliation, and email address).
Session Title
Please keep it short, no more than 12 words recommended.
Abstract* 
Provide a brief summary of the session describing the purpose and key messages or experience to deliver in 100-200 words.
*Changing the topic of your session after submission will not be accommodated unless USJC suggests otherwise.
Session Format
Indicate if this will be a panel discussion, roundtable, fireside chat, lecture presentation, interactive workshop, or other type of format.
Session Length
Indicate your preferred session length of either 60 minutes or 90 minutes. If you would like to have a longer session (over 90 minutes), please specify.
Target Audience
Provide a brief description of the target audience and preferred session size (small: 25-150 people; medium: 150-300 people).
Technology & Room Layout
Indicate if any room layout preferences and technology solutions are required, including audio/visual, internet connection, clicker, wireless microphones, etc. Final equipment requests need to be made by August 31.