Reflection from 

Colby Takeda

 (ELP 2016)
I first became aware of the U.S.-Japan Council through my involvement in two TOMODACHI-sponsored programs, Rainbow for Japan Kids and the TOMODACHI-Aloha Leadership Program. Through these initiatives, I've been able to connect with hundreds of Japanese students, visit the Tohoku region multiple times, and work with many representatives of the U.S.-Japan Council to support the efforts of the TOMODACHI Initiative. It quickly became clear that this organization—the mission, the vision, the people and the activities—was something that I needed to be a part of.
I enthusiastically applied for the Emerging Leaders Program and, given the talents and achievements of the other ELP members, feel very honored and lucky to have been selected. The first time our ELP class met in person was at the hotel in Silicon Valley for the 2016 USJC Annual Conference. Almost instantly, we connected with each other through our shared interests and stories from home. Our relationships only strengthened as the week continued, and I became confident that these eleven new friends and I would continue to support each other even after the Conference concluded.
The connections formed through the U.S.-Japan Council are extraordinary. Everyone at the Annual Conference, from ELP alumni and other USJC members to the Board of Directors and USJC staff, were some of the kindest and most welcoming people around. It's been almost six months since the Conference and it's great to see so many relationships continue to develop.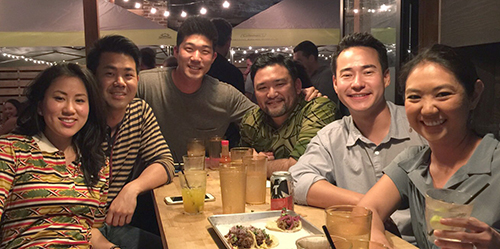 Here in Hawaii, our local USJC leadership does a fantastic job keeping members updated through frequent communication and meetings, and the local ELP alumni meet to simply catch up or enjoy local events together. The ELP alumni in Hawaii also have the pleasure of hosting many ELP members who visit, and in turn, I have been able to visit other USJC members as I travel to different cities. This has been especially helpful in getting the insider's guide to the best eateries in town. Being part of this amazing USJC network, which extends to people all around the world, has been so fulfilling and is, in my opinion, one of the core strengths of this organization.
I cannot be more appreciative of the many people who continue to believe in the Emerging Leaders Program, and whose compassion and commitment to the USJC mission motivates us to contribute to strengthening U.S.-Japan relations. I especially want to thank Irene Hirano Inouye, Kaz Maniwa, Allison Murata, our many sponsors, and the other ELP members for all of their support and energy. I'm truly excited for the future of this organization and look forward to another successful Annual Conference in Washington, DC.