AALD 2015 Symposium in Kyoto
The 2015 Asian American Leadership Delegation (AALD) is currently in Japan, about to begin their last day in Tokyo. The AALD program, currently in its second year, invites Asian American state legislators to Japan to meet with leaders in government, business and civil society. This year, six legislators are participating from states throughout the United States.
On September 28, the delegates spoke at a symposium at Ritsumeikan University in Kyoto, discussing their upbringings and political careers.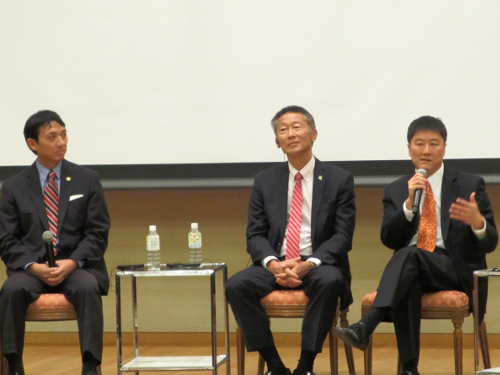 Senator Hoon-Yung Hopgood shared how he was born in South Korea and adopted by a loving family in Michigan. He said that his father inspired him to enter politics: "I wanted to make sure that children . . . throughout Michigan had the same educational opportunities that I had." Strong fathers were a common theme. Representative Kesha Ram said that her father, who immigrated from India, taught her not to be afraid of taking "the jungle shortcut" even if it seems risky, since "things work out and happen for a reason."
Politics run in the family for many of the legislators. Maryland State Delegate Kriselda Valderrama's father also won a seat in the Maryland House of Delegates and became "the first Filipino-American to hold a State Congressman position in the entire mainland U.S." Representative Mark Nakashima of Hawaii, who comes from a family of politicians, said: "My first exposure to politics was as a child walking with my mother going door-to-door in the neighborhood passing out campaign cards for my grandfather."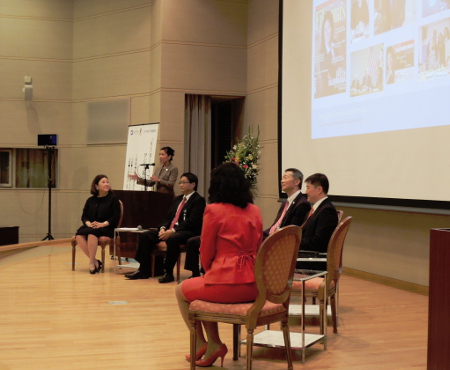 The legislators' passions strengthen their political life. Senator Ervin Yen of Oklahoma ran for office after decades of service as a doctor, and is now focusing on healthcare reform. Representative Scott Kawasaki enjoys the beautiful nature that his home state of Alaska offers, and is working on protecting the environment.
Addressing the large number of students among the audience, the legislators shared their insight on why young people should run for office. The two women politicians were especially enthusiastic in pressing young women not to be shy. "All voices matter in politics," said Representative Ram, who was first elected when she was 22. "No one else is going to speak for you."
Saki Matsuda, a TOMODACHI Inouye Scholar from Ritsumeikan, also shared her experience in the United States and her passion for strengthening U.S.-Japan relations.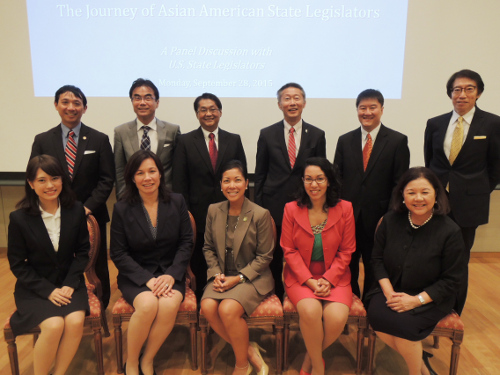 We thank the Sasakawa Peace Foundation for funding this program, and the National Asian Pacific American Caucus of State Legislators, the National Conference of State Legislatures, Ritsumeikan University and the U.S.-Japan Research Institute for their strong support!
For more about the symposium, see this article by The Japan Times.