Building a Leadership Network for Women and Men in Collaboration with the City of Dallas
Nearly 60 participants attended the first Regional Women in Leadership event in Dallas, Texas on October 5. Supported by and in collaboration with the City of Dallas, the workshop provided another unique occasion to gather women and men for USJC's continuing initiative and conversation on the advancement of women and men in leadership.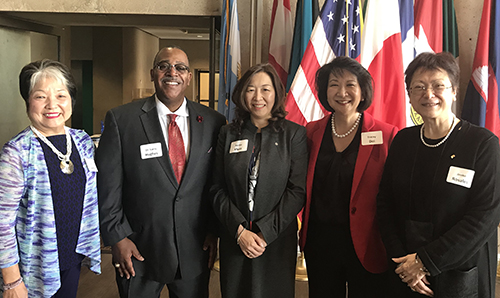 The event highlighted the accomplishments and challenges of women and men, while panelists provided practical advice and suggestions on advancing one's career. The topic of a changing workforce was also discussed. By 2025, 75% of the workforce will be millennials who possess technical skills, and who can provide reverse mentoring to older workers. This generation will have grown up with technology that provides immediate and consistent access to information. Although millennials need to understand the "why" of things, they are cautioned by older managers that even if their ideas are not implemented, they should not feel discouraged; it doesn't mean that they were not heard.
The workshop also featured two experienced executive coaches, Kay Iwata, K. Iwata Associates, Inc.; and Neena Newberry, Newberry Executive Solutions; who conducted career and skill-building exercises that assist with upward mobility for both women and men.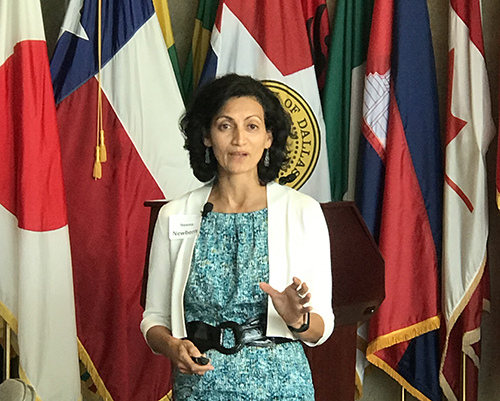 USJC Board Member Donna Cole served as Mistress of Ceremony. The audience was welcomed by Councilmember Jennifer S. Gates, City of Dallas; and heard remarks from John Stich, Honorary Consul General of Japan in Dallas; Consul General Hideo Fukushima, Consul General of Japan in Houston; and Irene Hirano Inouye, U.S.-Japan Council. Panelists included Tracey Doi, Toyota Motor North America (USJC Board Member), Inc.; Larry Hughes, 7-Eleven, Inc.; and Kyoko Vivas, Japan Airlines.
Special thanks to Council Leader Jiroko Rosales/Dallas Economic Development, Donna Cole / Cole Chemical; supporters and collaborators City of Dallas, Dallas Japanese Association, JETRO, Japan America Society of Dallas Fort Worth, and MOFA.
For more information, please see the print program here. Click here to see more photos.