Business Networking Initiative 2015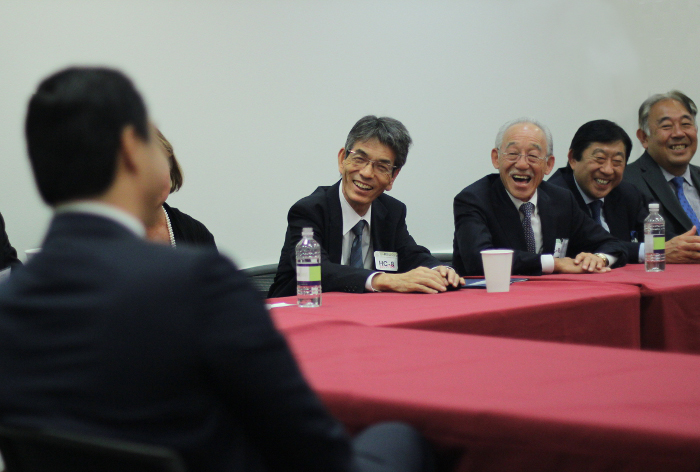 On July 13 and 14, the U.S.-Japan Council hosted the Japanese and Japanese American Business Networking Initiative meeting in Washington, DC. More than thirty participants– including representatives of seven Japanese Chambers of Commerce –attended from 12 states across the country. This marked the largest occasion of this annual meeting, which included discussions and meetings with government officials, business leaders, and Members of Congress.
The Business Networking Initiative is a dialogue that brings together Japanese and Japanese American business professionals to build relationships on a regional, national and international level. It is usually held in conjunction with the USJC Annual Conference, but was made a separate event this year as USJC's Annual Conference will be held in Tokyo this November. This allowed USJC to expand upon the discussions, in both time and content, and provided participants the opportunity to meet with prominent leaders in DC.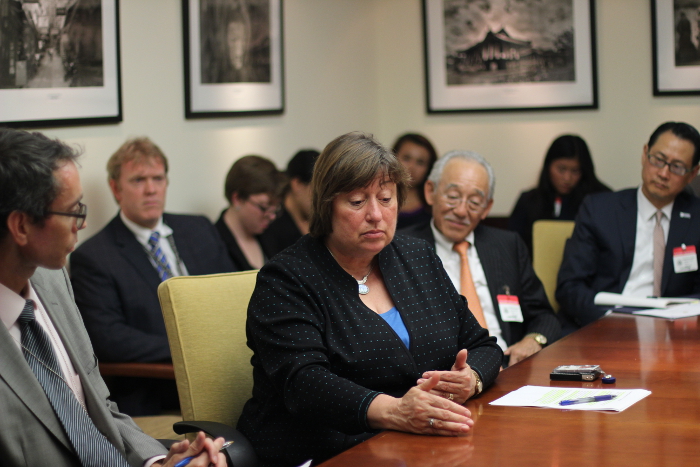 Dignitaries who met with the participants included Ms. Catherine Novelli, Under Secretary for Economic Growth, Energy, and the Environment at the U.S. Department of State, who discussed pressing issues in East Asia, such as the Trans-Pacific Partnership (TPP); Dr. Phyllis Yoshida, Deputy Assistant Secretary at the U.S. Department of Energy, who discussed U.S.-Japan energy initiatives; and Mr. John Getchis, Senior Vice President at the Office of Capital Markets, Ginnie Mae (part of the U.S. Department of Housing and Urban Development), who spoke about Ginnie Mae's partnership with the Japan Housing Finance Agency. During a discussion on Capitol Hill, Congressman Joaquin Castro (TX-20) shared his activities as Co-Chair of the U.S.-Japan Caucus, and Congresswoman Kyrsten Sinema (AZ-09) spoke of her appreciation for U.S.-Japan trade and Japan's recent initiatives to support women.
Other leaders who shared their expertise with the group included Mr. Kanji Yamanouchi, Minister of Economic Affairs at the Embassy of Japan; Dr. Kent Calder, Director of Edwin O. Reischauer Center for East Asian Studies at John Hopkins University's Paul H. Nitze School of Advanced International Studies; and Mr. Kurt Tong, Principal Deputy Assistant Secretary for the Bureau of Economic and Business Affairs at the U.S. Department of State. In between these meetings, the Japanese chambers of commerce reported on their respective growth, membership and activities from this past year, and USJC leadership, including Chairman Dennis Teranishi and Founding Chairman Tom Iino, discussed the future of USJC.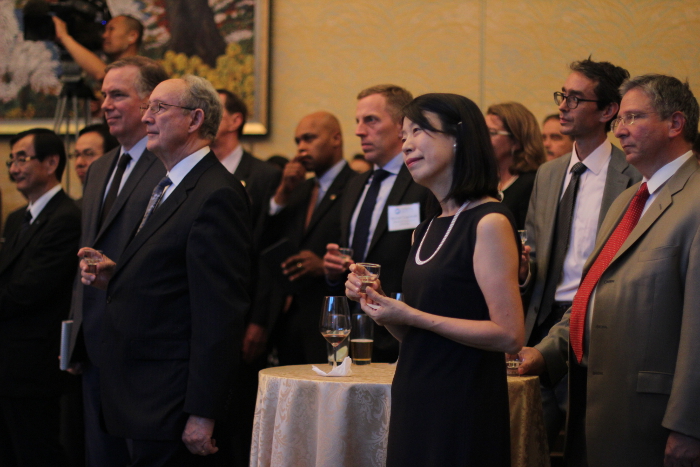 The intensive schedule also included receptions on both evenings. On July 13, Ambassador Kenichiro Sasae generously hosted a reception at his Residence, welcoming over 200 leaders and officials from Japanese and American governments and businesses. Mr. Daniel Russel, Assistant Secretary of State for East Asian and Pacific Affairs; Ms. Caroline Atkinson, White House Deputy National Security Advisor for International Economic Affairs; and Ambassador Sasae each spoke of U.S.-Japan economic relations, voicing their strong support for TPP. "Trade is not a zero-sum game; it can lead to more productivity, higher wages, more innovation and better allocation of resources around the world," Ms. Atkinson said. Dr. Ellen Williams, Director of the Advanced Research Projects Agency-Energy (ARPA-E), spoke of scientific collaboration between the two countries. USJC President Irene Hirano Inouye discussed the role regional ties play in strengthening U.S.-Japan relations overall.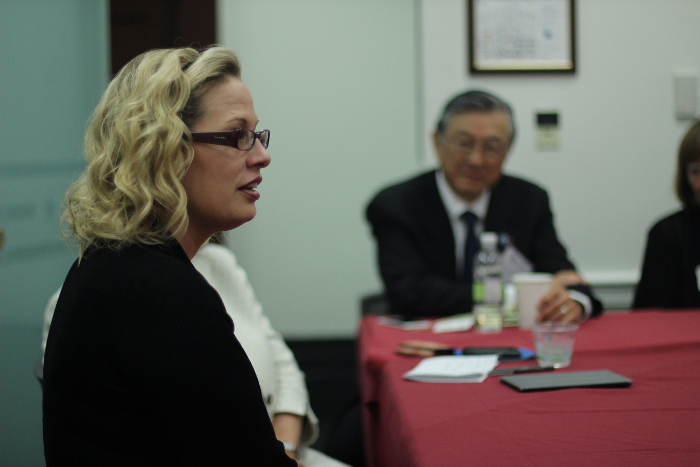 On July 14, USJC hosted a Capitol Hill reception welcoming several Members of Congress, in which the Members had the opportunity to meet with their corporate constituents. Congressman Steny H. Hoyer (MD-05), Democratic Whip, discussed how stronger U.S.-Japan relations benefits the United States, such as by increasing investments and creating jobs, as outlined in the House Democrats' "Make It In America" plan (which he leads). "Working together will ensure that the 21st century is much more peaceful, productive and positive," he said. Other Members of Congress who made remarks during the reception were Congressman Ami Bera (CA-07), Congresswoman Lois Frankel (FL-22), Congressman Al Green (TX-29), Congressman Mark Takai (HI-01) and Congressman Mark Takano (CA-41). In addition, Ms. Kaitlin Sighinolfi, from the office of Congressman Charles Boustany (LA-03), Co-Chair of the U.S.-Japan Caucus, attended the reception as well.
Mr. Mark Gorman, Senior Vice President of Government Relations at the Distilled Spirits Council of the United States (DISCUS), also expressed his appreciation for trade between the two countries. The program concluded with a toast to stronger U.S.-Japan relations and the importance of mutually beneficial trade between the two countries by Minister Hiroyasu Izumi, the Deputy Chief of Mission of the Japanese Embassy in the U.S.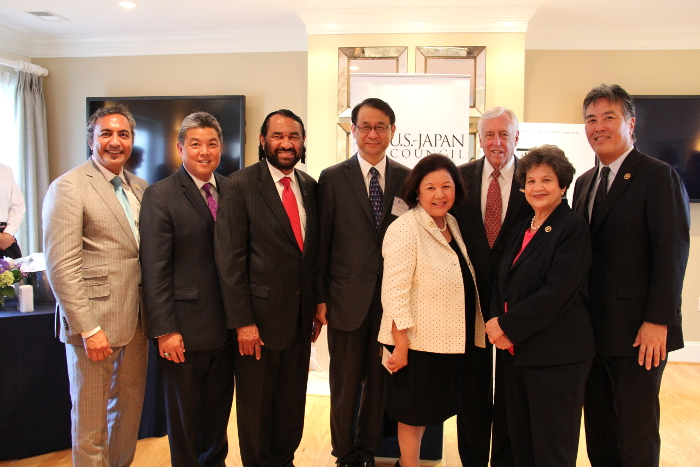 The participants of the two-day event have expressed their appreciation in meeting so many government and business leaders, and said that they look forward to sharing with their local communities what they have learned. USJC extends its sincere appreciation for the participants, the generous supporters (DISCUS, Oracle, Hitachi, Ltd. and Mitsubishi Heavy Industries America, Inc.), the leaders who met with the participants, and everyone who attended this event.
Please visit our Flickr page to see more photos or our Storify page to view the social media recap of the event.