Chiura Obata: An American Modern
When
–
Where
Okayama Prefectural Museum of Art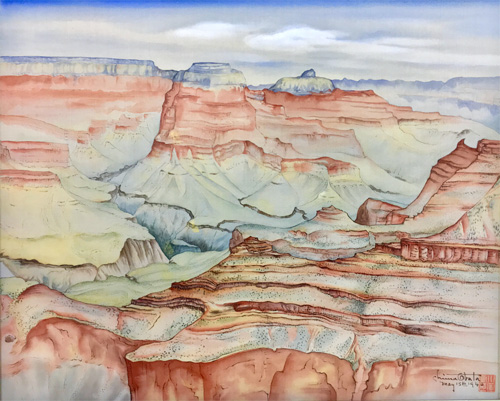 Chiura Obata (1885–1975) was born in Ibara City and studied nihonga, known as Japanese-style paintings. He emigrated to the United States of America in 1903. Obata worked as the illustrator for the magazine "JAPAN." In 1928, he published the "World Landscape Series" in Japan. He also served as an art professor at the University of California, Berkeley, for 22 years. During the Second World War, Obata and his family were incarcerated at the Tanforan detention center in California and the Topaz Relocation Center in Utah; he established art schools at both sites. Following the war, he became a naturalized citizen of the United States, and passed away in 1975.
The Chiura Obata exhibition first opened in the United States, and will now be presented in Okayama. Around 140 of Obata's works will be on display, including various kinds of works such as nihonga, watercolour, sumi-e and woodblock.
As part of this exhibition, there will be two lectures (on January 19 and February 11), as well as an explanation of the artwork (January 25) on display. While registration is not necessary for these events, tickets for the exhibit are required.
For more information, please see details on the Okayama Prefectural Museum of Art website (in Japanese), or download the flier here. (General information on hours, admission fees and how to access the museum is available in English here.)