Culinary Exchange & Serving Communities During a Crisis (Webinar)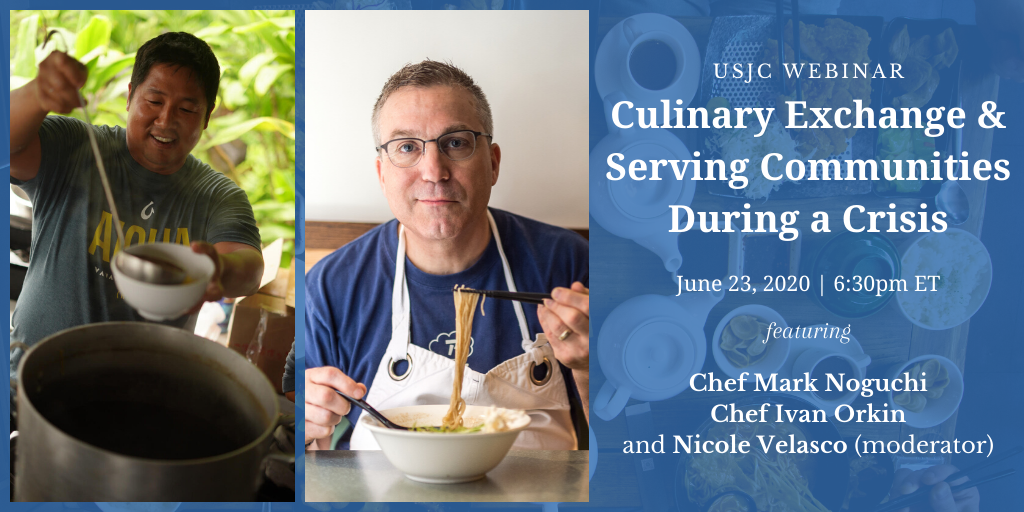 Culinary Exchange & Serving Communities During a Crisis
Date: Tuesday, June 23 (U.S.) / Wednesday, June 24 (Japan)
Time: 6:30pm – 7:30pm ET / 7:30am – 8:30am JST
Registration: Click here
Please consider supporting this free event by offering a donation here.
Sharing a meal is an age-old act of bonding and fellowship, and sharing cuisine across borders serves as a way to connect communities and cultures. For this webinar, we will feature two world-class chefs and restaurateurs who will share what inspired them to a life of building and bridging communities through culinary exchange across the U.S.-Japan relationship. They will also discuss the impact of the COVID-19 pandemic on their restaurants and businesses, and how they have continued to serve communities during the crisis.
USJC needs your support more than ever. With a suggested donation of $25, we can continue to offer free and public webinars to discuss issues of mutual concern between the U.S. and Japan. Tax-deductible donations can be made here.
Speakers
Mark Noguchi, Co-Founder & Executive Chef, Pili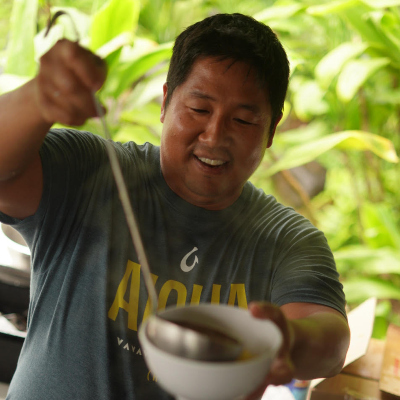 Mark "Gooch" Noguchi cooks from an 'aina-based perspective, connecting food to its source to build community. An approach he learned from hula Halau o Kekuhi, it's defined his innovative restaurant offerings like He`eia Kea Pier, MISSION Social Hall & Cafe. Now with his wife Amanda Corby-Noguchi, they founded Pili Group, and ChefHui; an organization of Chefs, Hotels, and Restauranteurs across Hawai`i, galvanized in purpose to support local farms, each other, and Hawai`i's hungry. A 2019 Omidyar Fellow and Food & Sustainability Curriculum Specialist at Punahou School, Mr. Noguchi is a graduate of the Culinary Institute of America. Being a father and husband, he considers his greatest accomplishments in life.
Ivan Orkin, Chef/Restaurateur and Owner, Ivan Ramen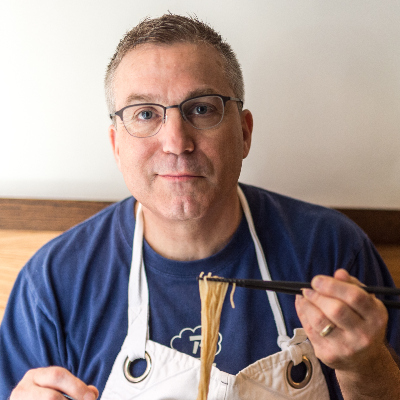 Ivan Orkin, whose first restaurant experience was washing dishes for a sushi bar at age 15, studied Japanese in college before following his deep interest in Japan by moving there to teach English. Upon his return, he enrolled at the Culinary Institute of America in 1990. After completing his culinary training, he returned to Japan and opened a ramen shop in Tokyo – which, despite its chef being a foreigner, was met with huge success. In 2010, he opened a second ramen shop, and soon after opened two more locations in New York. He is the author of the cookbook Ivan Ramen, and in 2017, he was featured in the hit NETFLIX series CHEFS TABLE. This honor has driven even more fans of ramen into Mr. Orkin's restaurants, where he continues to serve them his uniquely "Ivan" cuisine that, given his experience between the two countries, is able to appeal to both Japanese and American guests.
MODERATOR: Nicole A. Velasco, Business Development Lead, NORESCO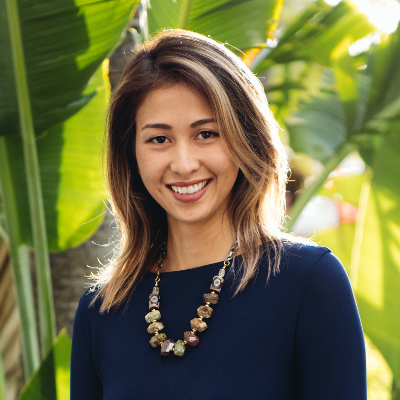 Nicole Velasco serves as Hawaii's business development lead for NORESCO, raising awareness about Hawaii's sustainability opportunities, supporting green workforce training, and driving impact through systems optimization for both public and private entities. Prior to this, she served the City & County of Honolulu as the Executive Director of the Office of Economic Development. She has also worked as an analyst for the Hawaii State Office of the Auditor and as a Government Affairs Advisor at Ashford & Wriston, LLP. Her public speaking engagements focus on leadership development, generational synergy, gender equity, and community building.
---
Thank you to our sponsors for this webinar, Gondo Company, Inc., ITO EN (North America) Inc., King's Hawaiian and Sun Noodle.