East Meets West – A Cross Cultural Journey (Regional Women in Leadership)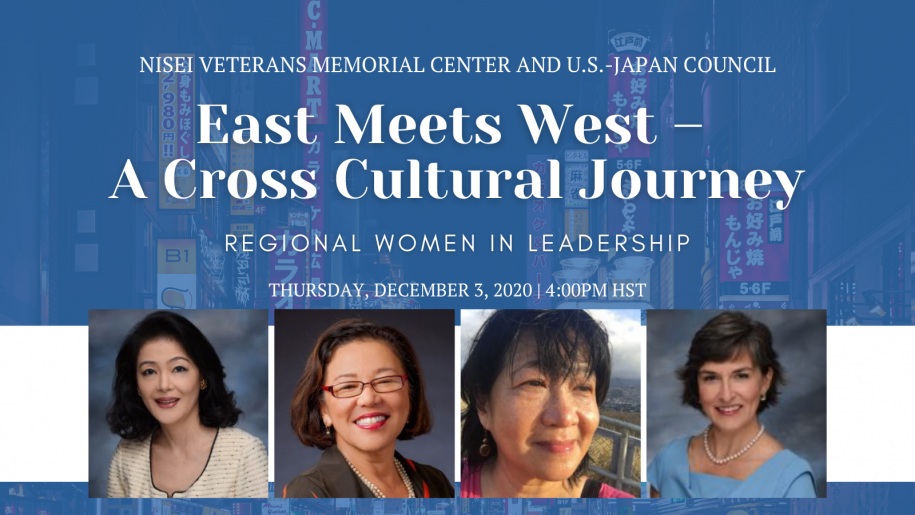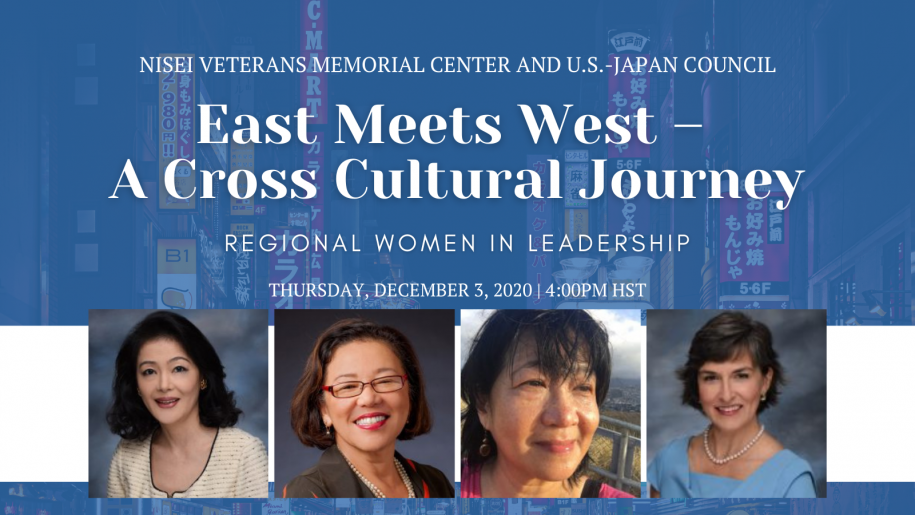 When: December 3, 2020 at 4:00pm HST
Where: Virtual Event
Registration: To register, call (808) 244-6862 or email
[email protected]
As part of the U.S.-Japan Council's Regional Women in Leadership series, the Nisei Veterans Memorial Center is partnering with USJC on a two part panel. Both organizations, fulfilling their purpose to educate and strengthen U.S.-Japan relations, will discuss the topic of "Womenomics" which intends to strengthen female representation and entrepreneurship. The December panel will delve into topics such as the differences in professions between the U.S. and Japan, how to adapt leadership styles, and insights on women's issues. To register, call (808) 244-6862 or email [email protected].
The Regional Women in Leadership program is in its sixth year at the U.S.-Japan Council. The program's objective is to provide opportunities for discussions on the advancement of women in leadership. RWL encourages members and collaborators to convene in a series of events to educate and discuss women's leadership in the context of U.S.-Japan relations, creating a conversation about women's issues among diverse communities and business leaders. Funding is provided by the Government of Japan's Ministry of Foreign Affairs.
Featuring

Kyoko Kimura (Director of Owner Relations for Marriott Vacations Worldwide)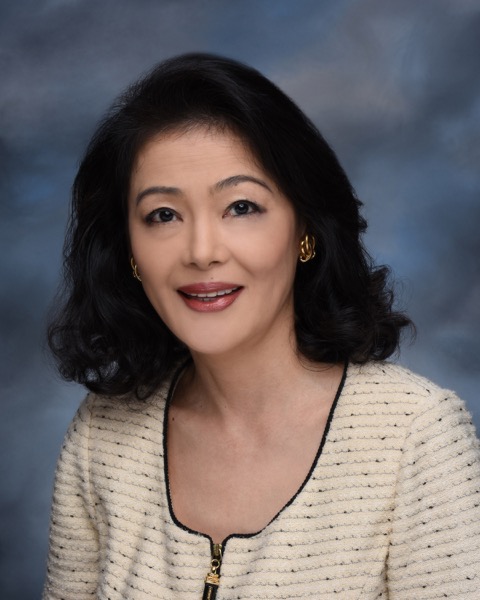 Kyoko Kimura is a 30-year veteran of the resort and hotel industry and served as General Manager of a luxury resort, as well as in a corporate management company and representative for hotel owners.
She has served as a simultaneous interpreter for President George H.W. Bush and currently serves as a board member for the Nisei Veterans Memorial Center, the Hawaii Lodging and Tourism Association and is on the board of Directors for the Hawaii Tourism Authority. In the past she served as President of the Japanese Chamber of Commerce, President of the Japanese Cultural Society and President of the Maui Hotel Association.
A graduate of Kobe College, and with time spent at Cornell Hotel School, Ms. Kimura is married to a 4th generation Japanese-American who can trace his lineage to the Gannenmono. She and her husband have two daughters. Their eldest is a graduate of Waseda University and is currently pursuing her masters degree in London. Their younger daughter is a junior at New York University.

Christine Kubota (Attorney, Damon Key Leong Kupchak Hastert)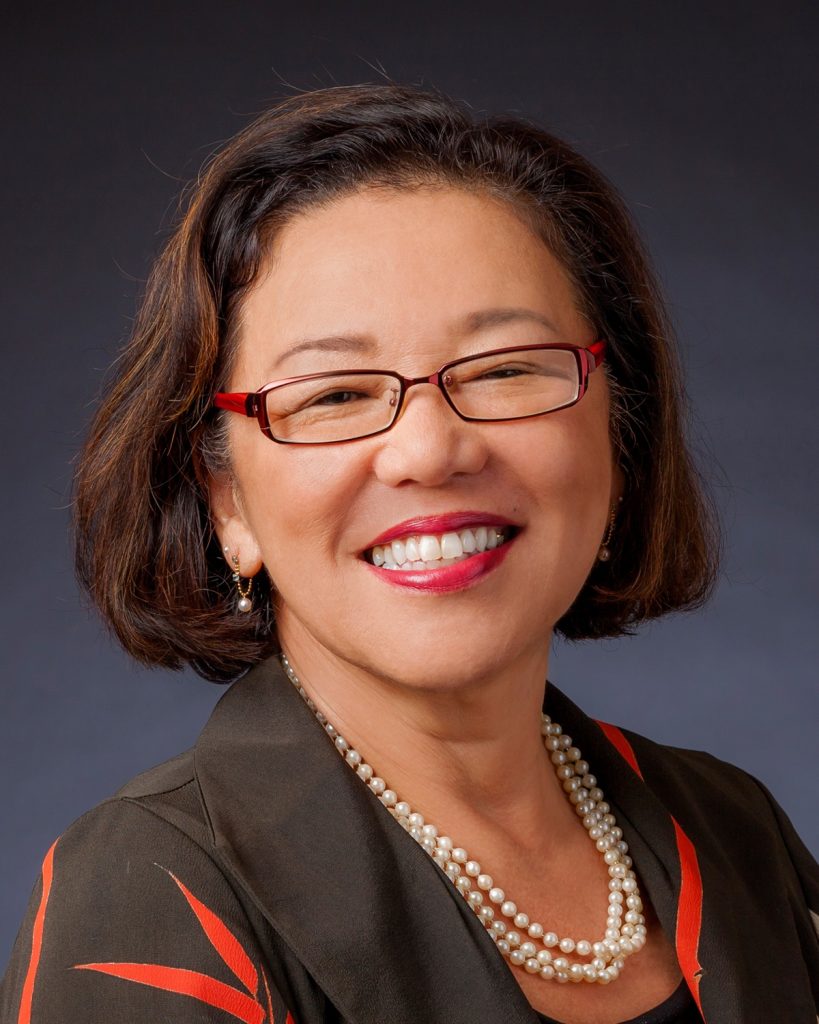 Christine Kubota, born and reared in Japan, joined Damon Key Leong Kupchak Hastert in 1988 and immediately began building a practice in corporate, commercial, and real estate law, primarily with Japanese-speaking clients. To address the needs of her Japanese clients, her practice also encompasses immigration law, estate planning and employment matters. Ms. Kubota is a past director of Meritas, a worldwide affiliation of commercial law firms, which has members in over 270 cities. She is currently active in many community activities and served as the Chair of the Japanese Cultural Center of Hawaii, Honolulu Japanese Chamber of Commerce and a Tri Chair of the GANNENMONO Committee in 2018. She was honored in 2019 at the Japanese Cultural Center of Hawaii's "Sharing the Spirit of Aloha" Gala and in 2020 by the United Japanese Society of Hawaii for her commitment and contributions to the Japanese community and state of Hawaii. In 2019, she was selected as one of two Japanese American representatives from Hawaii (out of eight in the U.S.) to attend the Ceremony of the Enthronement of his Majesty the Emperor of Japan. Ms. Kubota has once again been selected by her peers to the 2020 Best Lawyers in America list in Hawaii.

Yolanda Alfaro Tsuda (Professor, Global Studies Program, Kobe College (Japan))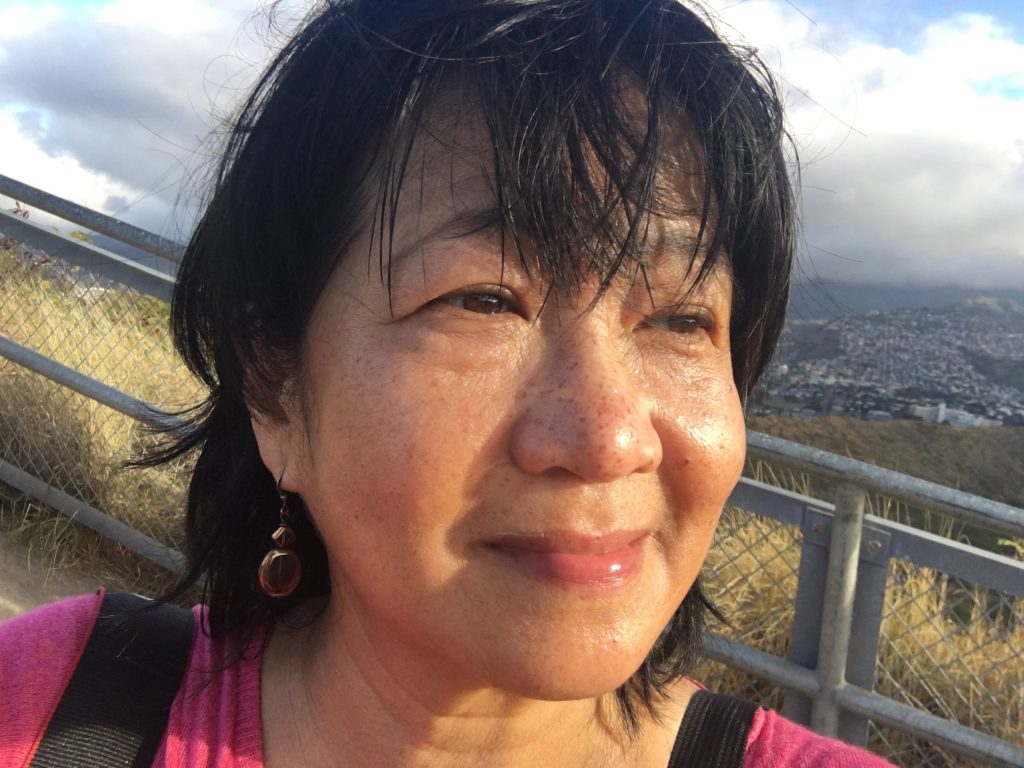 Born in the Philippines, an Alumna of the University of the Philippines and Harvard University, Professor Tsuda teaches Migration, Gender and Leadership issues at Kobe College. With a compelling migration story of her own, Professor Tsuda continues to be a global advocate for immigration and gender rights. Her publications include "Omote no Ura: Japan Views Trafficking" for the Japan Women's Fund; Health and Welfare Issues of Migrants in Japan"; as well as the biography of Katsu Kaishu's American "daughter" Clara Whitney Kaji (for publication in 2021). As a scholar and humanitarian she believes that without the proper understanding of the impact of the movement of people, we will repeat mistakes that take us to a never-ending cycle of war, conflict, discrimination and poverty.

MODERATOR: Deidre Tegarden (Executive Director, Nisei Veterans Memorial Center)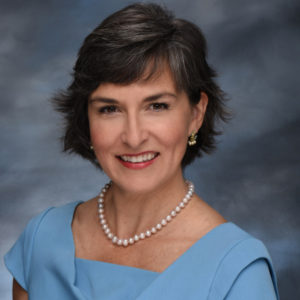 Deidre Tegarden is Executive Director of the Nisei Veterans Memorial Center, Maui, Hawaii, a position she has had since 2016. As a young woman she spent many years studying and working in Japan and China, an experience that shaped her deep respect for the contributions Asian cultures have made to Hawaii. She has extensive experience in non-profit and public sector administration and prior to joining the NVMC, she served as Chief of Protocol for the State of Hawaii in the administrations of Governors Neil Abercrombie and David Ige. Her facility with languages, Japanese and Chinese, proved beneficial in her duties which included meeting with heads of state worldwide, supervising visits of foreign dignitaries, managing official state ceremonies, and serving as an advisor on international relations and efforts to attract commerce and tourism to Hawaii. Before her work at the state-level, she was Director of the Maui County Office of Economic Development; Executive Director of Big Brothers, Big Sisters Maui; and past president of the Rotary Club of Kahului. She serves on the board of the Japanese Cultural Center of Hawaii and the Pacific Buddhist Academy in Honolulu and is a member of the U.S.–Japan Council. She is a graduate of University of Maryland with a Bachelor of Arts degree in Japanese and Chinese Studies and is a Harry and Jeanette Weinberg Fellow and a past recipient of Pacific Business News' 40 Under 40 Award.