Going Global: The Future of Auto Tech Opportunities for U.S.-Japan-Israel Cooperation
When
–
Where
Japan Society



On October 17, USJC partnered with the American Jewish Committee (AJC)'s Asia Pacific Institute, the Japan Foundation Center for Global Partnership (CGP) and Japan Society to host a program in New York City. Called "Going Global: The Future of Auto Tech Opportunities for U.S.-Japan-Israel Cooperation," this event focused on collaboration and innovation in automotive technology among the three countries.
USJC was represented by President Irene Hirano Inouye, AJC by member of the Executive Council Kim Pimley (who also served as moderator), CGP by Director General Osamu Honda, and Japan Society by President Motoatsu Sakurai. The panel speakers included Dr. Wendy Ju, Assistant Professor at the Jacobs Technion-Cornell Institute; Ms. Yumi Kawabata, automotive journalist and advisor to the Japanese government; and Mr. Ben Rabinowitz, Founder and Managing Partner at Amiti Ventures.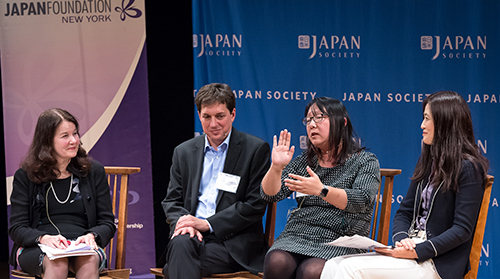 The conversation touched on many issues related to the technology and implementation of self-driving vehicles, including the limitations of the current technology and how venture capitalism is driving innovation; the future of mobility and how self-driving vehicles will be deployed and accessed; and ethical and safety issues around accidents, insurance and security. The panelists also discussed how the United States, Japan and Israel are contributing to the research and advances in technology, as well as how they are each handling public policy and issues related to social acceptance.
Follow this link or click on the image below to view the recorded video of the event.