Japan Perspectives: U.S.-China Relations & Implications for Japan and East Asia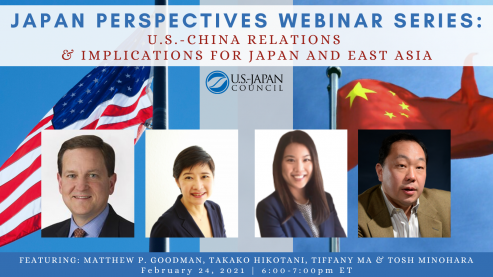 Date: February 24, 2021 (U.S.) // February 25, 2021 (Japan)
Time: 6:00-7:00pm ET // 8:00-9:00am JT
Register:
Click here
You will receive an email from Zoom with your join link prior to the event, and please note this may take several days.
The U.S.-China relationship – past, contemporary and future – has economic and diplomatic ramifications both within East Asia and around the globe. As the Biden administration resets the U.S. strategy for diplomacy with China, what will the implications be for the U.S.-Japan partnership, and how will this affect foreign relations within East Asia? Join us for our next "Japan Perspectives" webinar for a dialogue titled "U.S.-China Relations & Implications for Japan and East Asia."
Following this webinar will be a special After Session for USJC members and sponsors to discuss the dialogue and network with each other and the speakers. If you would like to attend, please register here.
You will receive an email from Zoom with your join link prior to the event, and please note this may take several days.
Featuring

Matthew P. Goodman (Senior Vice President for Economics and Simon Chair in Political Economy, Center for Strategic & International Studies)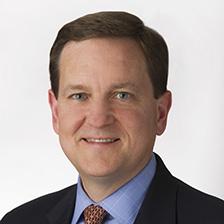 Matthew P. Goodman is senior vice president for economics and holds the Simon Chair in Political Economy at CSIS. The CSIS Economics Program, which he directs, focuses on international economic policy and global economic governance. Before joining CSIS in 2012, Goodman served as director for international economics on the National Security Council staff, helping the president prepare for global and regional summits, including the G20, Asia-Pacific Economic Cooperation (APEC), and East Asia Summit. Prior to the White House, Goodman was senior adviser to the undersecretary for economic affairs at the U.S. Department of State. Before joining the Obama administration in 2009, he worked for five years at Albright Stonebridge Group, where he was managing director for Asia. From 2002 to 2004, he served at the White House as director for Asian economic affairs on the National Security Council staff. Prior to that, he spent five years at Goldman, Sachs & Co., heading the bank's government affairs operations in Tokyo and London. From 1988 to 1997, he worked as an international economist at the U.S. Treasury Department, including five years as financial attaché at the U.S. Embassy in Tokyo.
Goodman holds an M.A. in international relations from the Johns Hopkins School of Advanced International Studies (SAIS) and a B.Sc. in economics from the London School of Economics and Political Science (LSE). He is a life member of the Council on Foreign Relations and chairman emeritus of the board of trustees of the Japan-America Society of Washington, DC.
---

Takako Hikotani, Ph.D. (Gerald L. Curtis Associate Professor of Modern Japanese Politics and Foreign Policy, Columbia University)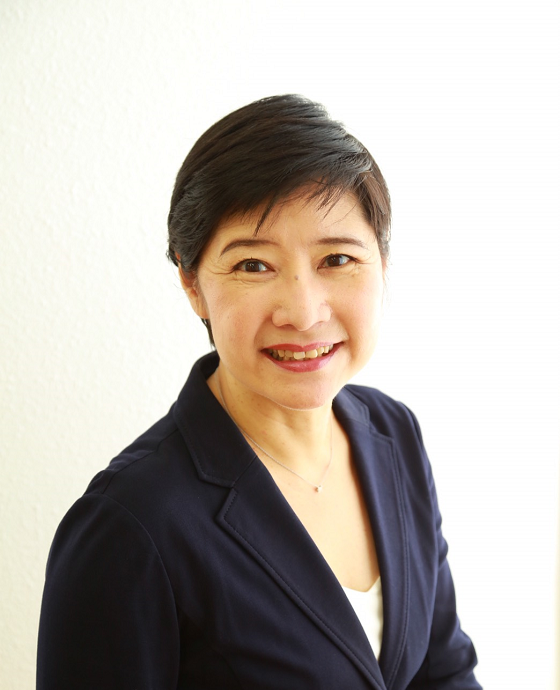 Takako Hikotani is Gerald L. Curtis Associate Professor of Modern Japanese Politics and Foreign Policy. She previously taught at the National Defense Academy of Japan, where she was Associate Professor, and lectured at the Ground Self Defense Force and Air Self Defense Force Staff Colleges, and the National Institute for Defense Studies. Her research focus on civil-military relations and Japanese domestic politics, Japanese foreign policy, and comparative civil-military relations. Her publications (in English) include, "The Japanese Diet and defense policy-making." International Affairs, 94:1, July, 2018; "Trump's Gift to Japan: Time for Tokyo to Invest in the Liberal Order," Foreign Affairs, September/October 2017; and "Japan's New Executive Leadership: How Electoral Rules Make Japanese Security Policy" (with Margarita Estevez-Abe and Toshio Nagahisa), in Frances Rosenbluth and Masaru Kohno eds, Japan in the World (Yale University Press, 2009). She was a Visiting Professional Specialist at Princeton University as Social Science Research Council/Abe Fellow (2010-2011) and Fellow of the US-Japan Leadership Program, US-Japan Foundation (2000- ).
Professor Hikotani received her BA from Keio University, MAs from Keio University and Stanford University, and PhD in Political Science from Columbia University, where she was a President's Fellow.
---

Tiffany Ma (Senior Director, BowerGroupAsia)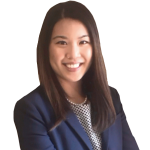 Tiffany Ma is a senior director at BowerGroupAsia (BGA), where she manages BGA's client relationships and engagements. She directs analyses and activities designed to advise Fortune 500 companies on public policy issues, regional geopolitics and stakeholder management. She is also a non-resident fellow at the National Bureau of Asian Research (NBR), a nonprofit and non-partisan think tank dedicated to strengthening U.S. policy in the Asia-Pacific.
Ms. Ma regularly writes and speaks on China-Taiwan relations, U.S.-China relations, and Asia-Pacific maritime security. She has testified on U.S.-Taiwan relations before the House Subcommittee on Asia and the Pacific and has been featured in both U.S. and international media outlets.
Prior to joining BGA, Ms. Ma was the senior director for political and security affairs at NBR in Washington, DC, where she led major initiatives on geopolitical and international security affairs in the Asia-Pacific that regularly convened senior government officials and specialists from across the region. She began her career as a research associate at the Project 2049 Institute, an Asia security think tank based in Arlington, Virginia, and has also worked at the International Crisis Group in Beijing, the Center for Strategic and International Studies in Washington, and the Lowy Institute in Sydney.
Ms. Ma holds a master's degree in public policy from the Harvard Kennedy School, where she was also a public service fellow and a Belfer student fellow. She holds bachelor's degrees in international relations and psychology from the University of New South Wales in Sydney, Australia. She reads and speaks Mandarin Chinese.
---

MODERATOR: Tosh Minohara, Ph.D. (Professor, Kobe University & Chairman, Research Institute of Indo-Pacific Affairs (RIIPA))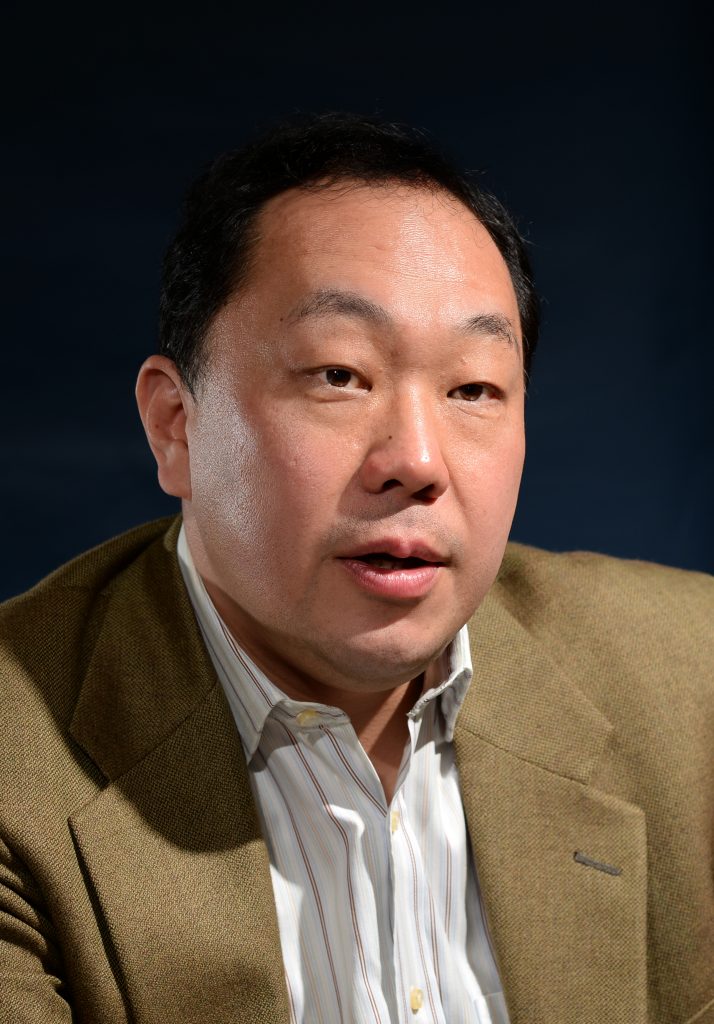 Tosh Minohara is Professor of International Relations and Security Studies at the Graduate School of Law and Politics, Kobe University where he also holds a joint appointment with the Graduate School of International Cooperation Studies. He received his B.A. in International Relations from University of California, Davis, and his Ph.D. in Political Science and Diplomatic History from Kobe University. He is also the chairman of the nonprofit organization, Research Institute of Indo-Pacific Affairs (RIIPA) and serves as a senior advisor to KREAB.
In the past, he has held various visiting appointments with such universities as Harvard University, University of California at Irvine, University of Iowa (Noguchi Distinguished Fellow), University of Oxford, Leiden University, Stockholm University, Kuwait University, Seoul National University, Inha University (ROK), National Taipei University, Academia Sinica (Taiwan), and most recently, Mexico Autonomous Institute of Technology (ITAM-Yoshida Shigeru Chair).
His core academic interests deal with the diplomatic, political, intelligence, and security dimensions of U.S.-Japan relations from the early 19th century to the present. He has published numerous monographs, edited volumes, and articles, the most recent being Beyond Versailles: The 1919 Moment in East Asia (Lexington Press, 2020). He is the recipient of the Shimizu Hiroshi Prize and the Japan Research Award.