Japanese Americans & Japan: Legacies – Interview with Glen S. Fukushima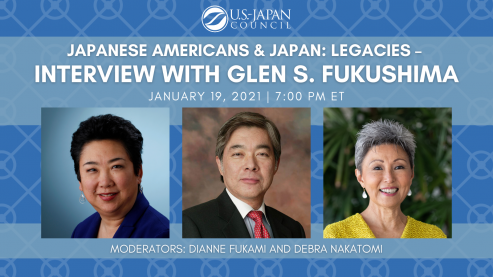 When: January 19, 2021 at 7:00pm ET
Where: Virtual Event
Registration:
Click here
This video series highlights the careers and life journeys of prominent Japanese American leaders who are pioneers in developing the U.S.-Japan relationship. Through their stories, we will learn about the role of Japanese Americans in strengthening U.S.-Japan relations, and the ways Japan has contributed to Japanese American identity and community. This third dialogue in the series will feature Glen S. Fukushima, Senior Fellow, Center for American Progress and Member of the USJC Board of Councilors. In this third dialogue in the series, Mr. Fukushima will share his atypical educational background, perspective on the evolution of the relationship between Japanese Americans and Japan, and insight into being an American businessman in Japan.
Featuring

Glen S. Fukushima (Senior Fellow, Center for American Progress)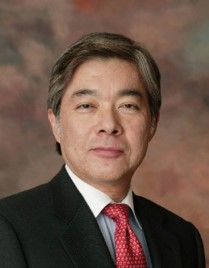 Glen S. Fukushima is a Senior Fellow at the Center for American Progress, a public policy think tank headquartered in Washington, DC, where he focuses on U.S.-East Asia relations. He divides his time between Washington, DC, San Francisco and Tokyo.
From 1990 to 2012, Mr. Fukushima was a senior business executive based in Asia representing several major multinational corporations: Vice President, AT&T Japan; President, Arthur D. Little Japan; President & CEO, Cadence Design Systems Japan; President & CEO, NCR Japan; and President & CEO, Airbus Japan. He was elected to serve for two terms as President of the American Chamber of Commerce in Japan, then the largest American Chamber of Commerce outside the United States.
Before his business career, he served in Washington, DC as Director for Japanese Affairs (1985-1988) and Deputy Assistant United States Trade Representative for Japan and China (1988-1990) at the Office of the United States Trade Representative (USTR), Executive Office of the President. In 1993, he declined an offer to be the Assistant Secretary of Commerce for International Economic Policy at the U.S. Department of Commerce. He began his career as an attorney at the law firm of Paul, Hastings, Janofsky & Walker.
Mr. Fukushima has served on numerous corporate boards of directors, advisory boards, and government advisory councils in the United States, Europe, and Japan. He has served on the board of the Japan Association of Corporate Executives, America-Japan Society, National Association of Japan-America Societies, Japan Society of Boston, Japan Society of Northern California, Japan-America Society of Washington, DC, International House of Japan, Japanese American National Museum, U.S.-Japan Council, International Student Conferences, Global Council of the Asia Society, and President's Leadership Council of the Asia Foundation.
Mr. Fukushima has been a member of the Council on Foreign Relations since 1993 and a board member of Foreign Policy for America until 2020. Until June 2001, he served for eight years in the White House-appointed positions of Vice Chairman of the Japan-United States Friendship Commission and Vice Chairman of the U.S. panel of CULCON (Joint Committee on United States-Japan Cultural and Educational Interchange). He has served as Chairman of the Mori Art Museum Best Friends, member of the Director's Circle of the San Francisco Museum of Modern Art and of the Jade Circle of the Asian Art Museum of San Francisco, and co-founder of the Tokyo Committee of Human Rights Watch. He also serves on the board of the Washington Bach Consort and PostClassical Ensemble. In 2016, he was appointed Commissioner of the Smithsonian Institution's National Portrait Gallery, and in 2018, he was invited to join the board of the Mori Art Museum.
His publications include Nichi-Bei Keizai Masatsu no Seijigaku [The Politics of U.S.-Japan Economic Friction], winner of the 9th Masayoshi Ohira Memorial Prize in 1993. He received the Excellence 2000 Award from the U.S. Pan Asian American Chamber of Commerce in 1999, the Alumni Hall of Fame Award from Stanford University in 2002, and the Person of the Year Award from the National Japanese American Historical Society in 2008. Keio University awarded him the status of Honorary Alumnus in 2012, and LEAP (Leadership Education for Asian Pacifics) conferred on him its Leadership Award in 2014. He is listed in Who's Who in America.
A native of California, Mr. Fukushima was educated at Stanford University, Harvard University Graduate School of Arts and Sciences, Harvard Business School, and Harvard Law School. At Harvard, he was awarded a National Science Foundation Fellowship. He was a Stanford/Keio Exchange Scholar at Keio University and was a Fulbright Fellow and a Japan Foundation Fellow at the Faculty of Law, University of Tokyo.
---

Moderator: Dianne Fukami (President, Bridge Media, Inc.)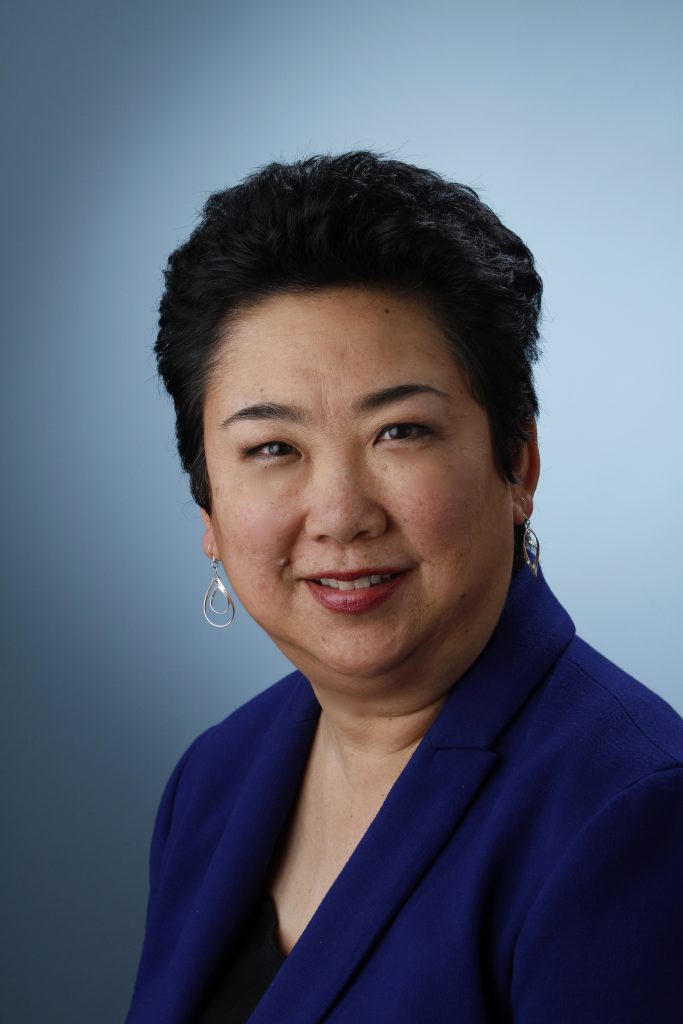 Dianne Fukami is an award-winning documentary filmmaker and TV producer. She has produced many documentaries about the Japanese American experience, which have been broadcast on PBS stations. Her most recent is "Norman Mineta and His Legacy: An American Story," which was broadcast nationally on PBS in 2019. She began her career at the local CBS TV station in San Francisco and during her tenure had become one of the highest-ranking Asian American TV news executives in the country.
In 2009 she was selected as one of 13 members of the Japanese American Leadership Delegation sponsored by the Foreign Ministry of Japan, where in Okinawa, she gave a keynote address at a bilateral symposium. She returned to Japan in 2015 as one of nine American delegates to Prime Minister Shinzo Abe's World Assembly for Women's conference, invited by the government of Japan to give one of the workshop wrap-up summaries at the closing plenary session.
Dianne has been a member of the faculty at the School of Multimedia Technologies and Communications at the Academy of Art University since 2009 and teaches courses in multimedia and news production. She has served on a number of Boards of Directors in the San Francisco Bay Area Japanese American community.
---

Moderator: Debra Nakatomi (President, Nakatomi & Associates, Inc.)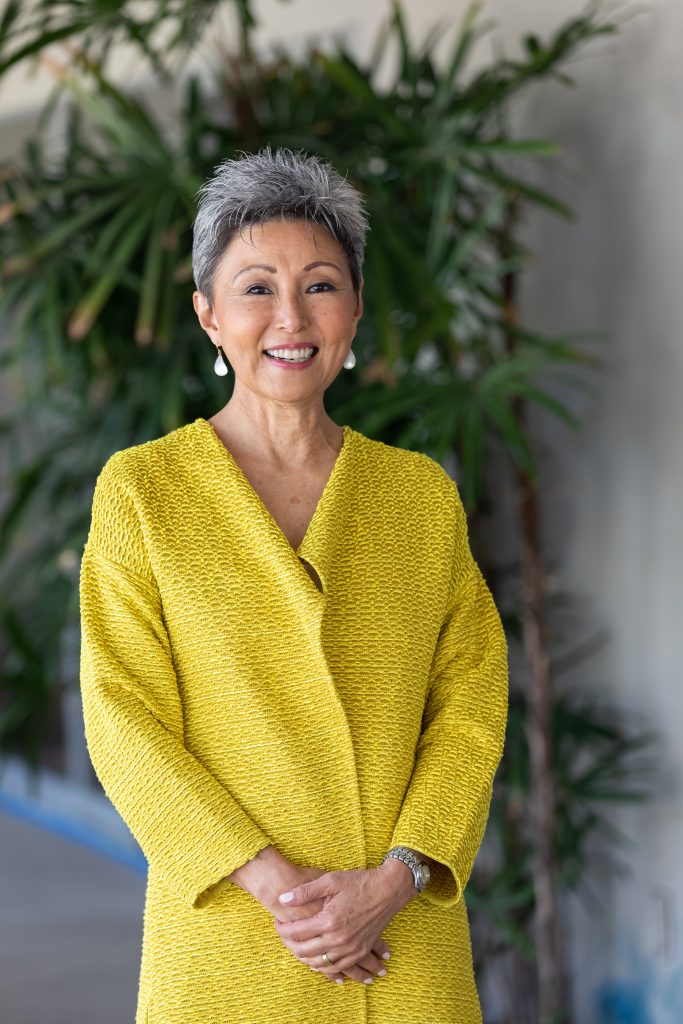 Debra Nakatomi is founder of Nakatomi & Associates, guiding its strategic vision. She designs communications initiatives promoting health and wellness, housing access, energy conservation and sustainable community development. She is an advisor to CEOs and senior executives on organizational growth and culture change initiatives. She consults on issue and reputation management, bringing peace of mind in difficult times. In her early career she worked at the Walt Disney Company, CBS Television, the California Legislature and Japanese American Citizens League.
Debra has served organizations committed to expanding philanthropy and advocacy for women and girls and to promoting health equity and advancing wellness. She is board chair of The California Wellness Foundation and board president of the Little Tokyo Service Center Community Development Corporation. She is former board member and international commissioner for Girl Scouts of the USA and former board chair of the LA Women's Foundation and Asian Pacific Women's Leadership Institute.
Debra is co-producer of "Stories From Tohoku," a one-hour documentary about survivors of the March 11, 2011 Japan earthquake and tsunami disaster that aired on PBS. She co-produced a TV documentary with documentary partner Dianne Fukami, "An American Story: Norman Mineta and His Legacy," on the life and career of Secretary Norman Y. Mineta.
Debra resides in Los Angeles.
Registration