Next Generation Summit ~ The Three Rs of 2020: Reflective, Resilient, and Revolutionary ~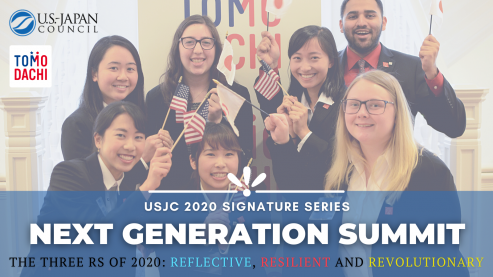 Date: December 11-12 (U.S.) // December 12-13 (Japan)
Time: 6:30 pm – 8:30 pm ET // 8:30 am – 10:30 am JT (both days)
Where: Virtual Event
Registration:
Click here
Day 2 workshops are open to those who register for Day 1. You will receive an invitation separately.
The USJC Next Generation Summit will give light to the voices of the young and emerging leaders in our community, including U40 members, TOMODACHI alumni and Watanabe scholars on the lessons learned from this year of change and the power of resilience. Themes will focus on the ripple effect of social justice movements, mentorship through virtual connectedness, value of cultural exchange in times of crisis, and perspectives of resilience from the next generation. You'll hear from our rising stars and future leaders who will take part in critical dialogues around building vision and hope to empower each other to take action during these challenging and uncertain times. The Summit will be organized into two days: the first day will be open to the public on a range of topics mentioned above. 
Day 2 will be an opportunity for participants from Day 1 to take part in workshops and discussions focused on the three themes: Reflective, Resilient, and Revolutionary. One workshop will help participants reflect on their leadership styles in times of crisis through the distributed leadership model developed by MIT professors; another workshop will focus on disaster resilience the skills needed for preparedness and better communication; and the third workshop will be the TOMODACHI Critical Conversations Part 3 that was inspired by the Black Lives Matter movement that will create a safe space for honest peer-to-peer dialogue on these critical issues. Separate registration for this workshop is necessary. Registration information can be found here.
Public Session: Open to all. No registration fee.
Workshop Session: Open to those who register for the Public Session. No registration fee.
Simultaneous interpretation will be available.