Our Work from Anywhere Future (Virtual Event)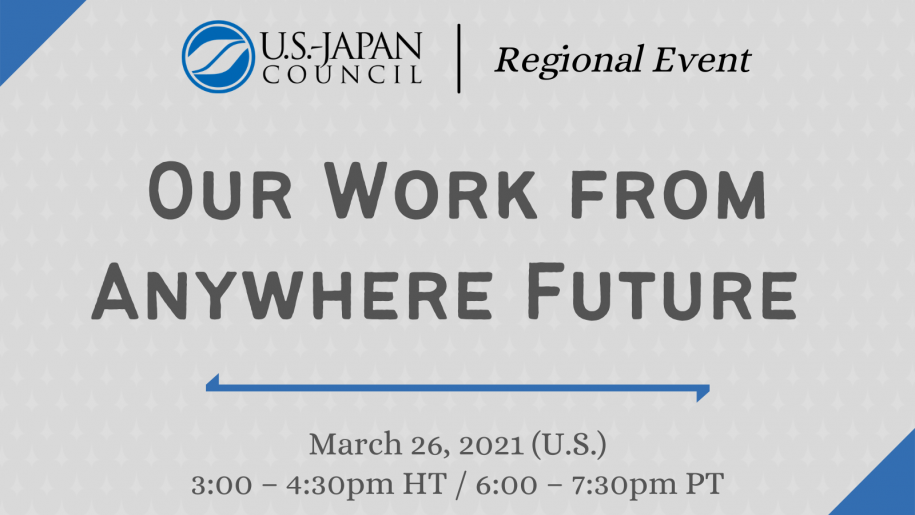 Our Work from Anywhere FutureDate:
March 26, 2021 (U.S.)
Time:
3:00 – 4:30pm HST / 6:00 – 7:30 pm PDT
Registration:
Click here
The demand for flexibility in where and how people work has been building for decades. Then COVID-19 hit. The COVID-19 pandemic has changed the traditional idea of a work space. Across the country, shelter-in-place orders have forced many companies to have employees work from home since March 2020, with several large California-based tech companies allowing employees to work remotely until Fall 2021. Workers no longer need to be in the same city, or state as their company offices, and employers can hire workers from across the country. Hawaii has been successful in attracting these remote workers, many from the tech industry.
Please join us as we discuss the evolving workforce and the trade-offs to sharing talent between California and Hawaii with the following speakers: Robert Nobriga, President of Island Holdings and Co-Founder of "Movers and Shaka" program; Sherry Menor-McNamara, President and Chief Executive Officer of the Chamber of Commerce Hawaii; and Richard Matsui, CEO and Founder of kWh Analytics. This discussion will be moderated by Tatsuki Tomita, Co-Founder of Vivaldi Technologies.
Speakers
Richard Matsui
CEO and Founder of kWh Analytics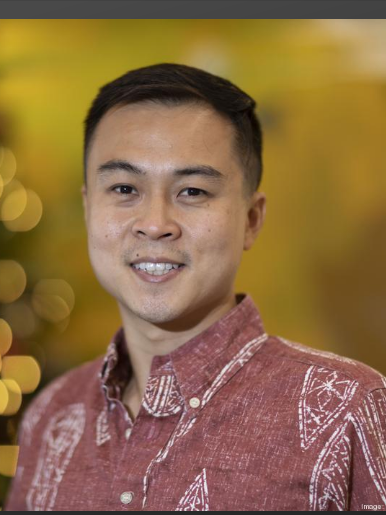 kWh Analytics is the market leader in risk management for solar energy investments. Customers such as Google (the world's largest corporate investor in renewable energy) and US Bank (America's 7th largest bank) rely on software and insurance solutions from kWh Analytics to enhance their investment returns. kWh Analytics is backed by private venture capital and the US Department of Energy.
He was previously a consultant with McKinsey & Company based in Greater China, where he helped found the Firm's solar practice in 2007. There, he established himself as a leading global expert on the solar industry by accumulating more industry experience than any other consultant (9,000 globally). He graduated from Georgetown University's School of Foreign Service magna cum laude and Phi Beta Kappa, and is fluent in both English and Mandarin Chinese. He is proud to have been born and raised in Honolulu, Hawaii. He is also a Forbes "30 Under 30" award recipient for Energy.
Sherry Menor-McNamara
President and CEO, Chamber of Commerce Hawaii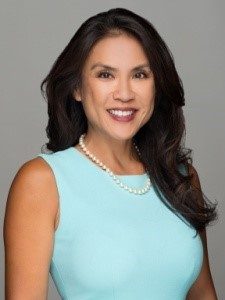 Sherry Menor-McNamara was appointed President and Chief Executive Officer of the Chamber of Commerce Hawaii on September 1, 2013. She is the youngest and first female President and CEO in the Chamber's 171–year history, as well as the first Asian to serve as the leader of a State Chamber in the nation. She has lived in several major cities, including Tokyo, New York, Washington D.C., Los Angeles and London, working for a wide variety of companies, including: Sony Corporation HQ in Japan. Her government-related work includes positions with the Hawaii State Legislature, U.S. Senator Daniel Akaka and the Executive Office of the United States President.
She currently serves on various boards including the Board of Directors of the U.S. Chamber of Commerce, the Council of State Chambers, and the Association of Chamber of Commerce Executives. Under her leadership, the Chamber won the 2018 ACCE State Chamber of the Year, and in 2019, won two national Council of State Chambers awards. She is a 2016 graduate of the Omidyar Fellows Leadership Program. In 2014, she was selected and participated in the prestigious Japan's Ministry of Foreign Affairs leadership program. Ms. Menor-McNamara earned a certificate in "Expanding Impact in Advocacy" from the Harvard Kennedy School of Executive Education. She received her JD from the University of Hawaii's William S. Richardson School of Law and her MBA from UH's Shidler College of Business and holds a bachelor's degree in political science from the UCLA.
Ms. Menor-McNamara was born in Tokyo, Japan, and raised in Hilo, Hawaii, where she graduated from Waiakea High School. She is married to John McNamara. She is a certified yoga teacher and enjoys golfing, traveling and spending time with her husband and dog, Kuma-chan.

Robert K.W.H. Nobriga
President, Island Holdings, Inc.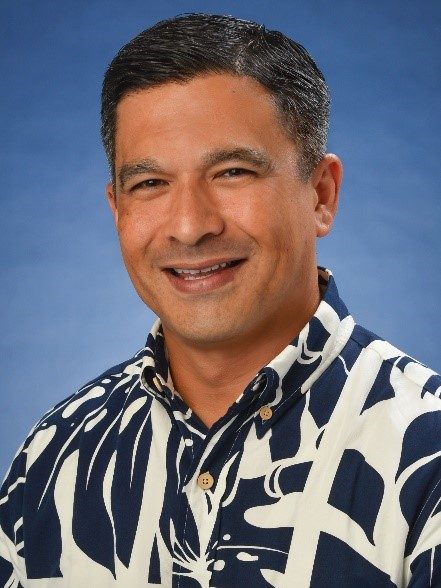 Robert K.W.H. Nobriga is the president of Island Holdings, Inc., where he oversees a family of Hawaii companies engaged primarily in insurance, private equity and real estate investment, and technology consulting. Prior to joining Island Holdings, Mr. Nobriga held several senior leadership roles in Hawaii over the past two decades primarily in the banking and healthcare sectors.
Mr. Nobriga has been an active member of the community. He has served as trustee for Kamehameha Schools since 2013. Mr. Nobriga also served on The Queen's Health Systems Board. He also currently serves as a board member of Haleakala Ranch on Maui. Born and raised on the island of Maui, Mr. Nobriga is a graduate of Kamehameha Schools and the University of Notre Dame. He resides in Kāne'ohe with his wife and two daughters.
Tatsuki Tomita
Technology Entrepreneur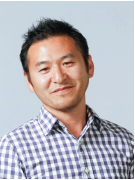 Tatsuki Tomita is a technology entrepreneur based in San Francisco Bay area. He co-founded several technology companies including Vivaldi Technologies, Orbweb and currently serves on the board. He is also a fellow at the US Department of Energy's Lawrence Berkeley National Lab, working on atmospheric carbon removal technologies to reverse climate change.
Prior to that, Mr. Tomita held a number of executive positions at Opera Software. He was Senior Vice President & Head of Opera's consumer browser business, managing high-growth products with 350 million+ global user base. He also developed and led Opera's TV browser business, in addition to being head of APAC and President of Opera Software Americas. Mr. Tomita serves as an advisor and a board member of several organizations, including DreamHub, an early stage investment firm in Taiwan, as well as SVJEN/Silicon Valley Japanese Entrepreneur Network, a non-profit connecting entrepreneurs from Japan in San Francisco Bay area.
He received his MBA from University of California, Berkeley Haas School of Business, a degree in Mechanical Engineering from Kagoshima National College of Technology, and Economics from Hokkaido University. Mr. Tomita was born and raised in Kagoshima. He loves reading and spending time exploring outdoor with his wife and their young children.
Register
Please fill out the form below to register. If you have trouble accessing or filling out this form, please click here.