Over 40 and Our 'Midlife Renaissance' Masterpieces
Many thanks to Council Leader Suzanne Basalla for this article, and Northern California Regional Co-Chair Dana Heatherton and Board Member Tasha Yorozu for the photos!
On May 29, USJC Council Leaders Suzanne Basalla, Rika Nakazawa, and Mariko Yoshihara Yang hosted a packed house event at Toyota Research Institute called "Over 40 and Our 'Midlife Renaissance' Masterpieces." This event was the first in a series of pilot programs across the nation focusing on navigating careers and new life chapters after age 40. Dana Heatherton, Regional Co-Chair, partnered with the organizers to make the event a success.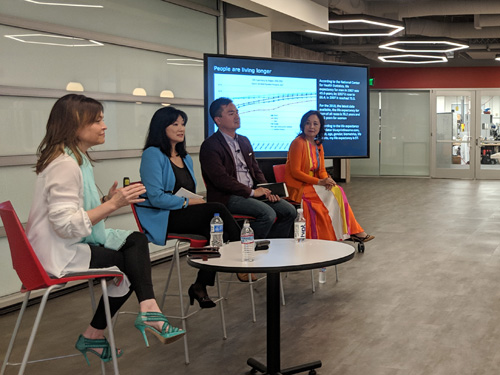 The crowd of 50 was captivated by intimate and inspirational stories from featured panelists Patti Lee-Hoffman (Co-founder of Flutter EyeWear and Founder of Triage Consulting Group) and Council Leaders Sandy Shirai (Vice Chairman of Deloitte LLP) and Aki Ohashi (Director of Business Development for PARC). The panel was expertly moderated by Ms. Nakazawa, who asked speakers to reflect on how their life perspectives changed throughout the decades. Most memorably, the "Letters to your 25-year-old selves" invited revealing insights into shifting priorities with the progress of individuals' careers (click here to read the letter written by Sandy Shirai). Intimate stories about breaking stereotypes, embracing integrity at the risk of job security, and acknowledging the collective hardships families endure to help sustain career transitions all contributed to an honest and thought-provoking evening.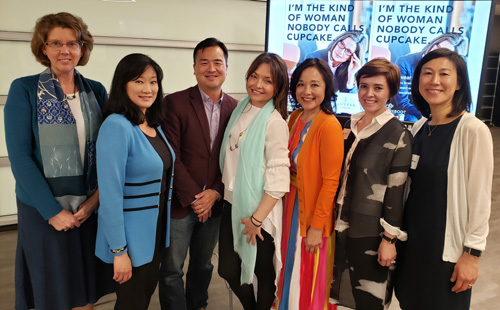 The crowd lingered after the event to continue the conversation with the panelists and old and new friends. One audience member commented, "Since my cancer treatment I have been struggling with what I had been calling a midlife crisis, but after listening to the speakers tonight I see this could instead be an opportunity for a midlife renaissance. The speakers were so inspiring and I really enjoyed hearing their stories." To help carry on discussions on this important topic, USJC NorCal will build on this pilot with future programs, and eagerly awaits results from pilot events in New York, Hawaii and Los Angeles in the coming months.
Click here for more photos from the event.