Silicon Valley Japan Platform Benkyokai Webinar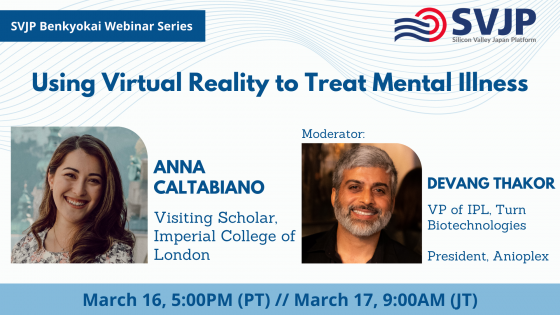 Mental illness is a silent epidemic that causes enormous pain and economic loss. Treatments such as psychiatric drugs have had some beneficial impact, but do not work for all patients and can produce serious side effects. A severe shortage of trained therapists and the costs of employment make therapy, while an effective treatment, difficult to come by. Therefore, most mental health is severely undertreated.

The Silicon Valley Japan Platform will hold a Benkyokai webinar on March 16, 5pm-6:30pm PT / 8:00pm-9:30pm ET // March 17, 9am-10:30am JT to explore an alternative solution making progress as a viable treatment of mental illness: Virtual Reality.  VR offers a unique opportunity to deliver scalable mental health treatment efficiently and at low-cost. Never before has a technology been able to create and disseminate experiences that the human brain internalizes as real, lived experiences. While still in the very early stages of understanding the uses of this technology in the field of mental health, exciting possibilities are being created with applications already being used towards the treatment of PTSD and chronic pain.

Our featured speaker,  Anna Caltabiano, will share the impact this new, innovative treatment is having on the field of mental health care, and how VR has influenced collaborative partnerships between technologists and clinicians. The session will be moderated by Devang Thakor. 
This is a private event. If you are interested in joining, please contact [email protected] for registration details.