Twelfth Business Advisory Board Welcomes Daniel Tani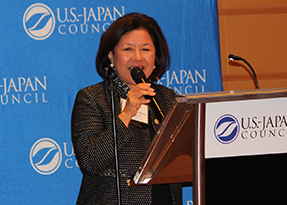 The twelfth U.S.-Japan Council Business Advisory Board (BAB) was held at the Tokyo American Club on December 4, welcoming Mr. Daniel Tani, former NASA astronaut and current faculty member of the American School in Japan (ASIJ), as a featured speaker.
The meeting opened with remarks from Scott Sato, Member of the USJC Board of Directors, and Masaaki Tanaka, Vice-Chair of the Board of Councilors, who has been leading the Council's BAB activities in Japan.
As is customary for BAB events, a few special guests spoke prior to the keynote speech, showcasing the diversity of USJC and BAB members. Ms. Takako Ebata, Head of Government Affairs & Policy at the Johnson & Johnson Family of Companies in Japan, and Council Leader James Minamoto, Senior Foreign Counsel at Anderson Mori & Tomotsune, were among those who briefly discussed their roles in the context of the U.S.-Japan relations.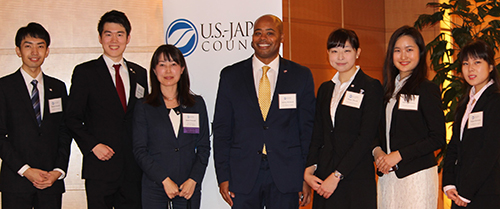 Irene Hirano Inouye shared updates on USJC's activities, including the 2017 Annual Conference last month, the Japan-Texas Economic Summit to be held in Houston from May 7to 9 in 2018, and the 2018 Annual Conference to be held in Tokyo from November 8 to 9. She also introduced the five TOMODACHI alumni who were attending the event.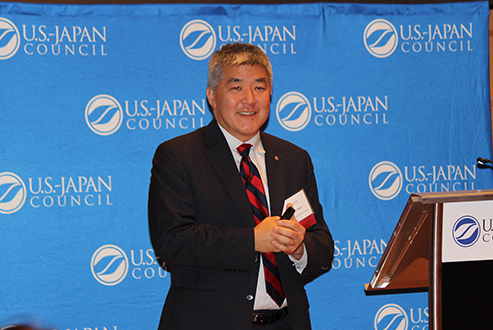 Mr. Tani, a long-time USJC supporter and former NASA astronaut, began his speech by introducing the background of his parents, who as Japanese Americans were incarcerated during World War II. He addressed the irony of how his parents were not trusted with cameras and radios by the U.S. government, but that, years later, the same government invested a lot of money into him learning about cameras and radios. He praised the United States for all the progress made since its dark past in WWII.
Mr. Tani then shared his exciting journey as an astronaut working for NASA until his retirement in 2012. He emphasized the solid connections he made while flying over Earth, as well as the experience of talking to his family while physically looking at Earth.
Mr. Tani said that upon his retirement, his connections with Japan were strengthened through USJC, which reinforced the importance of understanding new cultures. Keen to provide their children with a global perspective, the Tanis moved to Japan, and Mr. Tani joined the ASIJ faculty. As a middle school teacher, he sees more life in one day in a classroom than he saw in a year in an office. He and his family will be returning to the United States, but his journey to Japan was fulfilling, and he was glad to have had the opportunity to honor his grandparents and their roots.
Click here to see more photos from the 12th BAB event.