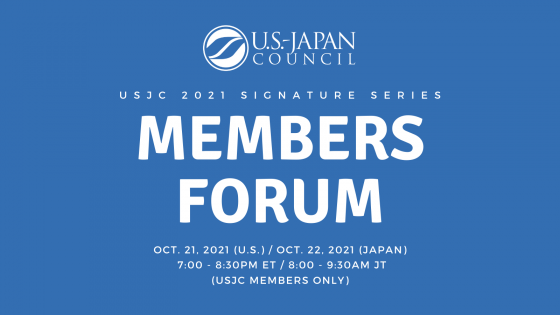 USJC Members Forum (Members Only)
Date: October 21, 2021 (U.S.) / October 22, 2021 (Japan)
Time: 7:00pm ET / 8:00am JT
Where: Virtual Event
Registration: This is event is for members only. If you are a USJC member and have not received registration details, please contact Wendy Abe at [email protected].
Members of the U.S.-Japan Council are invited to join us for the Members Forum on October 21 (U.S.) / October 22 (Japan), as the next installment of our 2021 Signature Series that kicked off last month with the first 2021 Bilateral Boardroom. This virtual event will highlight a range of voices within the USJC community. Attendees will hear from USJC leadership and share their own visions for USJC's future. Stay tuned for more details! .