Diversity for the Venture Ecosystem – The Key to Thriving, Now More Than Ever (Webinar)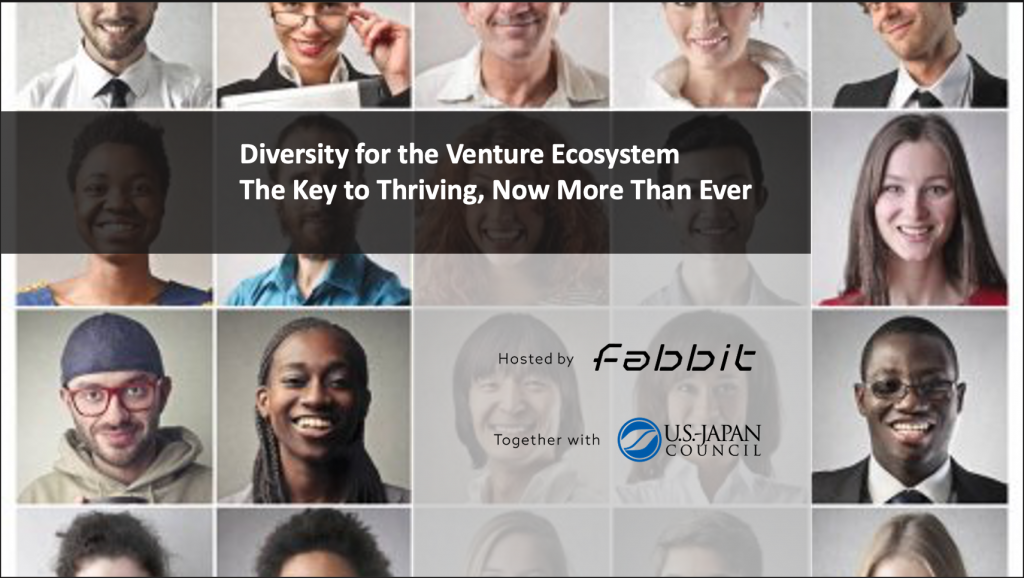 [Webinar] Diversity for the Venture Ecosystem – The Key to Thriving, Now More Than Ever
Date: Wednesday, July 29 (U.S.) / Thursday, July 30 (Japan)
Time: 8:00pm-9:00pm ET / 5:00pm-6:00pm PT / 9:00am-10:00am JT
Registration: Click here
Please consider supporting this free event by offering a donation here.
Now more than ever, we need to realize diversity, equity and inclusion in the workplace and workforce – whether at large multinational corporations, within the entrepreneur communities, or investment communities that enable these organizations to build and thrive. In collaboration with fabbit, these industry innovators will explore how startups can build successful DE&I approaches from the beginning, leading to better business outcomes, and how others in the ecosystem can support startups that prioritize DE&I.

Speakers include Council Leader Rika Nakazawa (Founder and CEO, Boardseatmeet and fabbit Ambassador); Lisa Shalett (Retired Partner, Goldman Sachs); Stéphane Fouche (Founder and Owner, HAKO, LLC and Junior Advisory Board Member, fabbit); and Council Leader Andrew Ogawa (Managing Partner, Quest Venture Partners).

USJC needs your support more than ever. With a suggested donation of $25, we can continue to offer free and public webinars to discuss issues of mutual concern between the U.S. and Japan. Tax-deductible donations can be made here.
Speakers
Rika Nakazawa (Moderator)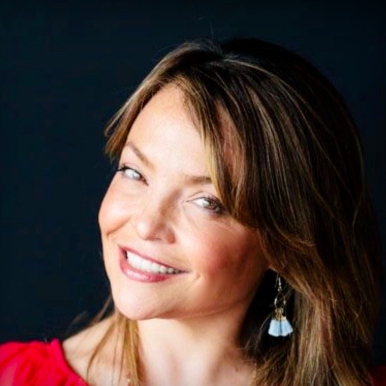 Rika Nakazawa is a senior leader, entrepreneur, investor, and frequent public speaker on technology-powered business transformation. She is the CEO and Founder of BoardSeatMeet, Inc. a Silicon Valley, social impact venture, focusing on bringing to diversity to the board room by empowering women to build and leverage social capital with modern technology, ultimately to deliver "High-Performance Board Room of Tomorrow". She is also Vice President and Client Partner at Conduent, a $4B revenue global BPO provider to Fortune 100 companies. Trilingual in Japanese, German, and English,she grew up in Japan and moved to the US initially to attend Princeton University. She has since worked internationally over two decades in senior executive roles in strategy, business development, and marketing with Fortune 500 companies – NVIDIA, Sony, Accenture, American Express – and Silicon Valley startups. She is a technology industry veteran and has served on multiple venture boards in next-generation computing and artificial intelligence ecosystems. Throughout her career, Ms. Nakazawa has been an avid advocate for advancing women's leadership in governance, technology, and business across industry verticals and global dimensions. She has also been actively engaged in U.S-Japan business collaboration and progress and is an ambassador to fabbit and Council Leader with the U.S Japan Council. Ms. Nakazawa is passionate about deepening the intersection of human and digital paradigms through transformational innovation and the pursuit of purpose-driven collaboration.
Stéphane E. Fouché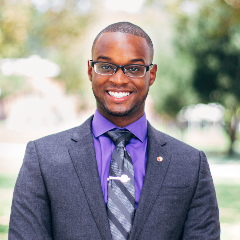 Born in Montreal, Canada but raised in Haiti, Stephane E. Fouché graduated from Harvard University. At the age of 12, he moved to New York, USA due to Haiti's political instability. Utilizing the Japanese Education Ministry's sponsored study-abroad scholarship – MEXT, Mr. Fouché studied for one year at Kyushu University. During his time in Japan, he interned/worked at Tokyo Gas, Active Learning, Rakuten, and Monex Securities, and became the youngest manager at DMM.com. From the Chairman's Office, he established the DMM.com Strategic Partnership department in order to build a Global Partnership/Ecosystem program geared towards start-ups. As the Expansion Manager for DMM.Africa, he oversaw the launch of the DMM.com sponsored ABIC/African Business Idea Cups in Rwanda, Kenya, Zimbabwe, Zambia, and Tanzania. Before leaving DMM.com, he oversaw the organization's Global Branding Strategy & Corporate Social Responsibility agenda. Currently, Mr. Fouché is the Honorary Representative of Harvard College Japan Initiative and the Representative Director of Komatsu Summer School. He servers as an advisor to the Ministry of Education's MEXT Scholars Association,Taktopia Co., Ltd. and fabbit Co., Ltd. He is the Founder & CEO of the Consulting Firm HAKO, LLC focused Crisis Management, Branding & Strategic Partnerships
Andrew Ogawa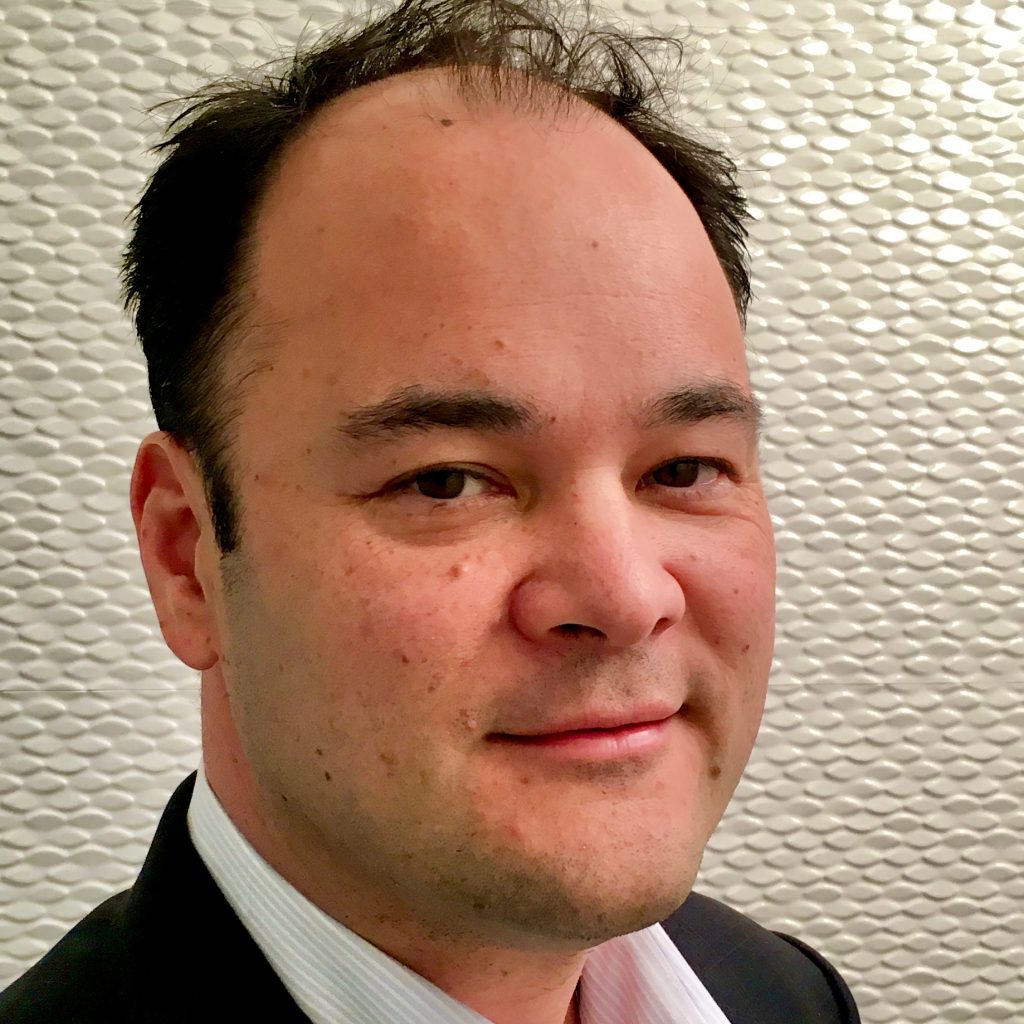 Andrew Ogawa has served as a director since April 2018. Mr. Ogawa co-founded and is a Managing Partner in Quest Venture Partners, an investment management company focused on early stage investments in the technology industry. Prior to founding Quest Venture Partners in 2008, Mr. Ogawa was a Manager for Daimler AG, an international automotive and transportation company, serving from 1999 to 2009 in capacities related to corporate strategy, international sales, and procurement in Germany, Japan, and the US. He holds dual B.A.s in Economics and East Asian Studies from the University of California at Santa Barbara, as well as an M.B.A. in International Management from Thunderbird American Graduate School of International Management.
Lisa Shalett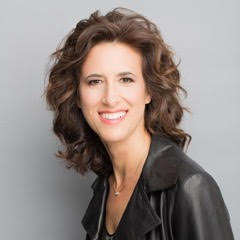 Lisa Shalett is a retired Goldman Sachs Partner who now advises growth companies and serves on corporate boards. Known for her agility, she has thrived in large, complex organizations as well as smaller fast-growing ones, and uses her considerable, diverse business expertise and operational experience to help startups scale, and large corporates stay innovative. Her leadership roles have included capital markets, brand marketing, digital transformation, crisis management, and strategic innovation, as well as risk/control areas compliance, legal and audit. Ms. Shalett currently serves on the boards of AccuWeather and digital agency Bully Pulpit Interactive. In 2016, she founded Extraordinary Women on Boards, a community of now over 200 women corporate board directors focused on advancing board excellence, modernizing governance, and increasing board diversity. She is a sought-after coach and mentor, committed to paying it forward, and a frequent speaker and podcaster, and Fortune Most Powerful Women Summit participant.