Hiroshima Global Academy Program
Study Abroad in Hiroshima for Three Years at High School and Graduate with an IB Diploma!
The U.S.-Japan Council (USJC), under the partnership agreement with Hiroshima Prefecture Board of Education, supports the recruitment of American students to study abroad at Hiroshima Global Academy (HiGA) for three years of high school education.


HiGA is a 6-year full boarding public school. It is a holistic learning community that fosters global leaders who create "a better future" in their communities. HiGA provides a diverse environment that prepares students for acceptance into top global universities.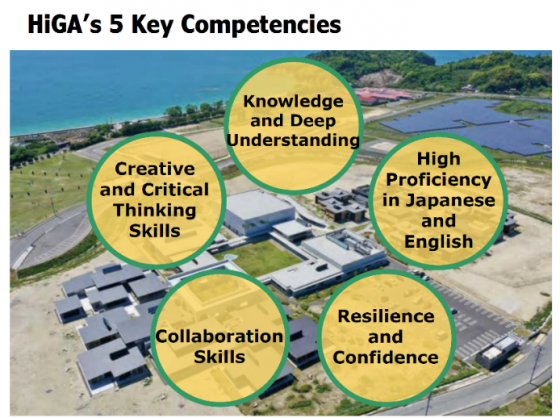 Students who meet the eligibility requirements outlined below can take an examination in summer-fall 2023 and enroll in HiGA for 10th grade in August 2024. They study there for three years to acquire an International Baccalaureate (IB) Diploma at the time of graduation.
Approximately 20 international students will be accepted from the 10th grade to join around 40 Japanese students who entered HiGA in 7th grade. Under the partnership, USJC will select two American students to recommend to HiGA, after which HiGA will confirm successful candidates. Those who are not recommended by USJC, can take an examination with HiGA directly.
Eligibility requirements:
Students who were born between April 2, 2007, and December 31, 2009, and have completed an amount of courses equivalent to nine years of schooling or will have by August 2024.
Passionate, diligent, and willing to learn Japanese language and culture, and to represent the United States and connect with Hiroshima as a young global leader.
Key dates for selection by USJC:
Registration: July 1 (Sat) – August 31 (Thu), 2023 Japan time
Application submission: July 1 (Sat) – September 1 (Fri), 2023 Japan time
Payment of the examination to HiGA: September 7 (Thu) – September 21 (Thu), 2023 Japan time
Selection of the recommended candidates from USJC to HiGA: September 7 (Thu), 2023 Japan time
Online interview by HiGA: October 14 (Sat), 2023 Japan time
Confirmation of admission: October 24 (Tue), 2023 Japan time
Students admitted will enroll by the end of August, 2024
How to apply:
Register your personal information from here by August 31 (Thu), 2023 Japan time
Download the forms and submit to USJC (

[email protected]

) by September 1 (Fri), 2023 Japan time
Forms for Application
Form 1: Essay [DOWNLOAD]
Form 2: Certificate of Language Proficiency in English (issued by the principal of your school)     [DOWNLOAD]
Form 4: Mathematics report and subject report [DOWNLOAD]
Attachment document of Form 4 [DOWNLOAD]
The most recent academic transcript (issued by the principal of your school)
Tuition and other fees:
| | |
| --- | --- |
| Entrance examination fee | 2,200 JPY |
| Annual tuition | 118,800 JPY* |
| Annual dormitory fee | ~510,000 JPY |
| Annual miscellaneous fees | ~204,000 JPY |
| Insurances | ~20,000 JPY |
| Others | ~385,000 JPY |
| IB exam fees | ~1,000 SGD (one-time payment) |
*Annual tuition will be exempted for international students.
Inquiries
For inquiries, please contact [email protected] at the U.S.-Japan Council.