2015 Delegation Report
Click on the image below to see the 2015 JALD Report.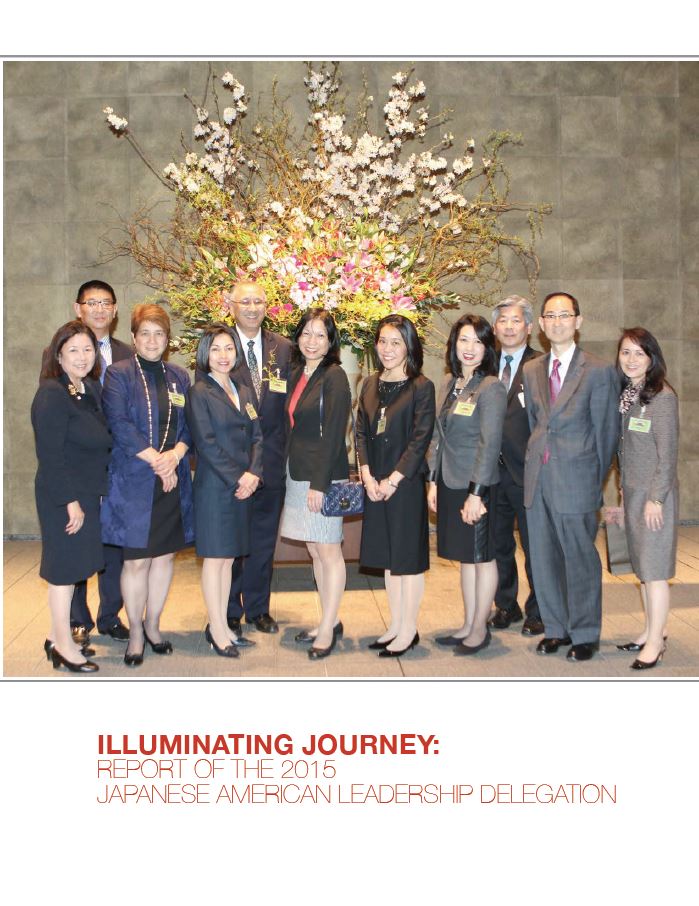 Schedule
The orientation took place in Los Angeles from January 30 to 31, 2015
The trip to Japan was from March 6 to 14, 2015
The itinerary included travel to Tokyo and Hiroshima
Symposium
On March 9, the delegates participated in a ​symposium in Hiroshima titled, "Aging and Dementia: Cooperation between the U.S. and Japan, from Research to Health Care." This symposium was sponsored by the Japan Foundation Center for Global Partnership and USJC, and was open to the public​.
Please see the flier here for more information.
​(Further information is also available online here (Japanese only) at http://www.jpf.go.jp/cgp/exchange/event/150309.html​.)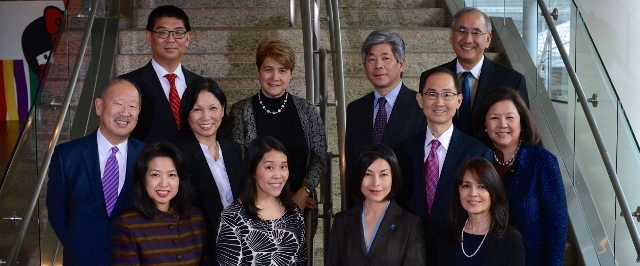 Photos
Photos of their trip in Hiroshima and Tokyo are available here.
---
Delegates
The 2015 delegates are:
Lynn Hashimoto (Seattle, WA)
Senior Attorney, Worldwide Sales Group
Microsoft Corporation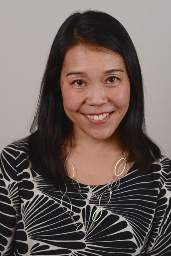 Ms. Lynn Hashimoto serves as lead in-house counsel to Microsoft's consumer-focused businesses in the United States, where she negotiates supply, distribution and marketing support agreements and provides strategic advice regarding the launch of new products and technologies. Prior to her time at Microsoft, Ms. Hashimoto spent nine years working as attorney in the Tokyo office of Morrison & Foerster. She has also worked at law firms in Silicon Valley and New York City, and served as law clerk to the Hon. Napoleon A. Jones, Jr., U.S. District Court Judge for the Southern District of California. Ms. Hashimoto is a Board member of the Japanese Cultural and Community Center of Washington (JCCCW) and a Scott M. Johnson Fellow, U.S.-Japan Leadership Program (USJLP). She received a B.A. in English Literature, magna cum laude, from Barnard College and a J.D., cum laude, from New York University School of Law.
Prefectures in Japan of ancestral origins: paternal side from Kumamoto, maternal side from Osaka and Nara
---
Yoshie Ito (New York, NY)
Assistant Director, Global Initiatives
Asia Society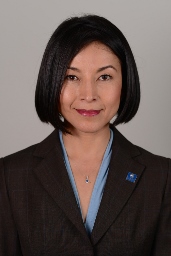 Ms. Yoshie Ito is Assistant Director of Global Initiatives at the Asia Society. In this capacity, she fundraises, curates, markets and executes Asia Society's conferences, seminars and lectures on global themes at the Society's headquarters in New York City and Asia. Before coming to the Asia Society, she worked for Zephyr Management as the Manager of Investor Relations. She also served as the head of Investor Relations for StarMedia Network, Inc. in New York and Grupo Elektra in Mexico City. In Mexico, she taught finance to university students at Escuela Bancaria y Comercial. She also did equity research for Santander Investment and worked for ITOCHU Corporation Mexico. Ms. Ito graduated from Chuwo Gakuen and Liceo Mexicano Japones in Mexico City and received her Bachelor's degree from Escuela Bancaria y Comercial in the same city. She holds a Master's degree in Finance and Investment from the University of Exeter in the United Kingdom, and a second Master's degree in East Asian Studies from Yale University.
Prefecture in Japan of ancestral origins: Yamaguchi
---
Toshiki Masaki (Detroit, MI)
Government Affairs Manager
Ford Motor Company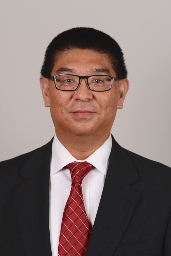 Mr. Toshiki Masaki has been with Ford Motor Company since 1988, holding a variety of positions in Vehicle Engineering, Finance, Purchasing and Government and Community Relations (G&CR). He is currently Manager in Government Affairs, where his responsibilities include: the Ford Political Action Committee, the Business Plan Review, Global Leader of G&CR Learning and Development, and public policy and economic impact analyses. In January 2013, Mr. Masaki was appointed by Governor Snyder to the Michigan Asian and Pacific American Affairs Commission. Previously, he was the Vice Chair of the Michigan Health Care Information Technology Commission (appointed by Governor Granholm in 2006). He was born in Osaka, Japan and has been living in the United States since 1979. Mr. Masaki holds a Bachelor's Degree in Mechanical Engineering from Massachusetts Institute of Technology, a Master's in Mechanical Engineering from the University of California, Berkeley, and an MBA from the University of Michigan, Ann Arbor.
Prefectures in Japan of ancestral origins: Osaka, Tokushima
---
Richard I. Morimoto (Chicago, IL)
Bill & Gayle Cook Professor of Biology
Northwestern University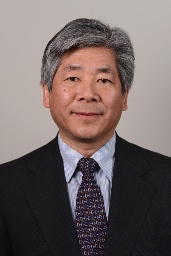 Dr. Richard I. Morimoto is the Bill and Gayle Cook Professor of Biology, Department of Molecular Biosciences, and Director of the Rice Institute for Biomedical Research at Northwestern University in Evanston, IL. Dr. Morimoto has been continuously supported by grants from the National Institutes of Health and is a member of the American Academy of Arts and Sciences. He has been a Visiting Professor at several international universities, including Osaka University and Kyoto University. He is a founder of Proteostasis Therapeutics, Inc. in Cambridge, MA, a biotech company developing small molecule therapeutics for age-associated degenerative diseases. As a faculty member, Dr. Morimoto helped found the Asian American Studies program at Northwestern University in 1995. In 2010, he was selected by the Japanese American Citizens League as recipient of its Japanese American of the Biennium Award. He holds a B.S. from the University of Illinois at Chicago and a Ph.D. in Biology from the University of Chicago, and trained at Harvard University.
Prefecture in Japan of ancestral origins: Hiroshima
---
Priscilla Ouchida (San Francisco, CA)
Executive Director
Japanese American Citizens League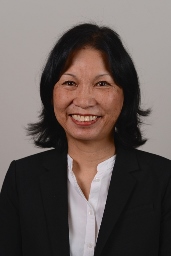 Ms. Priscilla Ouchida is Executive Director of the Japanese American Citizens League. She was appointed in 2012, and is the first female to serve in the position. Ms. Ouchida sits on the Executive Board of the Leadership Conference on Civil and Human Rights, a coalition of leading national civil rights organizations. She is the Vice President of Membership for the National Coalition of Asian Pacific Americans (NCAPA). She is Co-Chair of the Asian Pacific American Media Coalition, and serves on the Leadership Committee of the Congressional Asian Pacific American Caucus. She is also on the advisory board for the Asian Pacific Islanders for Professional and Community Advancement, an employee resource group within AT&T. She was recently appointed to the National Park Service Centennial Advisory Committee by the National Park System Advisory Board. Ms. Ouchida holds a B.A. in Biological Sciences from California State University, Sacramento.
Prefectures in Japan of ancestral origins: paternal side from Kumamoto, maternal side from Shizuoka
---
Linda Taira (Los Angeles, CA)
Senior Manager, Communications
Boeing Defense, Space & Security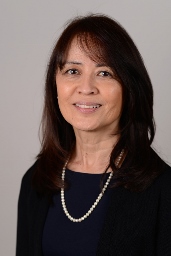 Ms. Linda Taira is a senior manager at Boeing's defense, space and security business unit. She has supported internal and CEO communications and has recently been assigned to lead communications for Boeing's global satellite business, based in Los Angeles. Prior to Boeing, she was vice president and corporate secretary at the national headquarters of the Public Broadcasting Service (PBS). She was also a senior vice president of media relations at two international public relations firms, Hill & Knowlton and Ketchum. As a journalist, Ms. Taira served as chief congressional correspondent at CNN, as well as a correspondent at CBS News, where she covered the White House and Congress. Ms. Taira holds a M.S. in Journalism from Columbia University and a B.A. in Journalism from the University of Hawaii.
Prefectures in Japan of ancestral origins: Fukuoka, Fukushima, Okinawa, Tokyo and Toyama
---
Sach Takayasu (Washington, DC)
President & CEO
Asian/Pacific Islander American Chamber of Commerce & Entrepreneurship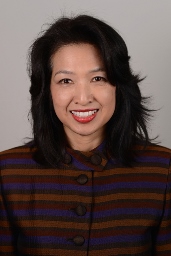 Ms. Sach Takayasu is the President and CEO of Asian/Pacific Islander American Chamber of Commerce & Entrepreneurship (ACE). ACE is devoted to addressing the needs, interests and aspirations of entrepreneurs, business owners and corporate leaders of Asian American, Native Hawaiian and Pacific Islander heritage. Prior to joining ACE, Ms. Takayasu has built many of IBM's new businesses, including Digital Marketing. Her contributions have been recognized by the industry through many awards, including the 2011 Forrester Groundswell Award and an invitation from the Executive Director of the United Nations Populations Fund (UNFPA) to join its Strategic Innovation Advisory Board. Over the years, Ms. Takayasu has also helped various organizations such as the Asian and Pacific Islander American Scholarship Fund, UNFPA and New York International. Ms. Takayasu holds a B.S. from Carnegie Mellon University and an MBA from The Ohio State University.
Prefecture in Japan of ancestral origins: Nara
---
Tyler Tokioka (Honolulu, HI)
Vice President, External Affairs
Island Insurance Companies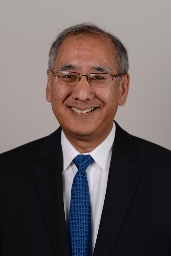 Mr. Tyler Tokioka has been with the Island Insurance Companies for 14 years and is currently the Vice President of External Affairs. In this capacity, he coordinates the public relations effort regarding the company's charitable giving and develops long-term relationships with various community leaders (non-profit and political) to ensure that the efforts of the company are aligned with the needs of the community. Mr. Tokioka is also President of the Island Insurance Foundation, and coordinates the Foundation's annual giving program by developing an annual budget and reviewing giving requests with the standing review committee. He is very active on a number of boards, including the Japanese Chamber of Commerce Board of Directors, the Japanese Cultural Center Board of Directors, the Hawaii Chapter CPCU Society Board of Directors, and the Koa Anuenue. Mr. Tokioka received a B.A. in Business Administration from Pacific Lutheran University and an MBA from New York University's Stern School of Business.
Prefecture in Japan of ancestral origins: paternal side from Okayama and Niigata, maternal side from Hiroshima
---
Tracy Tsuetaki (Chapel Hill, NC)
Operating Partner
Symphony Technology Group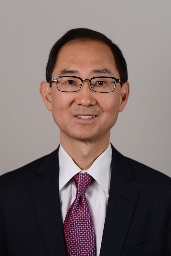 Dr. Tracy Tsuetaki is an Operating Partner with Symphony Technology Group (STG). STG is a strategic private equity firm headquartered in Palo Alto, California, with approximately $2 billion under management focused on transforming high-potential companies into definitive market leaders through a combination of capital and hands-on operational expertise. Previously, Dr. Tsuetaki was Senior Vice President for PAREXEL International, Inc., a global life sciences services and technology organization. Prior to that, he served as Group President of Optum Life Sciences, a UnitedHealth Group Company. His background includes general management, business development, R&D, marketing, sales, and manufacturing management in publicly traded and private equity-backed life science and health services and technology-based companies. He has also worked with government regulatory agencies and collaborated with organizations on development and commercial programs. Dr. Tsuetaki holds a B.S. from the University of California at Davis, a M.S. and a Doctorate of Optometry from the University of California at Berkeley, and an MBA from Northwestern University's Kellogg Graduate School of Management.
Prefectures in Japan of ancestral origins: maternal side from Okayama, paternal side from Wakayama
---
Robin Yasui (Denver, CO)
Director of Geriatrics
Denver Health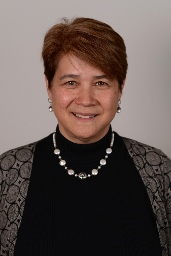 Dr. Robin Yasui is Director of Geriatrics at the nationally recognized Denver Health and Hospitals in Denver, Colorado. In this capacity, she developed and directs a program of care for 6,000 of Denver's senior patients from over 60 countries. Also an Assistant Professor in Medicine at the University of Colorado, she is an award-winning teacher, lecturing on topics in Cultural Medicine to colleagues and students from wide-ranging healthcare disciplines. Dr. Yasui carries her passion for activism beyond the hospital walls, serving on boards in the Latino, Asian, immigrant and refugee communities. She attributes her dedication to serving diverse communities to her family roots. She follows in the footsteps of the Yasui family tree, including her uncle, Minoru Yasui, who spent over 40 years working for the Denver community she now serves. Dr. Yasui holds a B.A. from Mount Holyoke College and an M.D. from Indiana University. She completed her internship and residency in Internal Medicine as well as a fellowship in Geriatric Medicine at the University of Colorado Denver.
Prefecture in Japan of ancestral origins: Okayama
---
Background
The relationship between the U.S. and Japan is considered by many as the most important bilateral relationship in the world, and Japanese Americans are uniquely positioned to help shape it. The connections between Japanese and Japanese Americans are complex. While World War II played a major role in severing ties between Japanese Americans and Japan, today's opportunities for collaboration and mutual benefit are great and demand a renewed commitment to involving Japanese Americans in U.S.-Japan relations.
The Japanese American Leadership Delegation provides Japanese American leaders with the opportunity to become acquainted or re-engaged with Japan and participate in discussions related to the role that Japanese Americans can play in addressing key issues that face both countries, now and in the future.
The first delegation was invited by the Ministry of Foreign Affairs (MOFA) to visit Japan in 2000. It included third and fourth generation Japanese Americans selected from various professional fields including the educational, cultural, philanthropic, legal and political sectors. Since the initial trip, delegations of Japanese American leaders from throughout the United States have visited Japan every year since 2002.
Program Alumni
JALD Alumni have created a network to ensure that the commitment to strengthening U.S.-Japan relations is maintained. There have been JALD national reunions and several alumni groups have traveled back to Japan together to build on and sustain important relationships built on the program. Alumni of the program are invited and encouraged to join the U.S.-Japan Council's national networking of Japanese American leaders known as Council Members and participate in Council programming and events.