Japanese Americans & Japan: Legacies – Double Feature: Interviews with Daniel Okimoto, Ph.D., and James Higa
日時
2021年3月3日 (水) 6:00 pm – 8:00 pm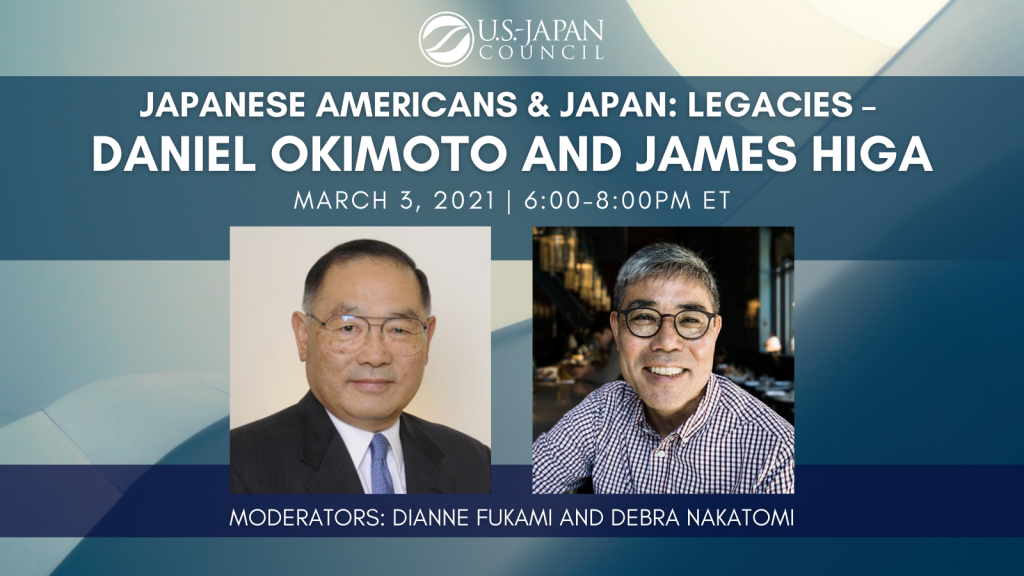 We have an exciting "Double Feature" coming up on March 3rd featuring Daniel Okimoto, Ph.D., Professor Emeritus at Stanford University, Co-Chairman of the Silicon Valley Japan Platform, and member of the USJC Board of Councilors; and James Higa, Managing Partner at Offline Ventures, Executive Director of Philanthropic Ventures Foundation, and USJC Board Member. In these back-to-back interviews, we will hear their unique family stories and perspectives on the evolution of the enduring U.S.-Japan bilateral relationship in business and technology through their unique experiences in Japan and Silicon Valley. The schedule is as follows:
Japanese Americans & Japan: Legacies – Double Feature: Interviews with Daniel Okimoto, Ph.D., and James HigaDate:
March 3, 2021 (U.S.) / March 4, 2021 (Japan)
Time:
6:00-8:00pm ET / 8:00-10:00am JT
Interview with Daniel Okimoto, Ph.D. (via Zoom Webinar):
6:00-7:00pm ET / 8:00-9:00am JT
Interview with James Higa (via YouTube Premiere):
7:00-8:00pm ET / 9:00-10:00am JT
Registration:
Click here
The Japanese Americans & Japan Legacies video series highlights the careers and life journeys of prominent Japanese American leaders who are pioneers in developing the U.S.-Japan relationship. Through their stories, we will learn about the role of Japanese Americans in strengthening U.S.-Japan relations, and the ways Japan has contributed to Japanese American identity and community.
James Higa photo credit: Chris Michel
Register
Registering will give you access to both interviews. You will receive participation links for Zoom (Daniel Okimoto) and YouTube (James Higa). If you have trouble filling out or accessing the form below, please click here.