The U.S.-Japan Council (USJC) Board of Directors has announced that the Council's next President and Chief Executive Officer is Ms. Suzanne Basalla, Chief of Staff at the Toyota Research Institute (TRI) and former USJC Executive Vice President and Chief Operating Officer. She returned to USJC to assume the CEO position on May 18, 2020.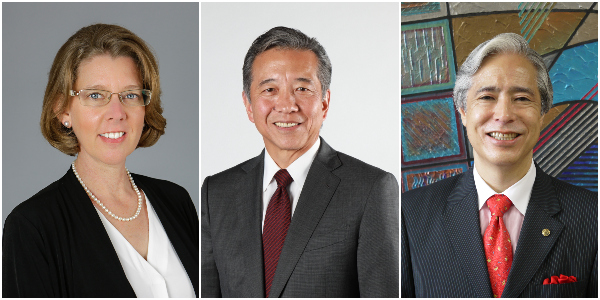 Additional leadership appointments include Mr. Paul K. Yonamine as incoming Chair of the USJC Board of Directors, with a term beginning January 2021, and Mr. Ernest Higa, who will replace Mr. Yonamine as Chair of the USJC Board of Councilors. Mr. Yonamine is the Chairman and CEO of Central Pacific Financial Corp. and Executive Chairman of Central Pacific Bank. Mr. Higa is President, Chairman and CEO at HIGA Industries Co., Ltd.
As USJC's CEO, Ms. Basalla will work closely with the Board of Councilors and the Board of Directors, as well as with the Japan Board, led by Ms. Royanne Doi, Global Legal, Ethics and Compliance Adviser, Legal Division at Yamaha Corp.; and the Japan Board of Councilors, chaired by Ms. Kathy Matsui, Vice Chair and Chief Strategist for Goldman Sachs Japan Co., Ltd.
"The Board is confident that these outstanding leaders will enable the Council to meet the challenges of the future, including sustaining unique programs to strengthen U.S.-Japan relations, providing connections for our members and stakeholders in a greatly changed world, and continuing to develop a new generation of leaders," said current USJC Board Chair Phyllis Campbell.
The Board of Directors' selection of Ms. Basalla as CEO concludes a search that began at the end of January after USJC President Irene Hirano Inouye announced her plans to retire in 2020. With the death of President Hirano Inouye on April 7, and with the deepening of the coronavirus crisis, the Board endeavored to identify a leader with proven crisis-management skills in addition to an extensive background in U.S.-Japan relations.
Ms. Basalla's  crisis-management experience is rooted in her work as senior advisor to then-U.S. Ambassador to Japan John Roos. During the aftermath of the Great East Japan Earthquake in 2011, she partnered with President Hirano Inouye to help launch the TOMODACHI Initiative. In 2012, she joined USJC to work under President Hirano Inouye's leadership as Executive Vice President and Chief Operating Officer, supporting all aspects of growing the Council and engaging regularly with members, donors and key government officials. Even after joining TRI in 2017, Ms. Basalla has been a Council Leader and active member of USJC and served on the Council's Development Committee. She is also vice chair of the National Association of Japan America Societies and sits on the board of the Japan Society of Northern California.
Ms. Basalla also previously served as director for Japan in the Office of the U.S. Secretary of Defense, leading a team working the full range of U.S.-Japan defense policy issues, and was a lieutenant commander in the U.S. Navy, with a two-year tour in Yokosuka. She earned a B.A. in Asian Studies from the University of Virginia and an M.S. in Asian Studies from George Washington University. In addition, she attended Keio University, researching China-Japan relations and implications for U.S. policy.
USJC welcomes Ms. Basalla, Mr. Yonamine and Mr. Higa to their respective leadership positions.