On September 16, the U.S.-Japan Council hosted the 2020 Bilateral Boardroom. Under the theme of "Leadership Through Crisis, Lessons Learned," this event explored leadership and innovation across the private and public sectors during crises, and reflected upon past efforts to create a more equitable and inclusive corporate workplace while critically analyzing ongoing diversity initiatives. Over a two-hour period, USJC showcased fireside chats with corporate leaders, remarks from government officials, industry insights and a tribute to USJC Founding President, the late Irene Hirano Inouye, in an entirely virtual broadcast.
The significance of the U.S.-Japan relationship and the need to continue to broaden and further the partnership across multiple sectors served as a focal point. In a video recorded one day prior to his resignation announcement, former Prime Minister Shinzo Abe emphasized the strength of the existing relationship between the two nations and expressed optimism that this unique partnership would help lead global initiatives to fight COVID-19 and future crises. While discussing the banking/finance industry in light of the pandemic, Mitsubishi UFJ Financial Group, Inc. Chairman Nobuyuki Hirano spoke about his hopes for the United States and Japan to begin to rebuild the global order with like-minded nations. Takeda Pharmaceutical Company Ltd. President and CEO Christophe Weber added to these sentiments by pointing to the increased global collaboration in the medical industry to develop vaccine and treatment solutions while also emphasizing the need for continued partnerships and joint efforts to promote the resilience needed to weather future crises.
A variety of corporate and public sector initiatives to support employees, consumers, partners, and vulnerable communities were also discussed. Governor of Tokyo Yuriko Koike stated the need to continue to commit resources to the COVID-19 response and enhance testing and treatment capabilities for citizens of Tokyo. Tokio Marine Holdings, Inc. Chairman of the Board Tsuyoshi Nagano identified public-private partnerships and third-party capital as two possible solutions for further diversifying risk and providing more comprehensive insurance coverage to its customers. Toyota Motor North America CFO and Group Vice President Tracey Doi outlined how Toyota awarded 2.5 million dollars in grants for food assistance and e-learning programs at the height of the pandemic and had recently partnered with Bullard, a high-quality personal protective equipment (PPE) manufacturer, to produce face shields, respirators and hoods for the medical industry. President of Sonoma State University Judy K. Sakaki detailed how Sonoma State has begun to design and evaluate plans to help students graduate on time and to balance the university budget while ensuring that the entire Sonoma State community feels valued and connected even without traditional face-to-face interaction.
Digital transformation and innovation were also an important topic of discussion. Governor Koike highlighted ongoing efforts to increase remote connectivity among corporate workers, citing a 36% increase in firms with work-from-home systems in place. While noting the immense economic and social effects of the pandemic, Mr. Hirano also noted that stay-at-home restrictions and new norms dictating work and social standards presented an ideal opportunity to accelerate digital transformation in Japanese society. Mr. Nagano spoke at length about specific technological improvements Tokio Marine is beginning to consider, including increasing non-face-to-face transactions in the application process, conducting claim assessments by satellite, and even using AI for typhoon predictions to anticipate areas of need.
In addition to the coronavirus pandemic, the Boardroom also discussed the systemic racism against African Americans in the United States and larger concerns over diversity, equity and inclusion throughout the world. In an interview with Reuters TV Content Producer and Anchor Fred Katayama, Ford Foundation President Darren Walker emphasized the importance of addressing these issues quickly and decisively. In an interview with USJC Board Chair Phyllis Campbell, JPMorgan Chase & Co Chairman and CEO Jamie Dimon echoed this sentiment and noted that although JPMorgan had attempted to increase the number of women and minorities in the company, Black Americans in particular, had been left behind. To remedy this, Mr. Dimon listed a number of ongoing long-term and sustainable initiatives to reinforce Black pathways in the firm. Mr. Dimon also stressed that certain societal shortcomings – including deteriorating infrastructure, poorer education outcomes in inner-city schools, stifling bureaucracy and red tape for small businesses, and a lack of health insurance for 50 million Americans – were apparent even before the COVID-19 crisis and George Floyd's death, and had not been addressed. Mr. Walker spoke about the need to move beyond tokenism and to transformative measures to combat the decades of white supremacy and historic discrimination that African Americans have faced. Mr. Walker specifically pointed to a regressive tax system and an economy that values capital over labor as two major obstacles facing the United States when attempting to create a more equitable playing field for its citizens.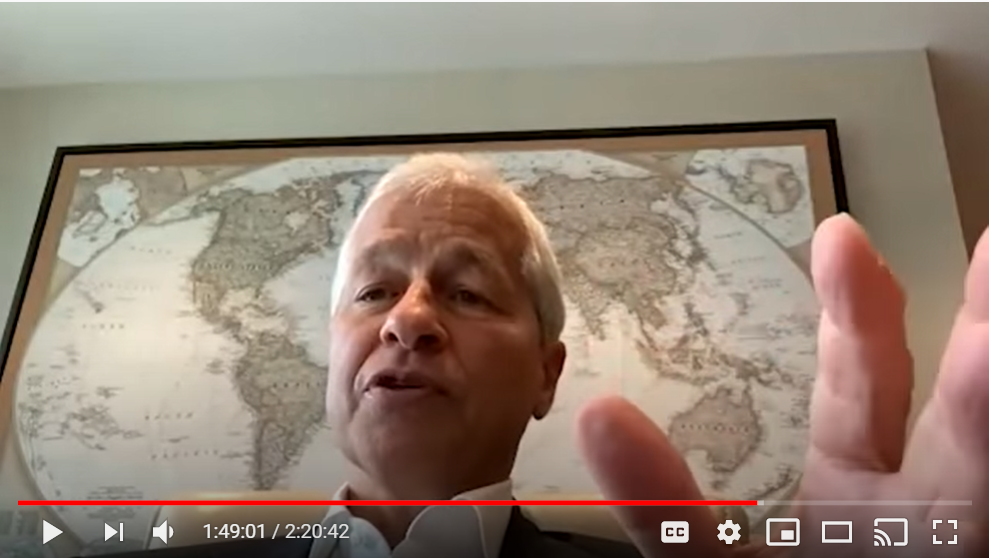 A number of speakers also paid tribute to Irene, who passed away in April. Former Prime Minister Abe commended Irene's role in advancing the U.S.-Japan relationship and expressed confidence that current USJC President Suzanne Basalla would continue in her footsteps. Minister of Administrative Reform Taro Kono delivered a touching account of Irene and her husband, Senator Daniel K. Inouye's close relationship with him and his wife, and also recounted entertaining karaoke outings with Irene during Japanese American Leadership Delegation (JALD) trips to Tokyo. Mr. Walker, who worked closely with Ms. Hirano Inouye to help rescue Detroit from bankruptcy in 2014, described her as a 'Steel Magnolia.'
Click here to watch the Bilateral Boardroom.
---
The U.S.-Japan Council Annual Conference is a yearly event that brings together regional, national and international leaders from government, business, academia and nonprofit sectors to discuss the current status and continuous future of the U.S.-Japan collaboration.
In lieu of the 2020 Annual Conference, the U.S.-Japan Council (USJC) is hosting a number of virtual events and engagements throughout the remainder of the year to provide insights and exclusive content to our stakeholders and supporters. This Signature Series will explore the theme "U.S.-Japan Relations in the Coronavirus Era: Leadership for Recovery, Resilience and Community." The Signature Series began with a high-profile symposium called the Bilateral Boardroom.