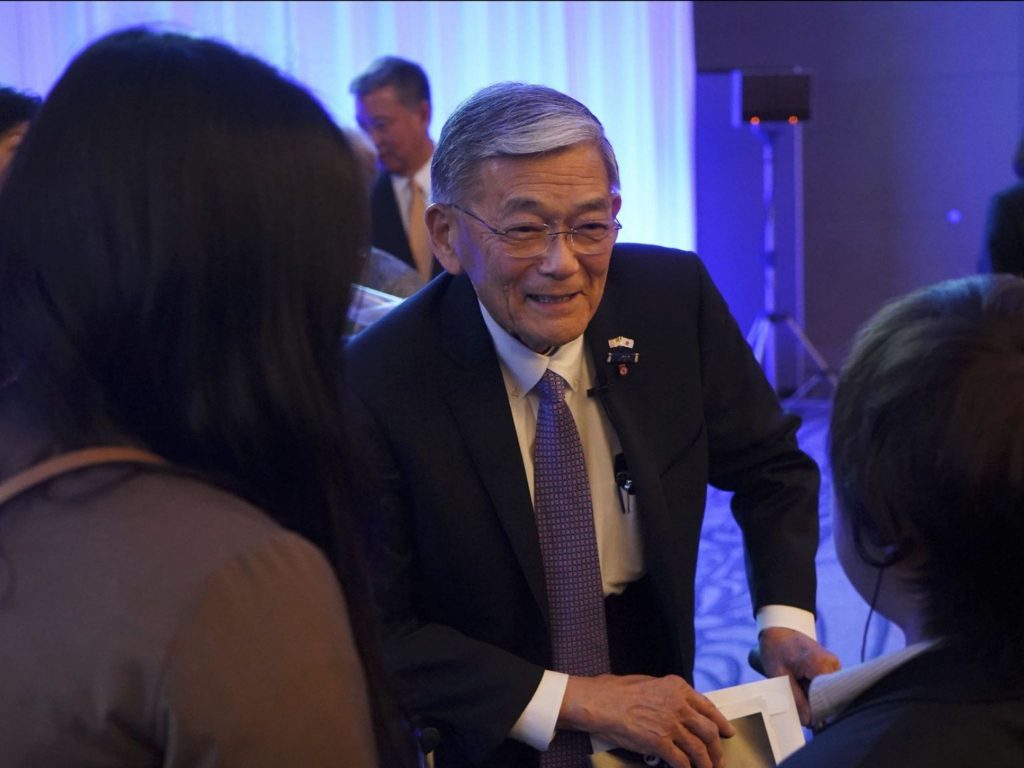 The U.S.-Japan Council (USJC) mourns the passing of former U.S. Secretary of Transportation and former U.S. Secretary of Commerce, the Honorable Norman Y. Mineta. Serving on the USJC Board of Councilors since 2010, Secretary Mineta was a longtime member and supporter of the Council.
As a champion for developing Japanese American leaders, Secretary Mineta embodied the values of the USJC and was a source of pride and inspiration for the greater Asian American community.
"Norm was such a great and accomplished individual and yet so humble and approachable," reflected Chair of the U.S.-Japan Council and Executive Chairman of Central Pacific Bank Paul Yonamine. "His contributions to our country and to organizations like the U.S.-Japan Council were tremendous and lasting."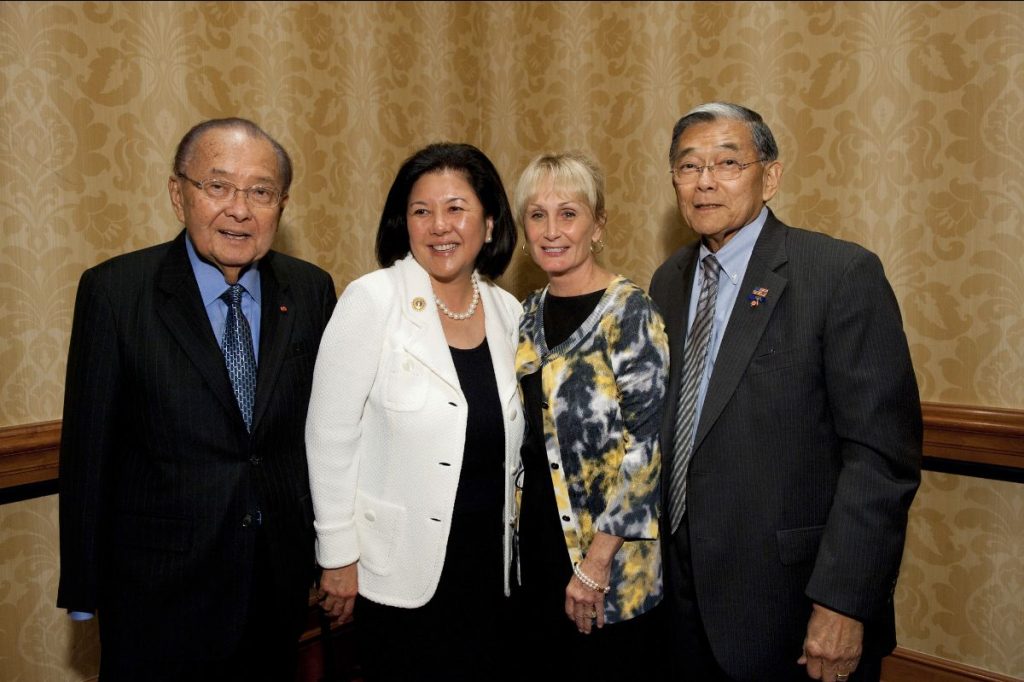 Norman Mineta was only 10 years old when he was taken to the Heart Mountain Wyoming Relocation Center, along with the rest of his family following President Roosevelt's signing of Executive Order 9066. During his later career that included serving as Mayor of San Jose, a ten-term member of Congress, and the first Asian American Cabinet member, he was passionate about advocating for redress and reparations for Japanese Americans who were incarcerated during World War II. He was instrumental in the eventual passing of the Civil Liberties Act of 1988, which entitled incarceration survivors to $20,000 each and acknowledged that what the United States government had done was wrong. He dedicated himself to telling the story of incarceration and of American democracy to American audiences and supporting organizations and institutions that advanced this mission. The Council was honored to help him share that story with audiences in Japan as well.
As Vice Chair of the Board of Councilors, Secretary Mineta was passionately dedicated to the USJC's mission and its growth. He spoke at many of the Council's events and in 2018, he headlined the USJC Annual Conference where the documentary about his journey, "Norman Mineta and His Legacy: An American Story" was screened in Japan for the first time. At that event, he explained, "What Japanese Americans bring to the table is really citizen diplomacy, and I think there's a great deal of importance because we can relate to family, we can relate to friends, we can relate our own experience to people in Japan and build that kind of relationship, and I think through the U.S.-Japan Council, that can be done very effectively."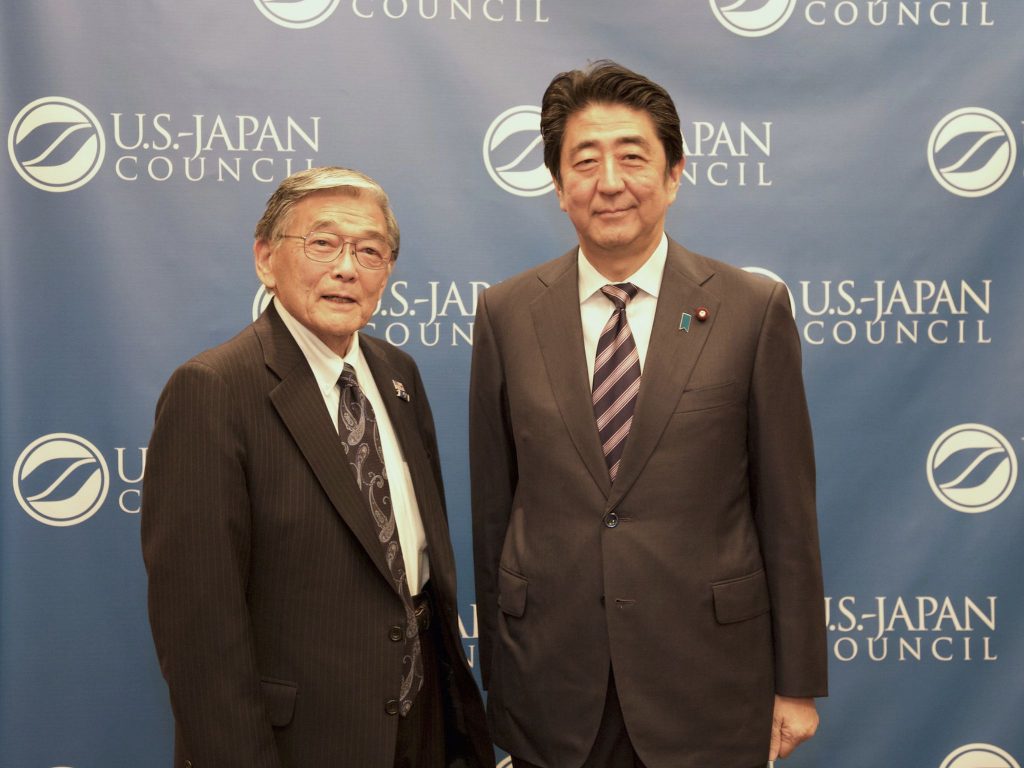 "Norm's personal story, public service career, commitment to the community, and passion for social justice have inspired all of us in the Council," said USJC President and CEO Suzanne Basalla. "His warmth, humor, and resilience reached us across generations and borders. We will miss him deeply and cherish his incredible legacy."
While we mourn the loss of an incredible champion, we at the Council will remain inspired by Mr. Mineta's incredible legacy for decades to come.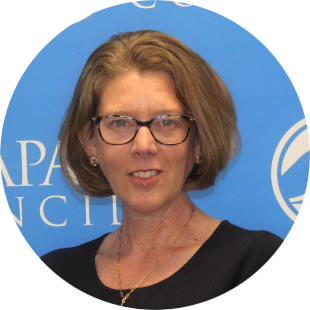 It is with heavy hearts that we memorialize and honor the passing of such a beloved and respected leader, Norman Mineta. As we read the many beautiful and fitting tributes to Secretary Mineta, we are reminded of how fully he lived his life, and how selflessly he served his community. I have my own favorite memories and stories – such as Irene telling me that visiting the Department of Transportation in 2015 with Secretary Mineta was like "walking alongside a rock star," as many of his former employees poured out of their offices and lined the hallways to welcome him back even 10 years after he'd left government. Norm did so much for USJC, and also to support many other worthy organizations and individuals. Today, we want to highlight the reflections of other Council Members whose lives and organizations were so touched by Norman Mineta.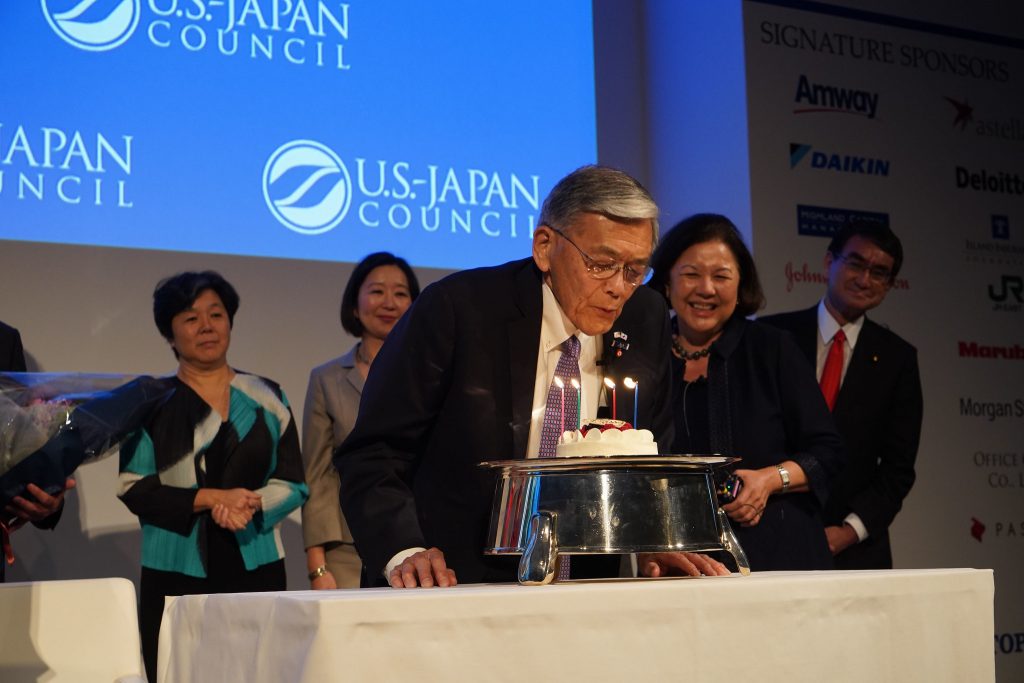 "We know that Norm was supportive of USJC and its mission. A big highlight for him was the 2018 conference in Tokyo when we screened an early cut of "Norman Mineta and His Legacy: An American Story." We were touched that an audience of 700 showed up to see the film. But what delighted Norm even more was the surprise birthday cake that was wheeled onstage for him. In spite of his many accomplishments and powerful positions he held, he never lost his sense of delight and his love for people. He always stopped to chat with everyone, remembering names and faces. What an inspiration to all of us!"

~Council Leaders Dianne Fukami and Debra Nakatomi (JALD '09)
Co-Producers, Norman Mineta and His Legacy: An American Story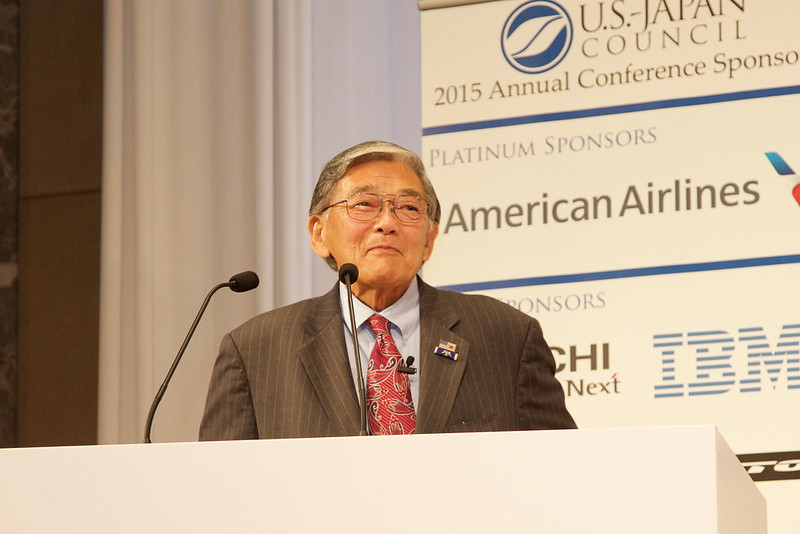 "On behalf of the USJC Board of Councilors, I would like to express our deepest condolences to the family of the "Honorable Norman Y. Mineta" whom we all so fondly called Norm. He was a "giant" of a man due to his many accomplishments but yet humble and a great advocate for USJC and our initiatives of developing stronger relationships between the US and Japan on various levels. He will be missed by all of the members of the Board of Councilors of USJC and the many people he touched. Our prayers go out to Norm and his family."

~Chair of the USJC Board of Councilors Ernest Higa
Chairman, President & CEO, Higa Industries Co., Ltd.
An important institution that Secretary Mineta devoted his time and energy to is the Japanese American National Museum (JANM). He served on the board of governors from 1988 to 1995 and was the chair of the board of governors from 2010 to 2015. A trustee since 1996, Mr. Mineta once chaired its board of governors and later, its board of trustees. As President & CEO of the Museum, Council Leader Ann Burroughs shared the following reflection with the JANM community.
"Norm always said that everyone has two arms: One to climb the ladder of success and one to reach down, pick someone else, and pull them up behind you. He was a beacon of inspiration and support for the Museum, the nation, and the world. His voice shaped national and international conversations on social justice, and his light will continue to live in all of us and inspire generations of leaders. We extend our deepest condolences to his family and all of his many friends and colleagues who have had the special gift of friendship and time with Secretary Mineta."

~Council Leader Ann Burroughs
President and CEO, Japanese American National Museum
Click here to read JANM's full statement
Council Leader Shirley Ann Higuchi has worked closely with Secretary Mineta to preserve the Heart Mountain WWII Japanese American Confinement Site and to develop an interpretive center that would ensure the story of his incarceration there, along with others' stories, were preserved and shared. As chair of the Heart Mountain Wyoming Foundation, Shirley commented on Secretary Mineta's legacy.
"Norman Mineta was our guiding light at the Heart Mountain Wyoming Foundation. He endured his unjust incarceration along with his family, but he never harbored bitterness toward the country that he would later serve with such distinction. I treasure every moment that I spent in his presence."

~Council Leader Shirley Ann Higuchi
Chair of the Board, Heart Mountain Wyoming Foundation
The Japanese American Citizens League (JACL) also benefited from Secretary Mineta's strong support given that he fought for civil liberties at the highest levels of government and remained a steadfast beacon for activists throughout his long career. As Executive Director of the Japanese American Citizens League, Council Leader David Inoue (JALD '18) added his remembrance to the JACL tribute.
"Secretary Mineta was well known for his leadership in the Japanese American and Asian American community, especially with JACL. What I will remember most was at an event where everyone, as always, wanted to talk to him, but he took the time to pull my then eight year old son aside and spoke with him at length with all his attention. It was this warmth that guided Secretary Mineta throughout his career and made him such a great mentor to so many people. He often spoke of how important the words American Citizen were to him, and he provided us all with a model of how to be the best possible."

~David Inoue (JALD '18)
Executive Director, Japanese American Citizen's League
Read JACL's full statement here
Densho, whose mission is preserving the stories of the past for the generations of tomorrow, captured Secretary Mineta's story for its archives. Densho Executive Director and Council Leader Tom Ikeda shared his memories of Secretary Mineta.
"Not only did Norm befriend and influence the leaders of our country, he was also a beloved member of Japanese American communities across the nation. Whenever he came to Seattle, he came as a helping friend bringing his warm smile, quick wit, and amazing stories. Thank you, Norm, for sharing your life with so many. You will be missed but never forgotten."

Tom Ikeda (JALD '08)
Executive Director, Densho
Click here to read Densho's full statement
Mayor, Congressman, and Secretary Mineta inspired many other Asian Americans to pursue public service and elected office (and we hope that more will follow). Near his hometown, two USJC members, Margaret Abe-Koga and Ellen Kamei, serve on the Mountain View City Council, and are past Mayors. Ellen shared the following reflection.

"I had the distinct honor and privilege of knowing Secretary Mineta since I was a young girl growing up in San Jose Japantown. His humble nature and sincere belief in service above self taught me to fight for my convictions, to always be fair, and to be proud to be an American. I have carried that with me into adulthood and ultimately in my life as a public servant."

Ellen Kamei (ELP '15)
Councilmember and former Mayor, City of Mountain View, CA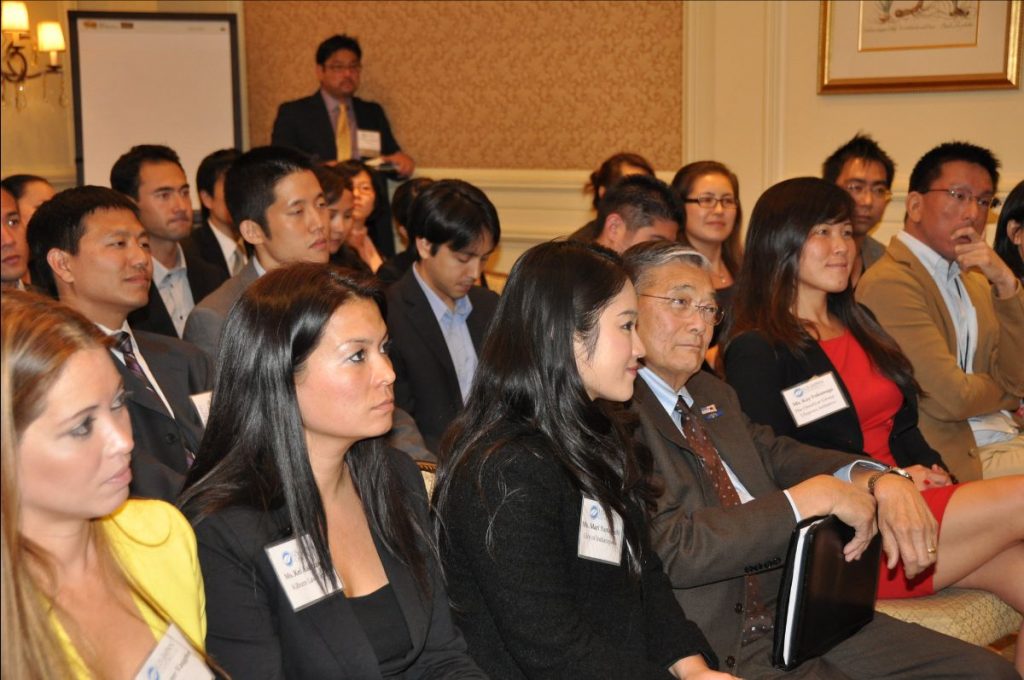 USJC Board of Directors member Josh Morey's connection was personal. When Josh's father acquired Secretary Mineta's insurance agency in the mid-80s and moved his family to San Jose, Secretary Mineta was like a second father figure to Josh.
"As I personally reflect on Uncle Norm's life, it's amazing to piece together the impact he had on our country, Japanese American community, and my family. I respect the courage he had to stand up for injustice, and his unwavering determination to progress diverse communities throughout America. One of the last conversations we had was centered around his gratefulness that our Japanese American community was in good hands. This conversation will always be a north star for me as I remember the legacy he's left on my life, and the duty I now bear to amplify his impact for future generations. I'm forever grateful to Uncle Norm for what he accomplished but more importantly, the love he shared with me and my family. He would end every conversation saying, "love you." I echo that back forever, job well done, love you Uncle Norm."

USJC Board Member Joshua Morey (ELP '16)
President, The J. Morey Company, Inc.
One of the ways Secretary Mineta's story is being told to young people is through the development of a free web-based curriculum toolkit called "What Does it Mean to Be an American?" inspired by Secretary Mineta's life and career. This project was authored by Stanford SPICE curriculum designer and USJC Associate Rylan Sekiguchi (ELP '17).
"Norm was such an exceptionally impressive and accomplished person who yet remained so grounded, kind, and genuinely humble. He treated everyone with such warmth and dignity, regardless of their background or social standing. And he always listened deeply. I'll never forget that, and it'll always be something I strive to emulate. He was someone I truly looked up to. I will certainly miss him, and I know so many others will, too."

Rylan Sekiguchi
Manager of Curriculum and Instructional Design at the Stanford Program on International and Cross-Cultural Education (SPICE)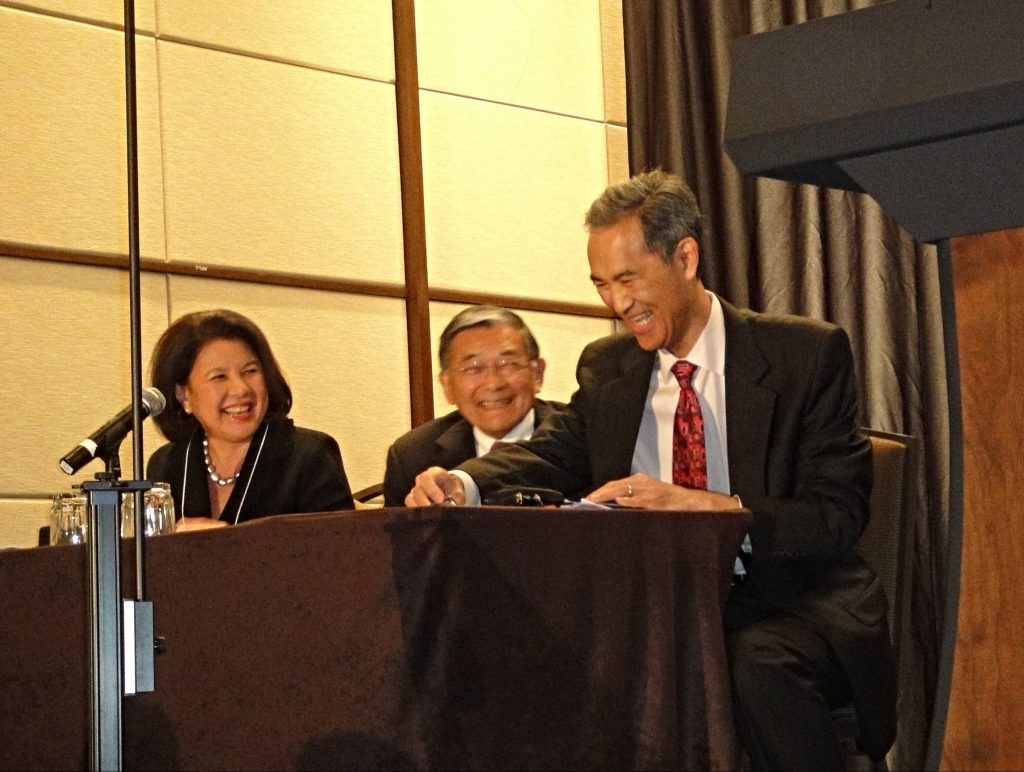 "I'll miss Norman Mineta. He was a really avuncular Nisei. He put you at ease because he never put on airs. He was also an optimist. Norm spent some of the darkest days of his life as a kid in a World War II concentration camp in Wyoming. So I was surprised when he once called me over from another table at a restaurant only to say, "Hey, Fred, have you ever been to Wyoming?" No, I said. "You and Kaoriko should go. It's a really beautiful place." Once, when I ran into him in the lobby of a building in Washington, he asked, "Where are you headed?" I told him that I was attending the Congressional Gold Medal presentation dinner to honor Nisei war vets. "So am I," he said. I'll give you a ride." When I politely declined, he insisted. So I wound up sitting in the back seat as the former Transportation Secretary got into the driver's seat with his wife, Deni, by his side. Now that beats any chauffeured limousine drive. Rest in peace, Norm. Thanks for inspiring so many Japanese Americans and Asian Americans."

Fred Katayama (JALD '20)
Executive Vice President, U.S.-Japan Council