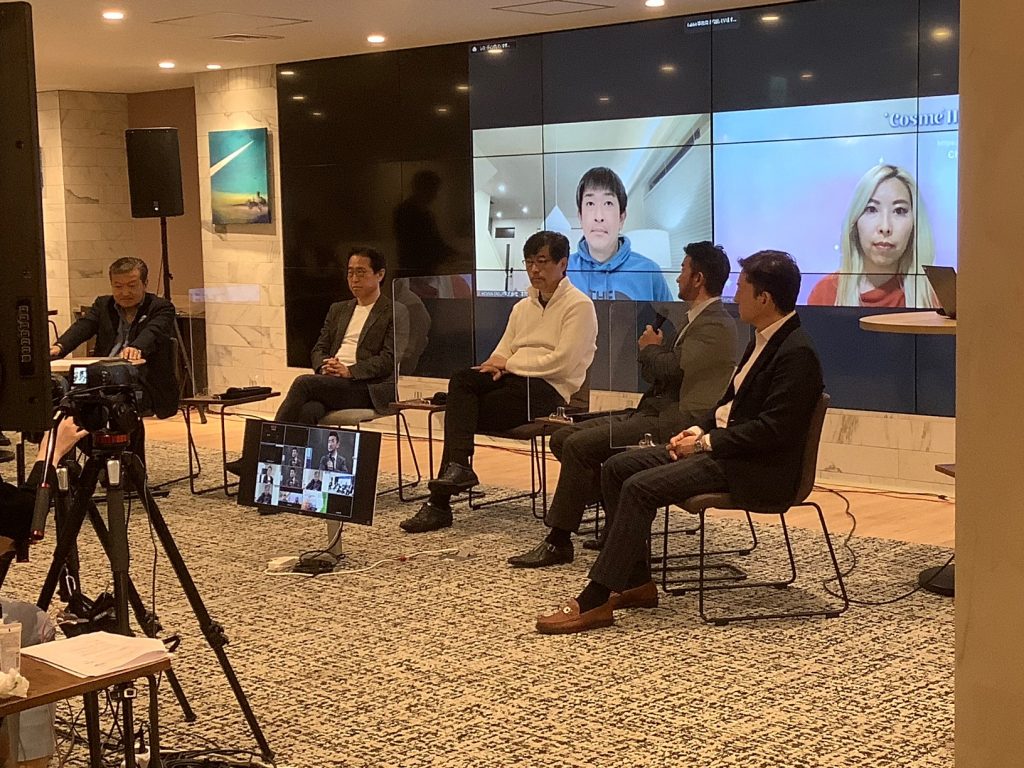 Pictured above: From left, Michimasa Naka (moderator), Mikio Sugihara, Shigeru Shiina, Nobuyoshi Yamasaki, Yasunari Tanaka (moderator). Pictured on the screen: Panelists Chloe Takahashi and Takeshi Homma.
On March 19, 2022, the U.S.-Japan Council (Japan), fabbit and The Tokyo New Business Conference (NBC) co-hosted an online workshop titled Ventures Advancing into the Global Arena. There were 180 online participants from all over Japan and 20 people who attended the live broadcasting at fabbit Global Gateway Otemachi.
Four Japanese entrepreneurs presented their businesses in Japan, Asia and the United States. Co-Chief Executive Officer of Digital Entertainment Asset Shigeru Shiina introduced the audience to non-fungible token (NFT) technology, which creates new value and market opportunities. Founder and CEO of TBM Nobuyoshi Yamasaki introduced the audience to LIMEX, a revolutionary new material made from limestone, which replaces paper and plastic products to revitalize the economy.
Founder and CEO of e-commerce business Cosme Hunt Inc. which introduces high-quality Japanese cosmetics to makeup fans worldwide, Chloe Takahashi, shared her experience starting her business in Silicon Valley with the audience. Founder & CEO of Homma Group Takeshi Homma shared his innovative home building business with the audience, which differentiates itself from its competition by integrating technology with modern architecture, through his latest multi-family community project in Portland, Oregon.
At the end of the program, all of the speakers participated in a panel discussion and shared their experiences starting up businesses overseas and the importance of having the courage to take risks.