2019 USJC Annual Conference Early Bird Rates Available Until July 31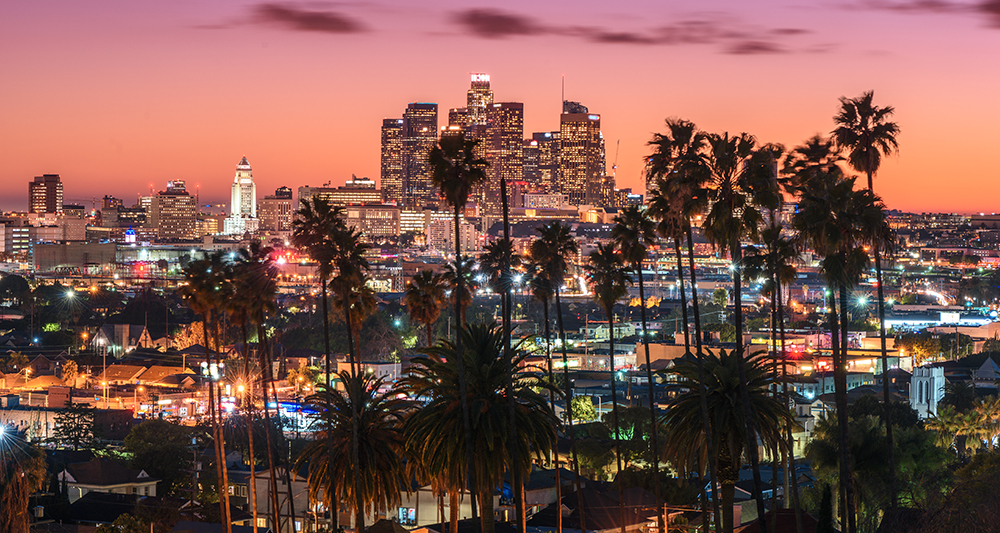 U.S.-Japan Council 2019 Annual Conference
Bold Ideas, Bolder Leadership: The Next Stage of U.S.-Japan Relations
Loews Hollywood Hotel, Los Angeles, California
November 4-5, 2019
Registration is open for the 2019 USJC Annual Conference in Los Angeles! Held in Hollywood, the center of global entertainment, this conference will highlight diverse leadership styles that transform bold ideas into reality. We will also celebrate USJC's 10th anniversary, and offer leadership training under USJC's new Leadership Institute!
We also encourage you to enjoy the Japan Cuts Hollywood Film Festival, presented by the Japan America Society of Southern California from November 1 to 3, prior to the conference.
Don't miss our lineup of unique speakers and timely topics! Early bird rates are available until July 31!
Speakers Include: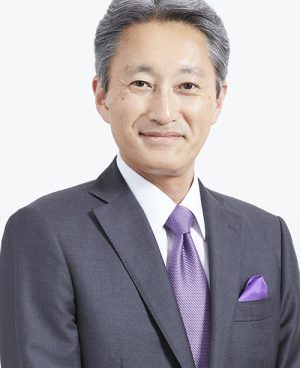 Kazuo Hirai
Director, Chairman,
Sony Corporation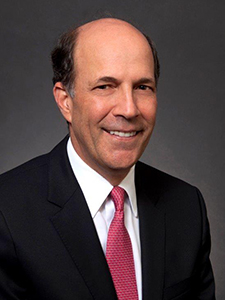 John V. Roos
Partner,
Geodesic Capital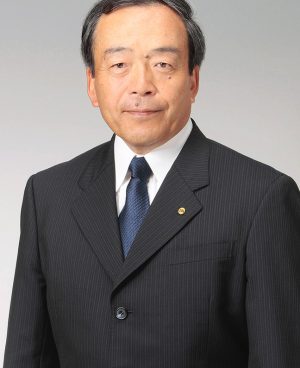 Takeshi Uchiyamada
Chairman of the
Board of Directors,
Toyota Motor
Corporation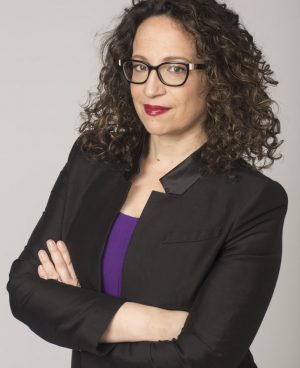 Amy Webb
Founder & CEO,
Future Today
Institute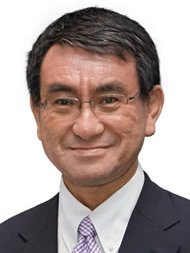 Taro Kono
(invited)
Minister for
Foreign Affairs,
Government of
Japan
Early bird rates available until July 31!
Recent Events
USJC Members Gather for Professional Development Series in New York, Los Angeles and Hawaii
These events were part of a series of pilot programs across the nation focusing on professional and leadership development for mid- to senior-level professionals. The series kicked off in May with an event in Silicon Valley.
New York
Many thanks to Council Leader Yumi Higashi for the following article and photos!
On July 10, more than 30 Council Leaders, Associates and friends gathered at the private residence of Council Leader Kiyo Matsumoto (JALD '16) and her husband, Colin Lee, for a panel discussion titled Inspirations and Insights on Career Transitions. Moderated by New York Regional Chair Susan Onuma (Partner at Ingram Yuzek Gainen Carroll & Bertolotti, LLP), the roundtable featured three panelists: Ken Inadomi (Executive Director of NYPACE and Founding Chair of Yale Alumni Non-Profit Alliance), and Council Leaders Julie Azuma (President of Different Roads to Learning, Inc. and JALD '13) and Yumi Kuwana (Founder and President of Global Citizens Initiative, Inc. and Founding Principal of Cook Pine Capital LLC). They shared their experience, insights and advice on pursuing career transitions and making "the big move" later in their careers.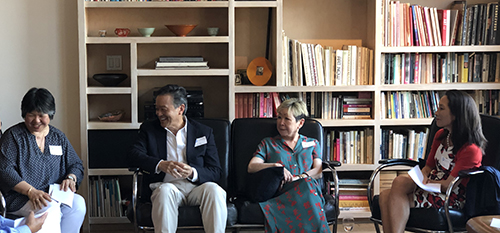 Ms. Onuma and the panelists discussed what set them on a challenging, alternative career path, their "a-ha" moments, obstacles they faced, and their passion for their work. Inspired by the panelists' joy for mission-driven work, the audience had many questions during the Q&A session.
Following the panel discussion, the group enjoyed each other's company during a reception, where they tasted delicious Japanese refreshments arranged by Sakura Yagi (ELP '16) and sake brewed and donated by Brooklyn Kura. Many attendees continued their discussions at a nijikai at a nearby SoHo hotel bar.
Los Angeles
Many thanks to Council Leader Ako Williams for the article!
On July 10, the Southern California Region held a panel discussion titled Corporate Boards in Need of Diverse Talents: How to Leverage Your Unique Skills and Backgrounds to Gain a Board Seat at JAPAN HOUSE Los Angeles. Council Leader Ako Williams (Vice President, General Counsel & Corporate Secretary of Ushio America, Inc.) organized the program and moderated a panel of distinguished speakers, including Bonnie Hill (Director of the Banc of California, who has served on 12 public boards), Betsy Berkhemer-Credaire (CEO of 2020 Women on Boards), and John Iino (Partner and Chief Diversity Officer of Reed Smith and the brother of Member of the USJC Legacy Council Tom Iino).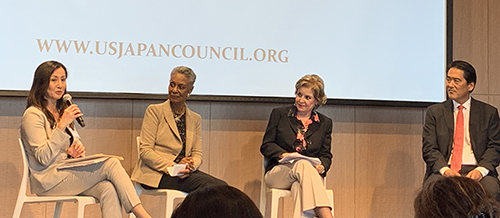 The event welcomed USJC members and supporters, and began with a networking session. USJC Board Member and President of JAPAN HOUSE Los Angeles Yuko Kaifu gave opening remarks. The panelists shared their personal journeys, the current landscape for diverse board candidates, realistic views on the types of experiences and skills needed to gain a board seat, potential international opportunities, and tips for networking and making yourself known to the right people. Participants noted that they found the discussion insightful, and the panelists' passion for diversity and inclusion inspiring.
Hawaii
Thank you to Hawaii Regional Chair Ann Teranishi for the article!
On July 11, Council Leaders Eric Heenan, Ann Teranishi and USJC Associate Yoh Kawanami (Regional Vice Chair) hosted an event at the YWCA Oahu, focused on mid-career professionals navigating careers and new life chapters.
The crowd of 50 was captivated by the TED-style talk by Mr. Heenan, Founder & President of Alaka'i Executive Search. Mr. Heenan discussed what executives are looking for in candidates, what candidates are looking for in employers and how leaders can cultivate more engaged teams.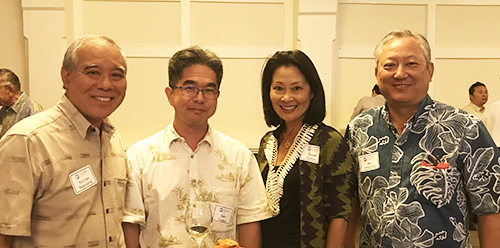 A panel discussion titled Leadership & Fine Wine: Can You Become Better With Age followed, featuring Member of the USJC Legacy Council Colbert Matsumoto (Founder & Chairman of Tradewind Capital Group, Inc.), Vice-Chair of the USJC Board of Directors Susan Eichor (President & COO, aio) and Council Leader Edward Hudson (EVP & Chief People Officer at Bank of Hawaii). The panel was expertly moderated by Council Leader Lori Teranishi (Principal & Founder of IQ360, Inc.), who asked the speakers about their biggest mistakes as leaders and tips on how to be a leader at this stage in their careers. The group had a chance to chat more intimately over great food and wine following the formal program. Attendees included over a dozen prospective members, as well as Member of the USJC Legacy Council Allen Okamoto and his family.
USJC Welcomes Miami-Dade County Delegation to Tokyo for Second Year
On July 8, USJC welcomed 15 delegates from the Miami-Dade County Transportation Planning Organization (TPO) and the Broward Metropolitan Planning Organization of Florida to discuss transit infrastructure on both sides of the Pacific. The delegation included USJC's Southeast Regional Chair and Council Leader Jose Fuentes, who helped to organize the visit two years in a row. With the support of the Japanese Ministry of Land, Infrastructure, Transport and Tourism, the delegation spent three days in Tokyo and Aichi exploring business opportunities in transportation.
Chairman Oliver G. Gilbert III of the Miami-Dade TPO began the evening with welcome remarks, emphasizing the importance of considering both the positive and negative economic impacts of infrastructure policies. The night continued with speakers from each organization discussing the role that new technology plays in transportation, the benefits of cross-cultural exchanges, and the lessons to be learned from the Tokyo transit system.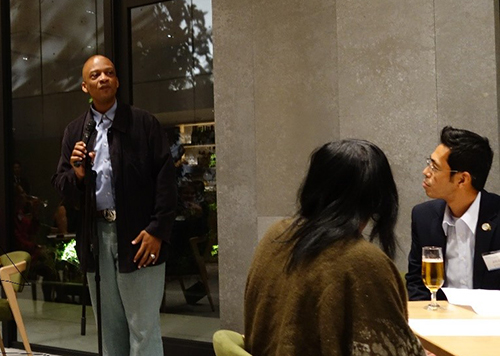 USJC was honored to support the reception as part of its broader efforts to strengthen regional relationships between Japan and the United States, and USJC (Japan) Executive Director Junko Tsuda stressed the importance of interpersonal connections in achieving this goal.
Executive Director of the Miami-Dade TPO Aileen Bouclé ended the evening's remarks with a toast, and delegates and representatives of the Ministry discussed the future of the Miami-Dade transit system over a Japanese dinner.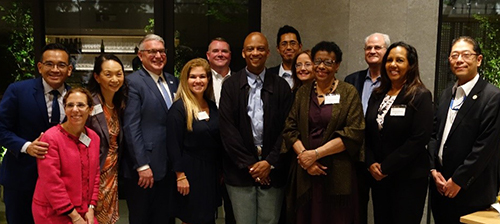 USJC President Irene Hirano Inouye Christens USS Daniel Inouye
Thank you to Marie Blanco, former chief of staff to Senator Inouye, for providing photos!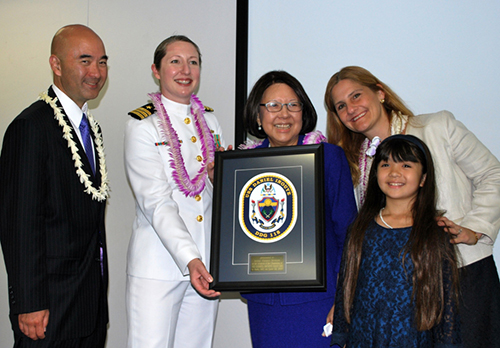 On June 22, USJC President Irene Hirano Inouye christened the USS Daniel Inouye, the United States Navy's newest Arleigh Burke-class guided-missile destroyer, at General Dynamics' Bath Iron Works in Maine. The ship honors the late Senator Daniel K. Inouye, who along with Irene and other Japanese American leaders, founded the Council in 2008. The ship carries the "Go for Broke" motto of the 442nd Regimental Combat Team, a unit composed almost entirely of Japanese American soldiers, in which Senator Inouye served during World War II.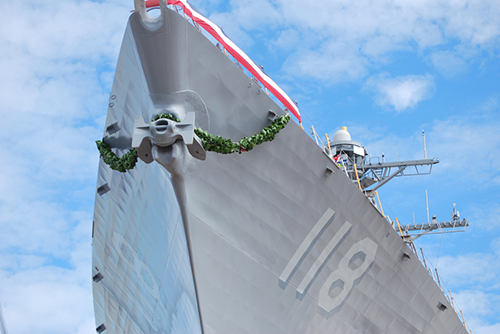 Irene was joined by friends and family, including the Senator's son and daughter-in-law, Ken and Jessica Inouye, and their daughter Maggie. Both Senators from Maine, Susan Collins and Angus King, as well as Hawaii Senator and ranking member of the Senate Armed Services Subcommittee on Seapower, Mazie Hirono (Member of the USJC Board of Councilors), gave remarks.
Senator Hirono said, "The ship we are christening in Senator Inouye's name today will soon make its way to Hawaii, where it will join nine other guided-missile destroyers stationed at Pearl Harbor. There, under the prospective command of Commander DonAnn Gilmore, this ship will play a critical role in protecting and advancing American interests in the Indo-Pacific region – just as Senator Inouye did throughout his life and service in Congress."
TOMODACHI ELP News
Applications for the 2019 TOMODACHI Emerging Leaders Program Due Soon!
The U.S.-Japan Council and the TOMODACHI Initiative are accepting applications for the 2019 TOMODACHI Emerging Leaders Program (ELP)!

ELP identifies, cultivates and empowers a new generation of Japanese American leaders. Emerging Leaders participate in leadership education, design and implement original USJC programming, and develop powerful, lifelong personal and professional friendships. This year's participants will attend the 2019 Annual Conference in Los Angeles in November for multi-day workshops and programming.
Application deadline: Sunday, July 21, 2019, 11:59 pm PDT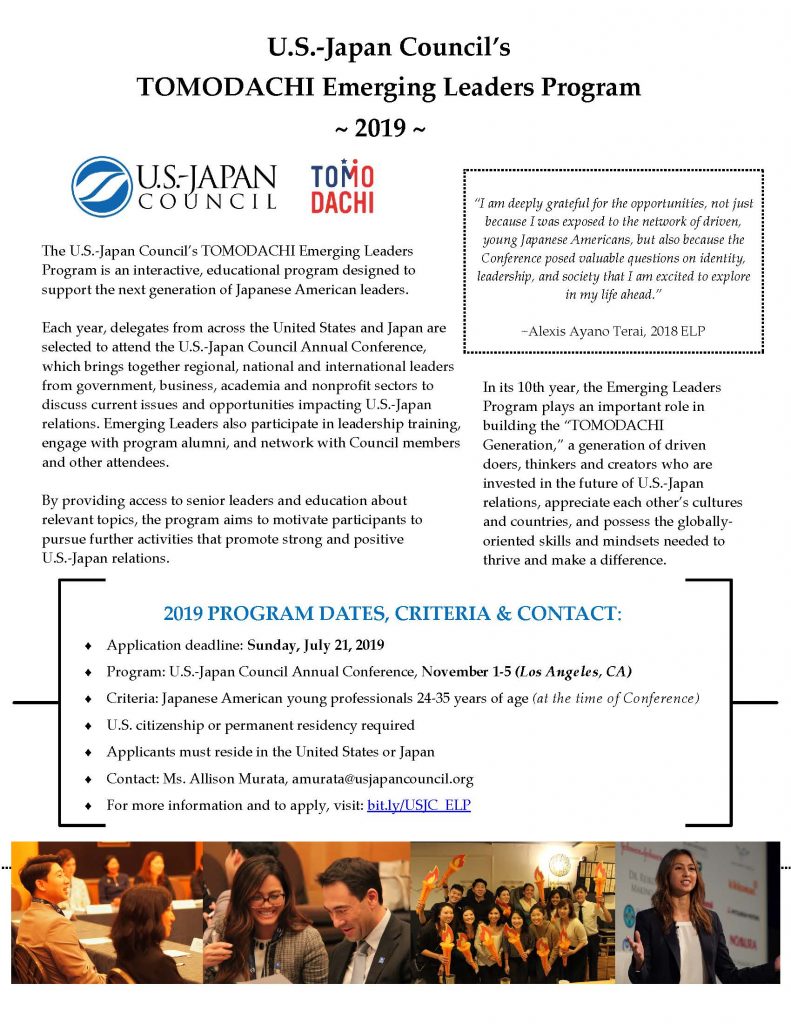 Click here or on the image above to download and share this flier.
Click here to learn more about the program and apply today!
JALD News
The following article is part of a year-long series by participants of the 2019 Japanese American Leadership Delegation (JALD).
Reflection from Mariko Silver (JALD '19)
The 2019 JALD trip was an extraordinary experience with a wonderful group of Japanese Americans and Japanese counterparts. As a half-Japanese Yonsei, I found the trip eye-opening in terms of the diversity of Japanese American experiences. It provided a unique and privileged window into many of the cultural and policy matters of greatest importance to contemporary Japan and the Japan-U.S. relationship.
Though I have worked with many high-ranking Japanese government officials and leaders while serving the Obama administration and building partnerships between U.S. and Japanese universities, the JALD trip provided perspectives that I could never access otherwise. The meetings with ministers, Diet members and business leaders were deeply informative, particularly when the conversations were frank. Forum 21 was a highlight in this regard, as were the meetings with Keidanren and with Japanese Americans living in Japan. We were especially appreciative of Rep. Kentaro Sonoura's discussions on various issues that Japan faces, including demographics, technology, immigration, workforce and gender.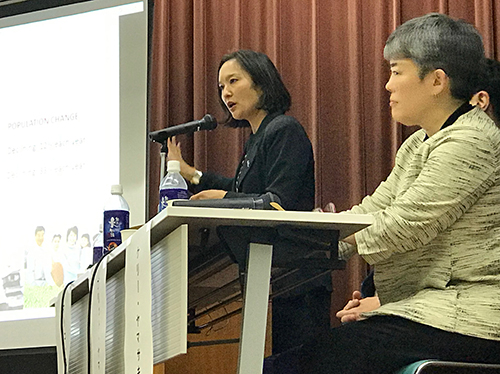 The conversations I had with Professor Meiko Nakabayashi and Kathy Matsui about Womenomics, the challenges women face in family life, as well as in the workforce (and the progress that can be made both in policy and at the cultural level), and how the coming wave of artificial intelligence developments will impact Japan, were revelatory. I hope to keep in touch with both of these remarkable leaders.
I am grateful to our colleagues and friends from the Ministry of Foreign Affairs for their insights and guidance. The connections I made as a JALD delegate have already led to new engagements and ideas. I look forward to building new relationships and projects with many of the established and emerging leaders we met throughout the visit.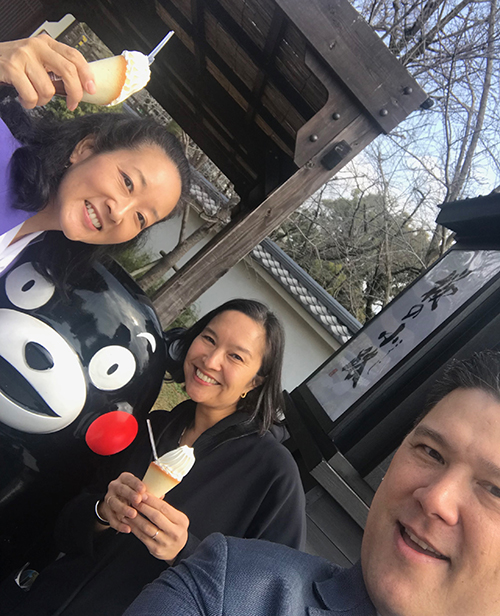 The visit to Kumamoto was an essential part of the trip, providing insight into the Japanese experience well beyond Tokyo. While the earthquake damage is still significant, the spirit of the city and of the countryside shone through. The conversations during and following the symposium were vital complements to the national and international policy conversations we had in Tokyo. I am already excited to revisit the beautiful Kumamoto and Mt. Aso with my family!


Our delegation's diversity contributed greatly to its strength. Hailing from rural areas with few Japanese Americans, as well as emerging and large cities in the U.S., we brought a range of experiences and expertise to each conversation, covering a wide variety of topics from multiple angles. We enjoyed ourselves enormously, and loved getting to know each other and our new Japanese friends.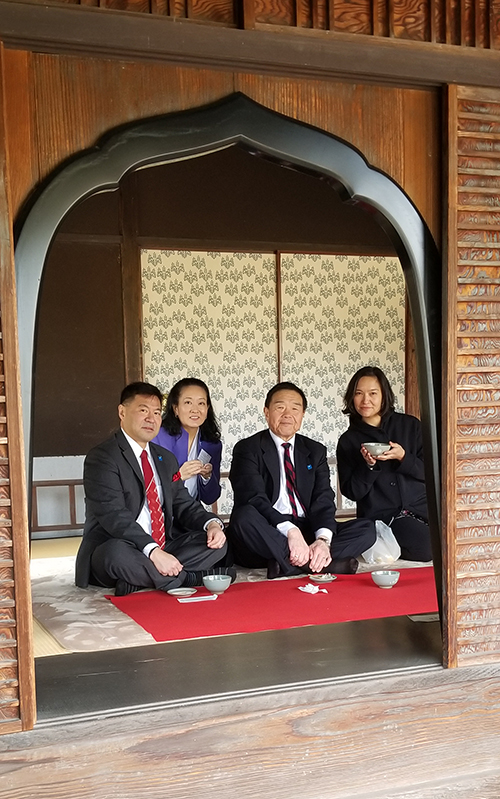 In our official meetings and in our time over meals and in transit, the delegation talked extensively about the importance of people-to-people connections in creating a better future for everyone. We are all committed to this work and to JALD. We look forward to continuing to learn, work and laugh together.
Member News
Hiroyuki Fujita and Quality Electrodynamics Receive the Presidential Award for Export Achievements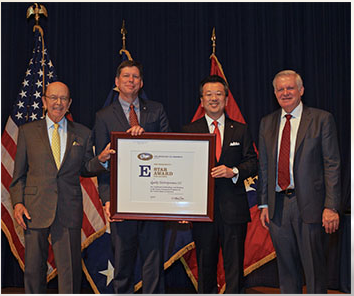 Congratulations to Member of the USJC Board of Councilors Hiroyuki Fujita and his team for receiving the President's 2019 "E" Star Award for Exports! Dr. Fujita is the President, CEO and Founder of Quality Electrodynamics LLC (QED), which was recognized for making significant contributions to the expansion of U.S. exports. Click here for more details.

Tomoko Kizawa Selected for Leadership Greater Chicago Fellows Program
Congratulations to Vice-Chair of the USJC Board of Directors Tomoko Kizawa on being selected for the 2020 Leadership Greater Chicago Fellows Program! This program brings together leaders from the business, nonprofit, government and education sectors to learn about civic leadership and discuss socioeconomic issues facing Chicago and the region. Alumni of this program include former first lady Michelle Obama, former senior advisor to President Barack Obama Valerie Jarrett, and former U.S. Secretary of Education Arne Duncan. Click here for more details.
In Memoriam
USJC is saddened by the passing of Haruno Yoshida, Co-Chair of Women 20 and an advisor to Keidanren. Ms. Yoshida was the first woman to serve as vice chair of the Board of Councillors at Keidanren and the first woman president of BT Japan Corporation. A longtime advocate of workplace diversity, Ms. Yoshida participated in the 2017 USJC Annual Conference in Washington, DC and spoke about the need to narrow the gender gap and promote women to leadership positions. She will be missed dearly by the USJC community.
Upcoming Events
JAPAN CUTS: Festival of New Japanese Film
When: July 19-28, 2019
Where: Japan Society Film (New York, NY)
Japan Society Film is hosting the 13th edition of "JAPAN CUTS: Festival of New Japanese Film." This year's program includes the premiere of over 40 films representing the best in contemporary and classic Japanese cinema, including an expansive selection of blockbusters, independents, documentaries, animation and new restorations.
In addition, just prior to the 2019 USJC Annual Conference in Los Angeles, the Japan America Society of Southern California is presenting JAPAN CUTS Hollywood 2019 (Nov. 1-3), a film festival celebrating Japanese cinema.
Click here for more information and to buy tickets!
"Sugihara Survivors" Film Screening & Discussion with Director Junichi Kajioka
When: Wednesday, July 31, 2019 at 6:30pm
Where: Sinai Temple (Los Angeles, CA)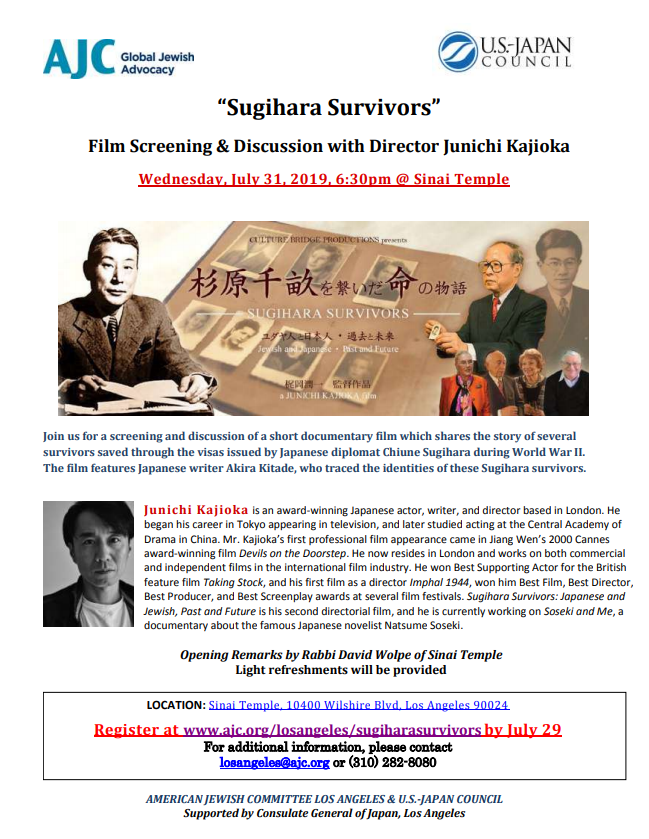 Join USJC and the American Jewish Committee Los Angeles for a screening and discussion of a short documentary film which shares the story of several survivors saved through the visas issued by Japanese diplomat Chiune Sugihara during World War II. The film features Japanese writer Akira Kitade, who traced the identities of these "Sugihara survivors." You will also hear from the film's director, Junichi Kajioka. This event is supported by the Consulate General of Japan in Los Angeles.
Click here or on the image above to view the event flier and here to register by July 29, 2019.
U.S.-Japan Council Emerging Leaders Program Day at Angel Stadium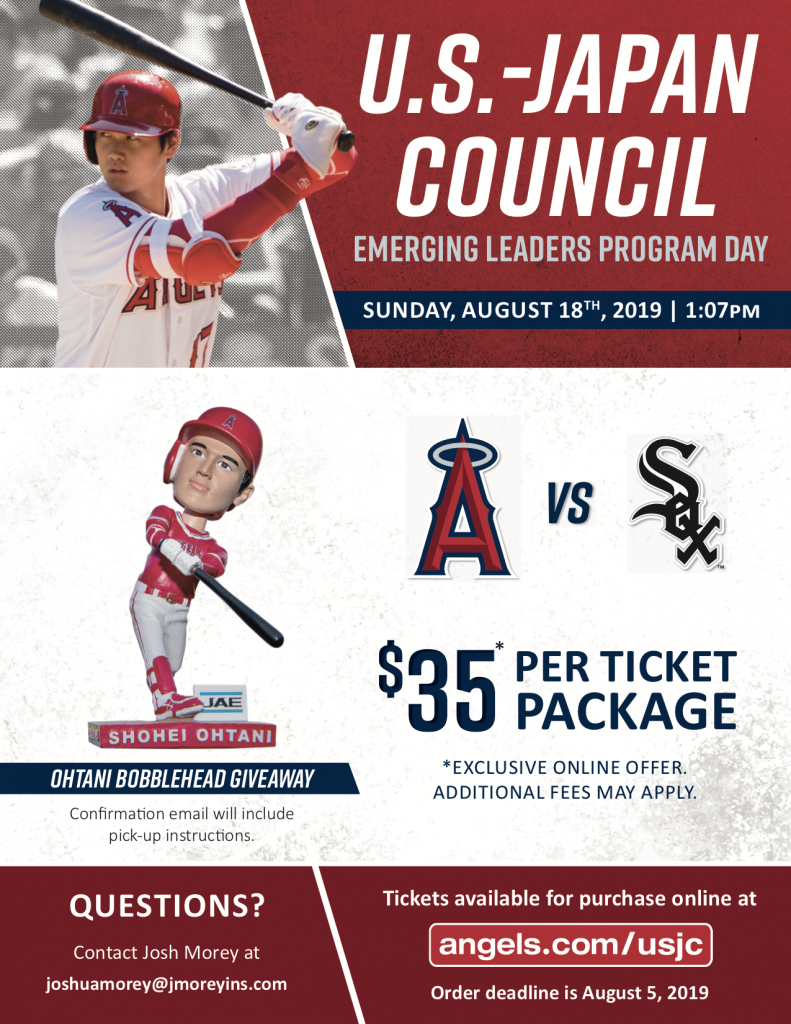 Join the Emerging Leaders Program alumni as they host a special Japanese Heritage Day at Angel Stadium! They will be cheering on two-way Japanese Baseball star Shohei Ohtani as he takes on the Chicago White Sox. Each ticket guarantees a Shohei Ohtani bobblehead! Click here or on the image above to purchase tickets.








Opportunities
Accountant (Washington, DC)
The Accountant will have primary responsibility for day-to-day accounting functions and operational support for the U.S.-Japan Council (USJC) in the United States and Japan. This position is in the Washington, DC office, and provides direct support to the Chief Financial Officer (CFO) in managing the financial operations for the WDC and Tokyo offices, as well as staff working in California and Hawaii. The Accountant will be responsible for all accounting functions including but not limited to accounts payable, accounts receivable, month-end closing, account analysis, donor financial reporting, and general bookkeeping activities.
Click here for more information about the position.
Public Relations Manager (Washington, DC)
We seek an experienced communications professional who is committed to furthering the mission of the organization through various communications platforms, including enhancing the visibility of the organization and its work through traditional and social media. The ideal candidate will have significant experience with public relations and social media, and will be dedicated to cultivating relationships with members of the media, Council members and partners, and other stakeholders. The candidate will serve as a key member of the team to implement the organization's strategic communications plan.
Click here for more information about the position.
Intern (Washington, DC)

The intern will provide support for Programs and Communications on a part-time or full-time basis. Duties will consist of program and event coordination and support, website/social media support, organization of and attendance at special events, outreach and communication, writing and translation (if able). This is an excellent internship for those hoping to gain experience in the programmatic, digital and strategic marketing and/or nonprofit fields. USJC's internship program offers outstanding opportunities for college students, graduate students and graduates who are interested in U.S.-Japan relations.

Click here for more information about the position.
Intern (Tokyo, Japan)
The TOMODACHI Initiative is seeking qualified interns on a part-time or full-time basis. This internship program offers outstanding opportunities for college students, graduate students and graduates who are interested in U.S.-Japan relations. Duties generally consist of program and event coordination and support, website/social media support, organization and attendance at special events, student outreach and communication, writing and translation (as able). Duties may be tailored to the intern's interests. Interns will work with individuals from the U.S.-Japan Council, the U.S. Embassy and other key TOMODACHI team members.
Click here for more information about the position.
Program Manager for the Japanese Women's Leadership Initiative (Tokyo, Japan)
The Japanese Women's Leadership Initiative (JWLI) offers an executive leadership development program that transforms Japanese women into action-oriented leaders with the confidence to lead, skills and knowledge to manage, and plans to make social change in Japan. JWLI has been expanding–first with the Champion of Change Japan Award in 2017, and starting this June, with the JWLI Bootcamp. In order to continue to empower women in Japan, JWLI is seeking a Program Manager based in Tokyo, Japan. Please click here to see the job description.