Lifetime Achievement Award for Ambassador Ryozo Kato (Summary) – 2014 Annual Conference
The following is a summary of the award ceremony when Ambassador Ryozo Kato received the USJC Lifetime Achievement Award in Advancing U.S.-Japan Relations at the 2014 USJC Annual Conference on October 10, 2014. Dr. Daniel Okimoto, Chair of the USJC Board of Councilors, introduced Ambassador Kato. Ambassador Kato's acceptance speech is also summarized below.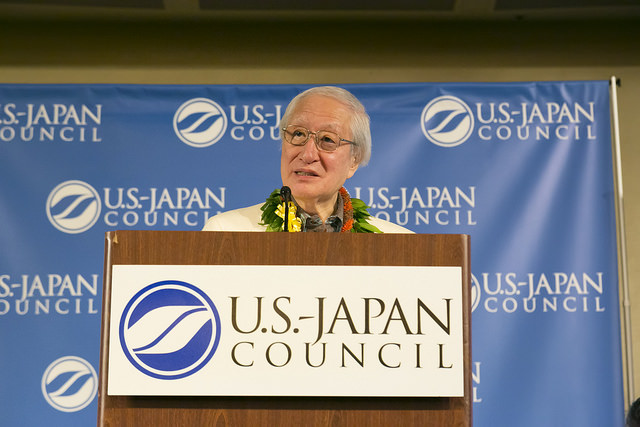 Dr. Dan Okimoto honored Ambassador Kato's success as one of Japan's finest diplomats of the past century. He noted the Ambassador's many tours in Washington during tumultuous periods of U.S.-Japan relations, and said that Ambassador Kato provided a steady hand at the helm. His career culminated in his Ambassadorship, where he traveled to 48 states, winning hearts through his personal warmth and sense of humor, as he found his fulfillment in getting to know the American people. Ambassador Kato was also visionary, and was an early, strong supporter of both the Japanese American Leadership Delegation program and the U.S.-Japan Council. Dr. Okimoto shared anecdotes about what he described as Ambassador Kato's chronic addiction, baseball, as well as his open secret to his success, his wife, Hanayo. Dr. Okimoto concluded his tribute by asking, "How could one of Japan's greatest diplomats of the past century—Ambassador Ryozo Kato—be a man of such modesty, warmth, and through-going decency?"
In his acceptance remarks, Ambassador Kato proved those very traits, and joked about his great loves—baseball, his wife, and the Japan-U.S. relationship, noting the latter is not just a relationship, but a commitment and dedication in his life. He concluded by observing that he sees Japanese Americans as special; their heritage is Japanese and their home is American. Combining the best of both, like the cherry trees around the Tidal Basin in Washington, they flower in beauty and constancy year after year. Ambassador Kato's lifelong dedication moved and inspired the audience deeply.
Click here to see more photos from the award ceremony.
Click here to learn more about the 2014 Annual Conference.