Reflection from 

Lynn Miyahira

 (ELP 2014)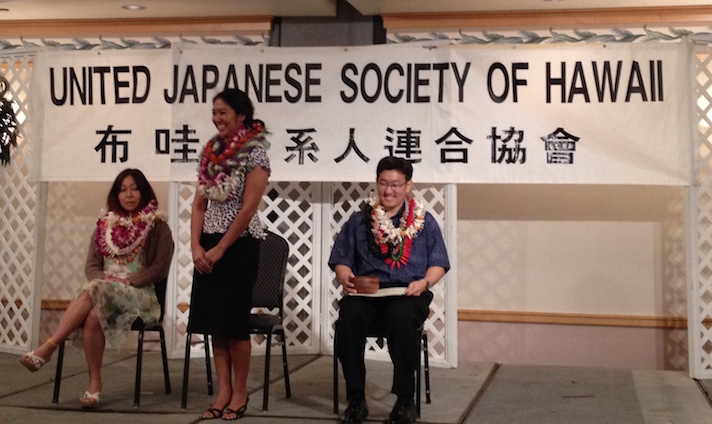 They say that "success breeds success" and I find that to be very true. After I was selected for the 2014 class of the TOMODACHI Emerging Leaders Program (ELP), the United Japanese Society of Hawaii (UJSH) honored me as one of three 2014-2015 Kenjin Kai Young Achievers. The Kenjin Kai Young Achiever award is given to several young members from the various groups that make up the UJSH, and I had the honor of representing the Hawaii United Okinawa Association. I'm sure that my participation in USJC's ELP played a big role in why I was selected for this honor.
I was incredibly humbled by how many people from our Okinawan association came to the luncheon on January 24th, where the UJSH also honored our very own Dennis Teranishi (Chairman of the Board of Directors at USJC) for his imperial decorations, which were bestowed on him by the Government of Japan. Just looking around the room, I recognized a lot of faces from the USJC Annual Conference, and it was a really nice feeling when they recognized me as well!
In my speech to the audience at the luncheon, I mentioned that a common concern that all of our Japanese cultural groups face is the need to get more young people involved. I am often asked, "How do we get more young people?" My question back to them is often "How did you get involved?" and almost always the response has something to do with a personal relationship to someone who was already involved—either a parent, grandparent, or friend—someone important in their life asked them to get involved. For me it was my father. My dad Wayne was slated to be president of UJSH back in 2008 before he suddenly passed away. I'm proud that I am able to follow in his footsteps and that many of his friends still mentor me along the way. I know that he would be proud of my involvement with the U.S.-Japan Council.
Being part of the ELP group has truly given me an appreciation for the larger Japanese American community. It's really exciting to see what all of our fellow Emerging Leaders are doing all over the country! We all share a common pride in our heritage, and we understand how that connection is deeper than just a simple networking tool—we "get it." I am incredibly grateful to be part of ELP, and I'm looking forward to see what other successes it breeds.