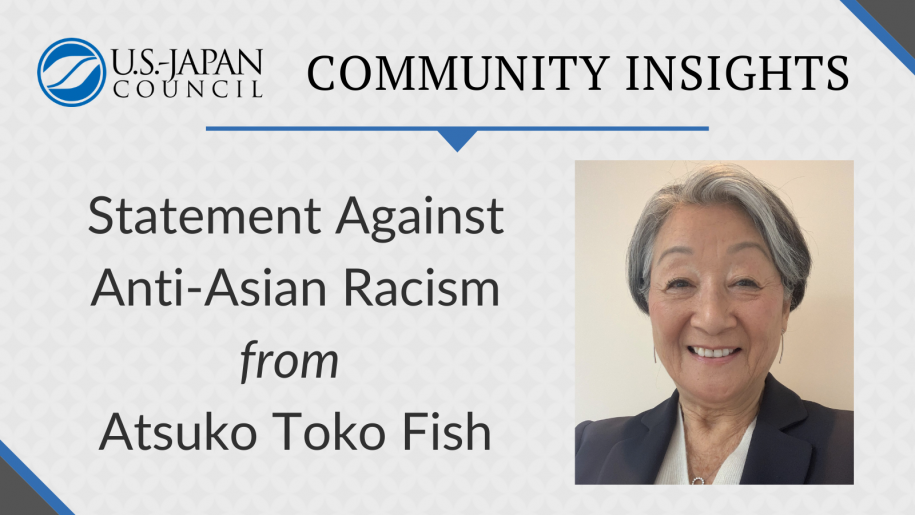 Recently, out for a walk along a narrow road on Cape Cod, I passed a family wearing no masks. I asked them, "Where are your masks?" The father turned to me and said harshly, "Go home." On another occasion I was out walking, followed by a young girl on her bike. She asked where I lived, so I pointed out my house. As she stopped and watched me go towards my front door she said "No. You don't belong here."
My name is Atsuko Toko Fish. I am originally from Japan. I came to Boston in 1983 when I was 40 years old and seven months pregnant, with my husband and 3-year-old daughter. I have been fortunate and am proud of the life I have created in the U.S. I am also proud of my legacy as an Asian woman and a descendent of a Samurai family. I strongly condemn anti-Asian attacks targeting our community, especially women, youth, and the elderly. I am writing this letter to urge you to use your voice and stand with me in collective action.
My husband Larry and I created a family foundation in 1999. The Foundation serves immigrants in Massachusetts, an area I care deeply about as an immigrant myself; high and proven-risk youth; and leadership development for women in Japan. In Japan we have over 100 alumnae. They are women nonprofit leaders making major strides towards social change. In my 10-year role as chair of the board of the Asian Task Force Against Domestic Violence (ATASK), I have served Asian women and children who were survivors of domestic violence and other forms of violence. I treasure my work with ATASK's staff and clients, but it is a reminder of this country's long history of systemic racism and gender-based violence.
As an Asian woman, I too have been a target of discrimination and racism. On the street and in the workplace. These experiences are deeply rooted in misogyny and hypersexualization. My fellow Asian women, this is our chance to break our silence. We must use this moment for good, as an opportunity to raise awareness of this issue. We now have the power to change the course of our future and respond. Let us speak up and show our strength. As role models to girls and young women, we must teach by example and show how proud we are of our heritage and rich cultures. America is the land of opportunity, a place where we are welcomed and have a chance to thrive.
I urge you to join me in collective action. We can make a difference in our future together.
Atsuko Toko Fish
Co-Founder, The Fish Family Foundation
Founder, Japanese Women's Leadership Initiative Ecosystem
Member, USJC Legacy Council
---
This article is part of a series of insights and op-eds from members in our community. If you would like to be featured in an article, please click here.
---