Tokyo, Japan – The 2019 Japanese American Leadership Delegation (JALD) met with Foreign Minister Taro Kono on March 4 to discuss issues pertinent to the U.S.-Japan bilateral relationship. Minister Kono has spent time with every JALD class since the program's inception in 2000. As in years past, he brought parliamentarians who are part of the Japan-U.S. Parliamentary Friendship League, and encouraged networking among Japanese and Japanese American leaders. 
This was one of the highlights of the 2019 JALD program, which provides opportunities for Japanese Americans to establish a meaningful role in strengthening U.S.-Japan relations. Other leaders they met in Tokyo included MEXT (Ministry of Education, Culture, Sports, Science and Technology) Minister Masahiko Shibayama; U.S. Ambassador to Japan William F. Hagerty; Deputy Chief of Mission at the U.S. Embassy Joseph M. Young; Special Advisor to the Prime Minister Kentaro Sonoura; and representatives from the Ministry of Foreign Affairs, Keidanren (Japan Business Federation), Keizai Doyukai (Japan Association of Corporate Executives), Forum 21, and the Japan Foundation Center for Global Partnership (CGP).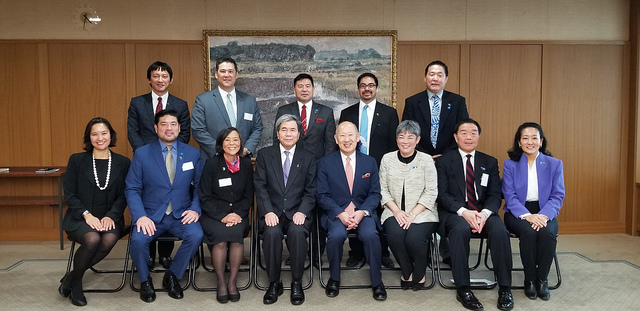 In Kumamoto Prefecture, the delegates met with Governor Ikuo Kabashima of Kumamoto Prefecture and Mayor Kazufumi Onishi of Kumamoto City. They also participated in a symposium titled "Three Sectors, Three Approaches: Cities that Attract Youth," co-sponsored by the Japan Foundation CGP, ​USJC and Kumamoto City, ​with support from the Ministry of Foreign Affairs​ and Kumamoto Prefecture.​ Based upon their own experience in academia, civil society and the private sector, panelists ​discussed how to create cities that will continue to draw future generations. About 120 individuals attended the symposium, which concluded with a lively Q&A.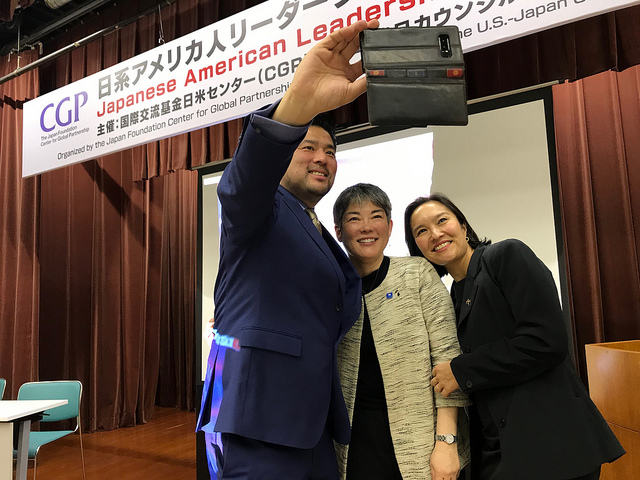 The ten participants of the program are active in their communities, engaged in U.S.-Japan relations and committed to deepening ties between Japanese Americans and Japan. JALD is sponsored by the Ministry of Foreign Affairs of Japan and organized by the U.S.-Japan Council, a 501(c)3 non-profit organization dedicated to building people-to-people relations between the United States and Japan. For more information, visit www.usjapancouncil.org.
2019 Delegates
Andrew Fujimoto (Meridian, ID), CEO, Ameriben
Joy J. Goto (Fresno, CA), Chair and Professor of Chemistry, California State University, Fresno
Mark T. Nakagawa (Springfield, VA), Program Manager, Department of Defense
Kyle Nakamoto (Dearborn, MI), Data Scientist, Ford Motor Company
Kurt Osaki (Honolulu, HI), President/CEO, Osaki Creative Group
Vickie Sakurada Schaepler (Kearney, NE), Coordinator, Japanese Hall and History Project, Legacy of the Plains Museum in Gering
Mariko Silver (Bennington, VT), President, Bennington College
Bryce Suzuki (Phoenix, AZ), Office Managing Partner, Bryan Cave Leighton Paisner LLP
Britt Yamamoto (Seattle, WA), Founder and Executive Director, iLEAP
Kelly Yamasaki (Denver, CO), Principal, OZ Architecture
For more information about the program and the 2019 delegates, visit: http://www.usjapancouncil.org/jald.