Tokyo, Japan –The 2014 Japanese American Leadership Delegation (JALD) met with Prime Minister Abe on March 12 to discuss issues pertinent to the U.S.-Japan bilateral relationship. The ten-member Delegation and U.S.-Japan Council President Irene Hirano Inouye shared that a stronger U.S.-Japan relationship benefits not only both countries but also the entire Asia-Pacific region. They also described the purpose of the trip as building people-to-people relationships with Japanese leaders from all sectors of society in order to strengthen and diversify U.S.-Japan relations.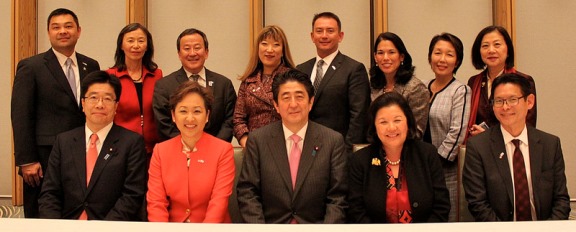 Prime Minister Abe thanked the delegation for demonstrating their continued support for Japan and said, "I would like to renew my appreciation for the Japanese American Leadership Delegation. For Japanese Americans, JALD provides a better understanding of Japan. I am counting on your continued cooperation to build bridges across our two nations in the future. I also would like to express my sincere appreciation for the late Senator Daniel K. Inouye's great contributions to the strengthening of Japan-U.S. relations."
The meeting was one of the highlights of the 2014 Japanese American Leadership Delegation program, which provides opportunities for Japanese Americans to establish a meaningful role in strengthening U.S.-Japan relations.
Before traveling to Tokyo, the delegates visited Fukuoka in the Kyushu region, an economically and culturally dynamic prefecture where many Japanese Americans (including two of the delegates this year) have their ancestral roots. They met with Governor Hiroshi Ogawa, and discussed how ties between Fukuoka and states and cities in the United States can contribute to opportunities for new business, government and community collaborations. The delegates also participated in a seminar "Finding a Voice in Government: Japanese Americans Making a Difference in their Communities and in U.S.-Japan Relations," co-sponsored by the Japan Foundation Center for Global Partnership and the U.S.-Japan Council, with support from the U.S. Consulate in Fukuoka and the Japan-America Society of Fukuoka, which was attended by nearly 150 people.
The ten participants of the program are active in their communities, engaged in U.S.-Japan relations and committed to deepening ties between Japanese Americans and Japan. JALD is sponsored by the Ministry of Foreign Affairs of Japan and organized by the U.S.-Japan Council, a 501 (c)3 non-profit organization dedicated to building people-to-people relations between the United States and Japan.
2014 Delegates
Elisa Dozono, Partner, Miller Nash LLP (Portland, OR)
Leona Hiraoka, Vice President of Communications, Points of Light (Washington, DC)
Yoriko Kishimoto, Director/Former Mayor, Midpeninsula Regional Open Space District/City of Palo Alto (Palo Alto, CA)
Brad Miyake, Acting City Manager, City of Bellevue (Bellevue, WA)
Carrie Okinaga, Senior Vice President, General Counsel, Corporate Secretary, First Hawaiian Bank (Honolulu, HI)
Derek Okubo, Executive Director, Agency for Human Rights and Community Partnerships (Denver, CO)
Keiko Matsudo Orrall, State Representative, House of Representatives, State of Massachusetts (Boston, MA)
Toko Serita, Acting Supreme Court Justice, Queens County, New York (Queens, NY)
Keith Walters, Lieutenant Colonel/Army Research Fellow, U.S. Army/RAND Corporation (Santa Monica, CA)
Gary Yamashiroya, Detective Commander, Chicago Department of Police (Chicago, IL)
For more information about the program and the 2014 delegates, visit: http://www.usjapancouncil.org/programs/program/JALD