On February 26 in Dallas, Texas, the American Jewish Committee-Dallas (AJC-Dallas), the U.S-Japan Council (USJC) and the Japan Foundation hosted a second panel discussion on "Farming in the Future: Progress in the U.S., Israel and Japan" as a follow up to the February 25 event in Chicago.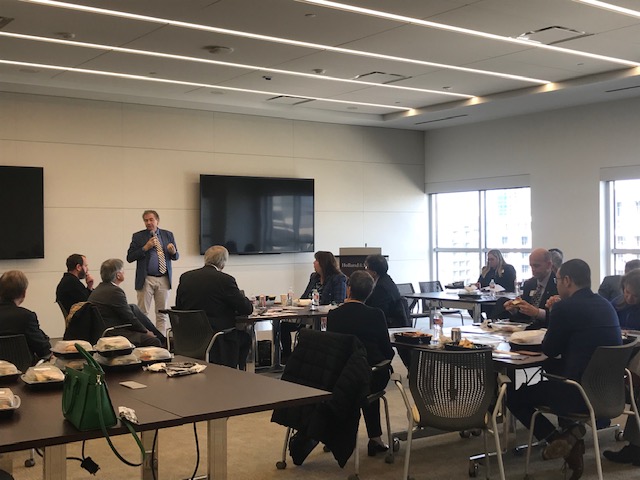 Tokyo University of Agriculture and Technology professor Sakae Shibusawa returned again to the panel after presenting in Chicago. Joining him this time were Amir Degani, Associate Professor at the Faculty of Civil and Environmental Engineering at the Technion – Israel Institute of Technology, and Patrick J. Stover, Vice Chancellor and Dean for Agriculture and Life Sciences and the Director of Texas A&M AgriLife Research. Julie Goodman, Founder and CEO of Goodman Global Consulting and alumna of the 2018 TOMODACHI-Mitsui & Co. Leadership Program, moderated the panel discussion.

During the day, the panelists gathered for an informal luncheon in downtown Dallas to give a preview of their evening discussion. Each discussed their field of research and ways in which they are exploring agriculture in their respective countries. In this intimate setting, attendees were able to pose frank questions about agriculture policy and its implications on issues such as climate change. Dr. Stover discussed ways in which environmental agriculture policies in the United States have implications on healthcare and the need for consumers and policymakers to understand the connection between diet and chronic diseases. Dr. Shibusawa gave examples in which private sector initiatives in Japan are helping shape the agricultural landscape through technology such as the use of robots that can scan high yielding crops. In Israel, a shortage of agricultural labor, quality soil and water has necessitated the navigation of ethical issues in agriculture. Dr. Degani discussed how working on efficiency has shifted the agricultural landscape to focus on precision agriculture-automation of farming.
Through thoughtful analysis of their respective countries, the three panelists also discussed a range of issues related to farming such as the use of genetically modified foods, climate change and food insecurity. Fascinated and inspired by the discussion, many in attendance stayed long after the panel discussion ended to continue the conversation with the panelists.