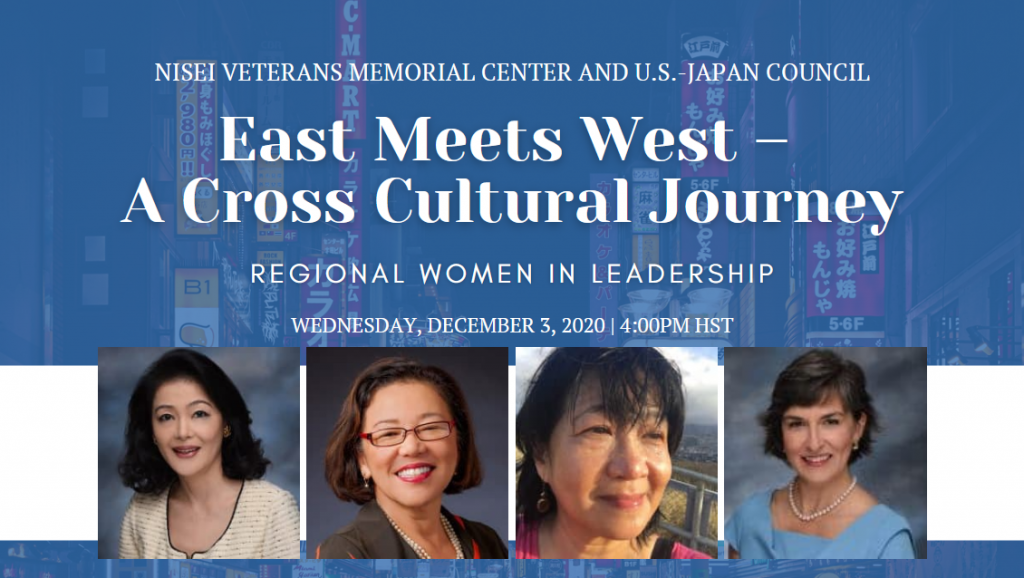 The Nisei Veterans Memorial Center partnered with USJC on its second and final webinar in a series featuring prominent women leaders. Panelists Christine Kubota, Attorney, Damon Key Leong Kupchak Hastert; Yolanda Alfaro Tsuda, Professor of Global Studies Program, Kobe College and Council Leader Kyoko Kimura, Director of Owner Relations, Marriott Vacations Worldwide discussed cross-cultural leadership issues. The conversation was moderated by Council Leader Deidre Tegarden, Executive Director of the Nisei Veterans Memorial Center (Maui). The panelists represented cross-cultural backgrounds and shared their experiences of moving to Japan or the United States, and the challenges they faced in their careers.  
Early in her hospitality career, Ms. Kimura was offered the once-in-a-lifetime opportunity of an assignment in Hawaii. There, she married a Yonsei (fourth generation Japanese American) and settled in Hawaii. As a hotel executive, she would awaken at 4:00am to personally greet VIP hotel guests, while also caring for her children during the day. Evening events made for long days, and Ms. Kimura acknowledged that work in the hospitality industry can be physically hard on the body.

Ms. Tsuda shared her journey immigrating to Japan from her native Philippines, and talked about why she feels IT, financial and leadership literacy are important for women. She added that gender literacy must be taught to men who can also be advocates for women. She noted that the lack of financial literacy for so many women in poverty may be a significant factor that has contributed to the recent high suicide rates among women in Japan during this pandemic.

Moving from Japan to Hawaii as a college student, Ms. Kubota learned quickly how culturally different things were in Hawaii. The diversity of people in Hawaii was in stark contrast to her mostly-white high school classmates, and she had to quickly learn "pidgin" English spoken in Hawaii by locals. She shared that one of her first experiences as a lawyer was a very embarrassed client who asked her "where the lawyer was," only to realize she was the lawyer; and a woman lawyer at that!
All three panelists agreed that a good network of people who support you is a must, and that helping other women to succeed is just as important. Sincerity and humility go a long way, as Ms. Kimura experienced when she successfully secured permits that significantly helped accelerate a development project she was working on. Finally, the panelists noted that women need to find their own meaning of happiness that can include both family and career, and that stereotypes and expectations placed upon women should not be obstacles.
The Regional Women In Leadership (RWL) program is in its sixth year at the U.S.-Japan Council. The program's objective is to provide opportunities for discussions on the advancement of women in leadership. RWL encourages members and collaborators to convene in a series of events to educate and discuss women's leadership in the context of U.S.-Japan relations, creating a conversation about women's issues among diverse communities and business leaders. Funding is provided by the Government of Japan's Ministry of Foreign Affairs.