Dear U.S.-Japan Council Members,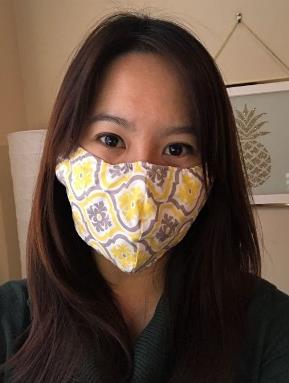 This is Joy Champaloux from the 2019 Emerging Leaders Program class. Just over six months ago, I had the great honor of participating in ELP as a member of the tenth cohort. I am truly thankful to the hardworking efforts of the USJC staff and the generous support by sponsors for making this experience possible. I also greatly thank my classmates for their kindness and generosity during the program, as well as their invaluable friendship since the conference. Above all else, I am deeply grateful for the amazing leadership and legacy from Irene Hirano Inouye, who made my 2019 ELP class feel greatly welcomed and valued as a part of the USJC family at last year's Annual Conference.
I don't think I am alone in admitting that these past two months have not been easy. While I am lucky to have been safely working from home since mid-March, as a natural extrovert, the transition has had its challenges. My professional and social lives are now intertwined from the confines of my apartment, which can be limiting at best. Like most people, I have found it difficult to disconnect from work or to stop reading COVID-19 related news.
In spite of this, I have greatly appreciated the support of my networks – including family, friends, colleagues, and the ELP community – to help me adapt to this "new normal". Since the conference, our ELP class has maintained our connections through an active LINE chat, virtual hangouts, and other one-on-one calls. I have recently joined the 2020 ELP Steering Committee, which has been helpful in getting to know the larger ELP family. Finally, I have also appreciated the diversity and creativity of USJC's virtual events, which have added new speakers and conversations in the U.S.-Japan space.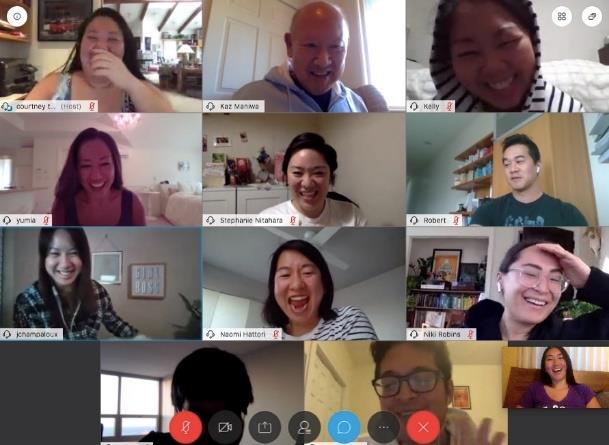 What has USJC and ELP meant to me?
Looking back, I gained many positive outcomes from the USJC Annual Conference and ELP program. Although I have worked in U.S.-Japan relations for the past eleven years, it was the first time I challenged myself to reflect on what it means to serve as a Japanese-American in this field. During last year's conference, I attended inspirational talks on leadership in U.S.-Japan relations and participated in ELP discussions exploring the diversity of Japanese-American identities. Even after the "official" programming ended, my ELP cohort and I continued our in-depth conversations late into the night. My favorite memory from the conference was sitting with a small group of my classmates—at 1 AM somewhere on a L.A. rooftop bar—simply talking with each other about our goals, dreams, and even personal worries about the future. Although we had only met days earlier, I think we all appreciated the opportunity to connect with a new group of peers and share our different perspectives and experiences.
On the last day of the conference, a small group of us explored the Japanese American National Museum and visited the Go For Broke Monument in Little Tokyo. The latter was particularly meaningful as I was able to find my maternal grandfather's name engraved on the side of the monument. My grandfather had served in the 100th Battalion while his in-laws, my grandmother's parents, were stuck in Japan during WWII. I appreciated the opportunity to honor my family's history and to reflect on how far our two countries have come. I realized how proud I am to have a meaningful career, where I can contribute daily to strengthening the U.S.-Japan relationship.
Looking Forward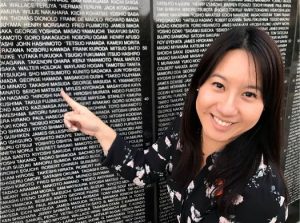 During last year's Annual Conference, I was coincidentally trying to decide whether I should go back to school. I had wanted to get my master's degree for years, but I couldn't settle on the type of program that would best fit me. Through my conversations with some of the mentors and attendees, I realized that I wanted to incorporate many of USJC's values of community service, leadership building, and convening people across sectors into my education. I decided to apply for a Master's in Public Administration, a degree Irene had earned, in order to further follow her leadership and notable example. This fall, I am excited to attend the University of Maryland- College Park's School of Public Policy in order to learn from scholars and practitioners how to lead and manage organizations in the public and private sectors. I hope to gain a diverse set of skills and knowledge that will enable me to better contribute to U.S.-Japan relations. I sincerely appreciate USJC for the opportunities that have led to this professional development and look forward to staying involved in the organization in the coming years.
Thank you again USJC for all the wonderful experiences, memories, connections, and mentorships.
Sincerely,
Joy Champaloux
2019 Emerging Leaders Program