The U.S.-Japan Council (USJC) is pleased to announce that it has received a $250,000 grant from the Ford Foundation, one of the world's leading private foundations. In approving the grant this month, the Ford Foundation gave USJC flexibility to use the funds for general operations, which have been severely affected by the pandemic.
"The U.S.-Japan Council is extremely grateful to Ford Foundation President Darren Walker and his organization for providing this generous funding and to USJC Board of Directors Chair Phyllis Campbell for initiating this effort," said USJC President and CEO Suzanne Basalla. "The Ford Foundation understands the importance of having significant, additional funds for operations so that we can provide the vital networking and programming in the U.S. and Japan that are at the heart of our mission."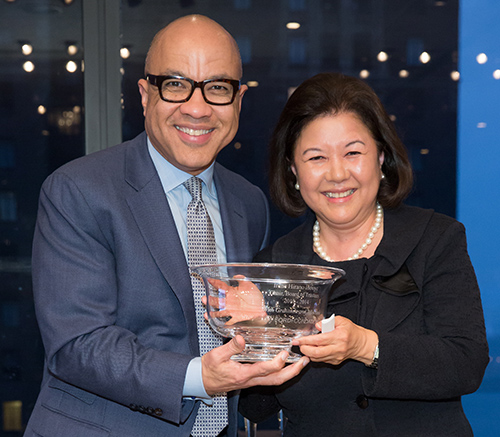 Ms. Basalla noted that Mr. Walker has been a longtime champion of USJC, working alongside founding USJC President Irene Hirano Inouye, when she chaired the Ford Foundation's Board of Trustees. During her tenure as board chair, Ms. Hirano Inouye guided a grant package in 2014 that – along with other philanthropic and government support – was central to rescuing the city of Detroit from bankruptcy.
Mr. Walker recalled that Ms. Hirano Inouye also had advocated for an approach to increase foundation support for general operations instead of specific programs at nonprofit organizations.
"Irene understood that philanthropy needed to evolve its old ways of funding and that nonprofits required more flexibility to be as nimble and effective as possible," he said. "With her vision and innovative spirit in mind, Ford is thrilled to contribute to the mission of the USJC."
"The Ford Foundation's investment in USJC is truly a statement of respect for Irene's vision and legacy," added Ms. Basalla. "Darren Walker's influence and leadership are critical for organizations like ours to meet the unprecedented challenges of the COVID era."
Mr. Walker was among the featured guests on a leadership panel during USJC's Bilateral Boardroom on September 16. The Bilateral Boardroom was the first in a series of major virtual events planned in lieu of the in-person USJC Annual Conference this year.