The U.S.-Japan Council thanks Prime Minister Shinzo Abe for his legacy of strengthened U.S.-Japan relations, and for his commitment to the Council and its mission. We were saddened to hear about Mr. Abe's health issues, which led to his resignation on August 28, and wish him the best as he steps down from his historic tenure.
Prime Minister Abe has encouraged and inspired USJC in many important ways during his tenure.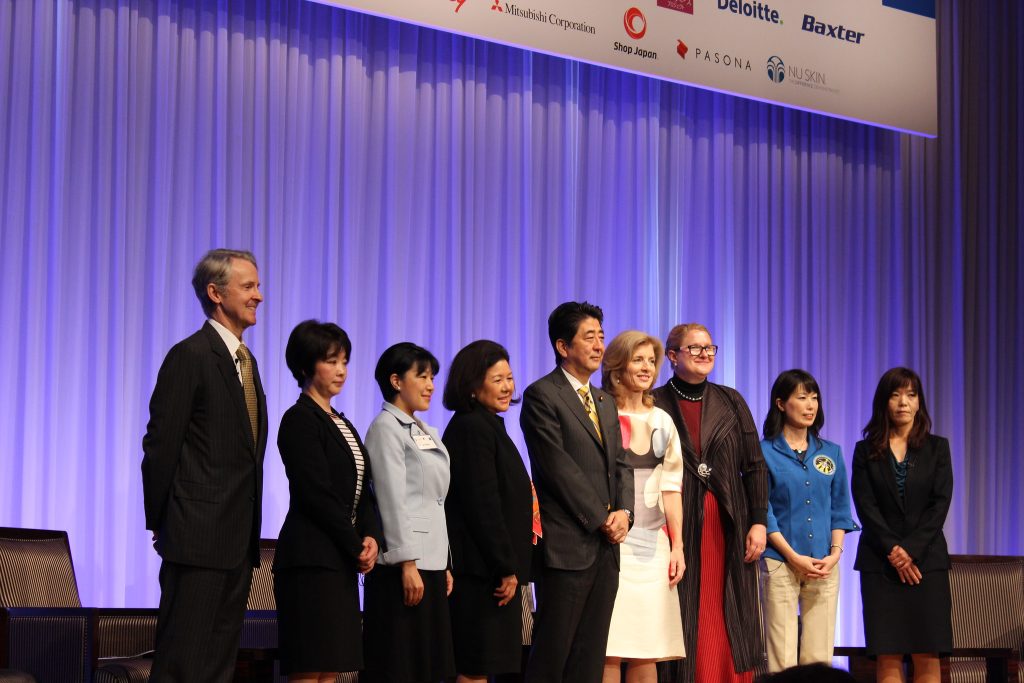 One of the first and enduring was his commitment to women's empowerment, even adopting the term "Womenomics" coined by our own Board of Councilors (Japan) Chair Kathy Matsui. When Prime Minister Abe joined the 2014 Women in Business Summit in Tokyo in 2014, co-chaired by USJC and the American Chamber of Commerce in Japan, his commitment amplified the Council's own work in this area.
His historic visit to the United States in April 2015 also had a lasting impact on the Council. USJC was proud to play a prominent role in the activities, meetings and site visits of Prime Minister Abe and First Lady Akie Abe as they traveled from Boston to Washington, DC, and on to the Bay Area and then Los Angeles, connecting with USJC leaders in every location.
In Washington, DC, among all the pomp and formality including a State Dinner and an historic address to Congress, USJC was delighted to have his strong endorsement — along with President Obama's — of people-to-people relations, and specifically on USJC's TOMODACHI Initiative. And importantly, his call for a "Bridge of Innovation between Silicon Valley and Japan" during a visit to Stanford University arranged in large part by USJC's Daniel Okimoto set the stage for our successful and impactful Silicon Valley Japan Platform. In Los Angeles, Prime Minister Abe laid a wreath at the Go for Broke Monument for Japanese American World War II veterans and visited the Japanese American National Museum.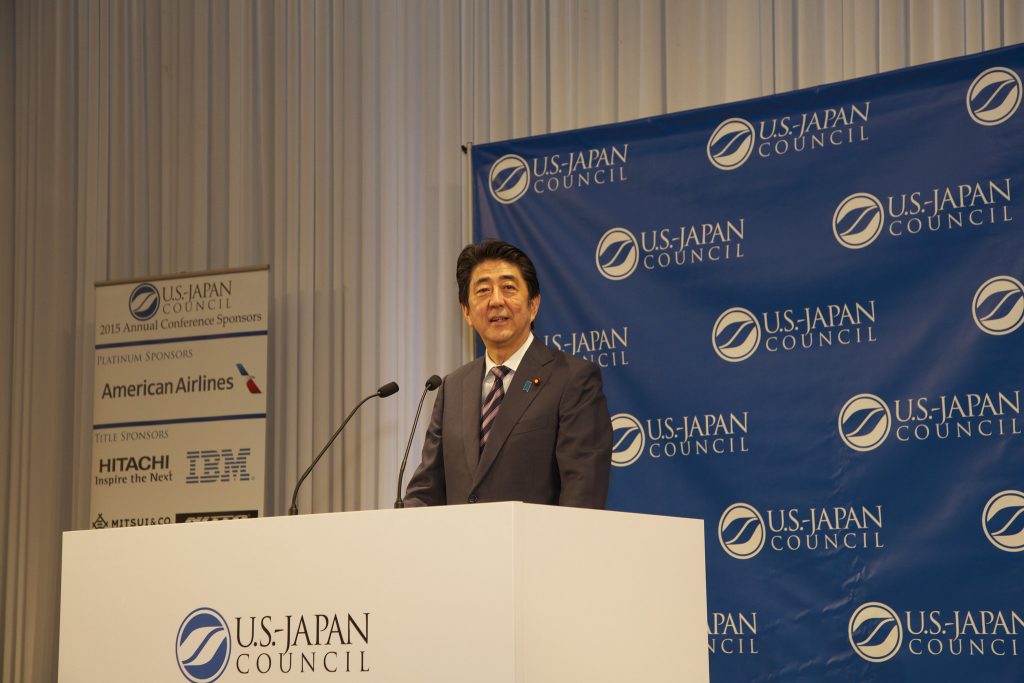 Six months later, Prime Minister Abe headlined USJC's first-ever Annual Conference held in Tokyo, strengthening his government's commitment to the TOMODACHI Initiative and commending the Council, saying, "Under its Japanese American leadership, the U.S.-Japan Council is promoting bilateral human exchange across all generations and fostering the leaders of the next generation."
The next time the Council held its Annual Conference in Tokyo (in 2018), Prime Minister Abe recorded a message of support, noting, "I am extremely proud that Japanese Americans today flourish in various fields, earning respect and trust within the United States. At the same time, the number of Nikkei with little contact with Japan is increasing. The number of Japanese unaware of the struggles that Nikkei experienced is also growing. In light of this situation, I believe that the U.S.-Japan Council's vigorous efforts to strengthen the relationship between Japan and Japanese Americans over the past decade are highly valuable. In particular its efforts to cultivate the next generation of Nikkei leaders and strengthen networks will create the foundation for amicable Japan-U.S. relations for the coming 50 or even 100 years."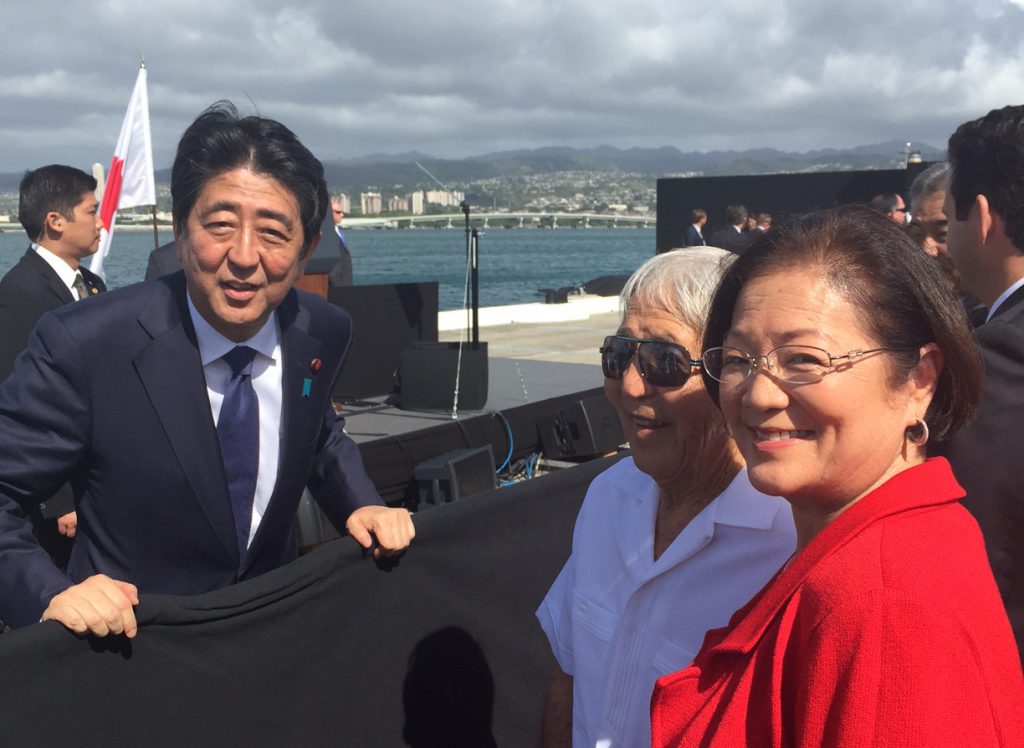 Prime Minister Abe showed his strong support not simply through words, but by generously making time to meet with Japanese American leaders out of his extremely busy schedule. He hosted almost every Japanese American Leadership Delegation during his tenure. He also arranged to meet Japanese American leaders in the States, including the very memorable visit to Hawaii in December 2016.
It is moving that just one day prior to announcing his resignation as Prime Minister in order to address his health concerns, Prime Minister Abe recorded a video message for USJC's upcoming Bilateral Boardroom. This video will be shown on September 17 in Japan, just one day after Shinzo Abe ends his historic administration.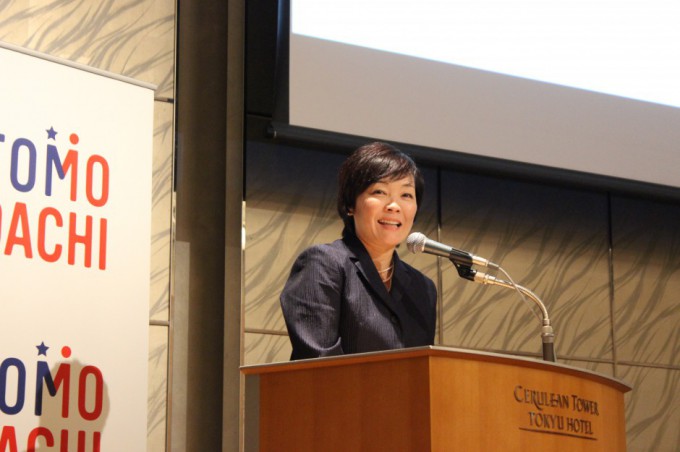 The U.S.-Japan Council also had the opportunity to work with Mrs. Abe on many occasions. In May 2015, Mrs. Abe offered inspirational words about leadership to 82 college women participating in the TOMODACHI MetLife Women's Leadership program. In August 2016, USJC co-hosted a Japan-U.S. Ocean Conservation Symposium, headlined by Mrs. Abe. USJC Founding President Irene Hirano Inouye and Mrs. Abe also worked together on women's empowerment issues, including when Irene joined the Abes at the 2016 World Assembly for Women (WAW!). In 2017, Mrs. Abe joined the TOMODACHI Initiative's commemoration of the 3.11 Great East Japan Earthquake, offering a toast and taking the time to meet with many of the TOMODACHI students.
It is with deep fondness and gratitude that the U.S.-Japan Council wishes Prime Minister Shinzo Abe and First Lady Akie Abe all the best.