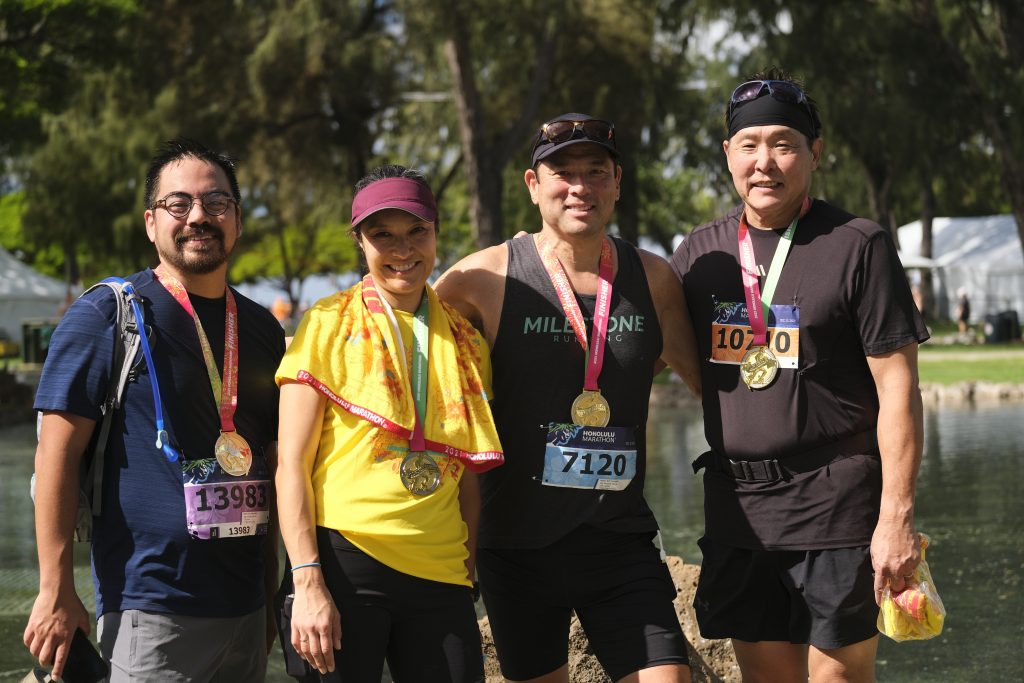 In December 2021, USJC Council Leaders and members of the JALD 2019 class gathered (again!), this time in Honolulu where four delegates ran the Honolulu Marathon. It was the first marathon for Dr. Kyle Nakamoto and Dr. Mariko Silver. Dr. Joy Goto ran the marathon virtually. It was Mr. Kurt Osaki's third time running Honolulu, and it was Dr. Britt Yamamoto's fourth marathon of 2021!
After a hearty pasta dinner the night before, the delegates set out at 5:00am to fireworks and ran 26.2 miles. Thankfully, Council Leader and fellow JALD '19 delegate Mr. Bryce Suzuki was there to snap some amazing photos during and after the race, and to drive those with cramping feet and legs back to the hotel.
In addition to running the marathon, the JALD participants' time in Honolulu gave them the opportunity to reconnect and enjoy the sunshine, as well as to do some work in town. They shared that they are looking forward to the possibility of an even larger JALD '19 marathon/10k/merrie mile contingent next year. A jump in the ocean and a beer never tastes so sweet as after a sweaty run!
Special thanks to Mr. Mark Nakagawa for helping to organize this JALD gathering, even though he couldn't join, as well as to the JALD '19 ohana for their virtual support during the training and race and sending virtual encouragements throughout the marathon.
Thank you to Mariko Silver and Bryce Suzuki for providing the above article and photos!