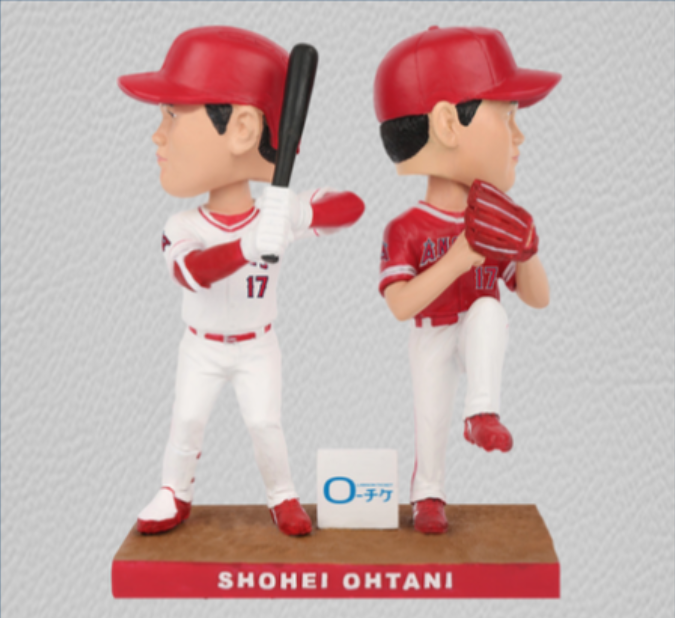 LOS ANGELES, CA – Japanese American leaders are hosting a Japanese Heritage event with the Los Angeles Angels on August 12th, offering special Shohei Ohtani bobbleheads to those who buy tickets. These leaders, who are members of the U.S.-Japan Council (USJC), aim to promote U.S.-Japan relations by celebrating the Japanese baseball star.
The Angels take on the Oakland Athletics at Angel Stadium that afternoon. The bobblehead, which is guaranteed to everyone who purchases tickets through the link below, has double figures of Ohtani pitching and hitting to reflect his skills as a two-way player.
"Japanese Heritage Day by the U.S.-Japan Council" is led by the efforts of Joshua Morey and a group of USJC members. Aside from being the President & CEO of The J. Morey Company, Inc., an insurance company that has a tradition of more than a century, Mr. Morey has long had a passion for baseball, and especially its "power . . . to bridge gaps between cultures," he said. He is the co-founder of Far East Baseball, an organization that coordinates cultural exchange between Japanese and American collegiate baseball players. "Baseball has been pivotal in shaping who I am as a Japanese American and has allowed me to continue building bridges between the United States and Japan," he said.
Mr. Morey is a 2016 alumnus of the TOMODACHI Emerging Leaders Program (ELP), a U.S.-Japan Council program that fosters a new generation of Japanese American leaders. In addition to promoting U.S.-Japan relations, Mr. Morey and fellow ELP alumni hope to raise awareness for Tohoku's recovery from the Great East Japan Earthquake. Part of the ticket sales will be given to a community organization from Ohtani's home region in Iwate prefecture.
ELP identifies, cultivates and empowers a new generation of Japanese American leaders. Emerging Leaders participate in leadership education, design and implement original USJC programming, and develop powerful, lifelong personal and professional friendships. A new cohort of leaders aged 24-35 is selected annually to attend the USJC Annual Conference, become USJC Associates, and join program alumni in bridging the future of the U.S.-Japan relationship. ELP is in its ninth year, and is currently seeking applicants for the 2018 program (deadline: Sunday, July 15).
ELP is also part of the TOMODACHI Initiative, a public-private partnership between the U.S.-Japan Council and the U.S. Embassy in Tokyo, with support from the Government of Japan. Born out of support for Japan's recovery from the Great East Japan Earthquake, TOMODACHI invests in the next generation of Japanese and American leaders through educational and cultural exchanges as well as leadership programs. TOMODACHI has supported a number of baseball-related programs over the years, including a baseball youth exchange between San Diego and Ofunato, Iwate prefecture, and reopening a baseball field in Ishinomaki, Miyagi prefecture, that was damaged by the earthquake.
Details of "Japanese Heritage Day by the U.S.-Japan Council"
WHEN: Sunday, August 12 at 1:07PM
WHERE: Angel Stadium (2000 E Gene Autry Way, Anaheim, CA 92806)
TICKET DETAILS: Each ticket ($30) guarantees a Shohei Ohtani Bobblehead. After purchasing tickets, please see your confirmation email for information on how to pick up your bobblehead at the game. Purchase tickets here. Tickets are available through Monday, July 30.
About the U.S.-Japan Council (USJC)
The U.S.-Japan Council is a Japanese American-led organization fully dedicated to strengthening ties between the United States and Japan in a global context. By promoting people-to-people relationships through its innovative programs in networking and leadership, the Council serves as a catalyst to inspire and engage Japanese and Americans of all generations. The Council was founded in 2008 and is headquartered in Washington, DC with staff in California, Hawaii and Tokyo. In 2012, the U.S.-Japan Council (Japan) was created to support the administration of the TOMODACHI Initiative, and in 2013, it became a Public Interest Corporation (Koeki Zaidan Hojin). The U.S.-Japan Council (Japan) maintains an office in Tokyo, Japan. http://www.usjapancouncil.org/
Media Inquiries:
Shiori Okazaki
Director of Communications
[email protected]
+1-202-223-6843