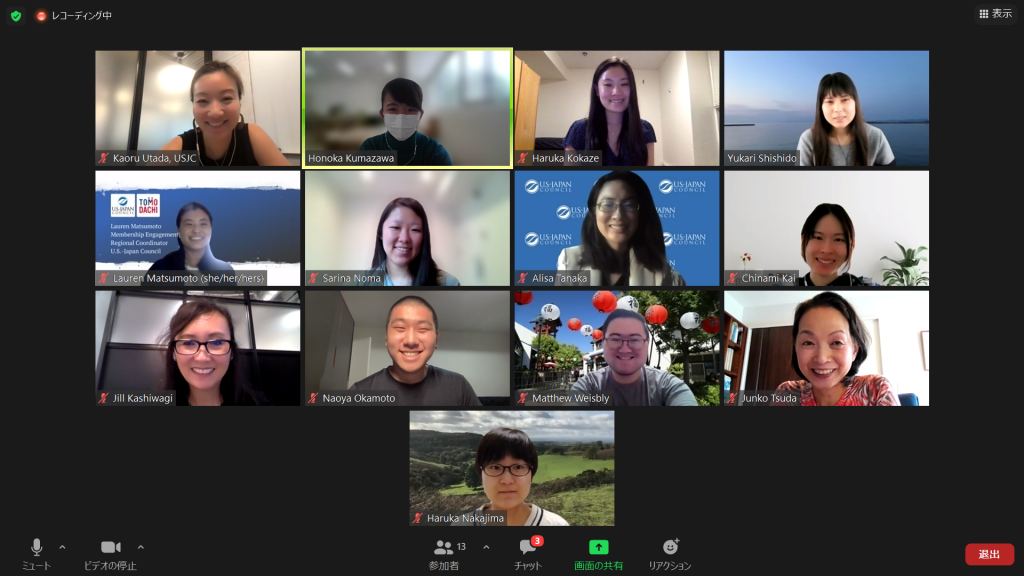 On May 16 (May 17 in Japan), USJC Member Engagement and Regional Coordinator Lauren Matsumoto shared her career journey with the TOMODACHI community as the guest speaker for the May 2022 TOMODACHI CareerTalks.
During her presentation, Ms. Mastumoto shared her Japanese American roots with the audience, walking them through a brief history of Japanese American incarceration in order for the audience to understand the direct connection between her interest in her Japanese American heritage and her career.
Finding the Nikkei Student Union (NSU) at the University of California, San Diego (UCSD) and being involved in UCSD Matsuri, a Japanese festival organized by UCSD, NSU and Japanese Student Association (JSA), allowed her to find a community of Japanese American peers and learn more about Japanese and Japanese American culture. Ms. Matsumoto went on to illustrate her growth through various leadership positions she had the opportunity to hold during her academic career from being appointed a Culture Chair to President for UCSD NSU. She went on to illustrate how her work with UCSD NSU led to her involvement in the Manzanar Committee and the Japanese American Citizens League.
"I was given a lot of opportunities to not only explore what I can do within the community, but [also] learn more about myself and my family history." she asserted.
Ms. Matsumoto took that leadership experience into her first post-academic position at Hive, a startup in San Francisco, where she learned how to communicate with people across sectors and be an advocate, not just for herself, but for those around her.
"Help advocate for them….reach out for them on their behalf," she advised the audience. "Say to your manager, 'I think it would be really great if someone could take on this task,' because people can easily feel overwhelmed."
Her desire to return to the Japanese American community led her to her current position at the U.S.-Japan Council as the Membership Engagement and Regional Coordinator, a position that allows her to utilize all of the skills she honed during her academic career.
All the skills you learned in college, she shared, "are just as valid…those lessons and experiences can apply to what you're doing today."