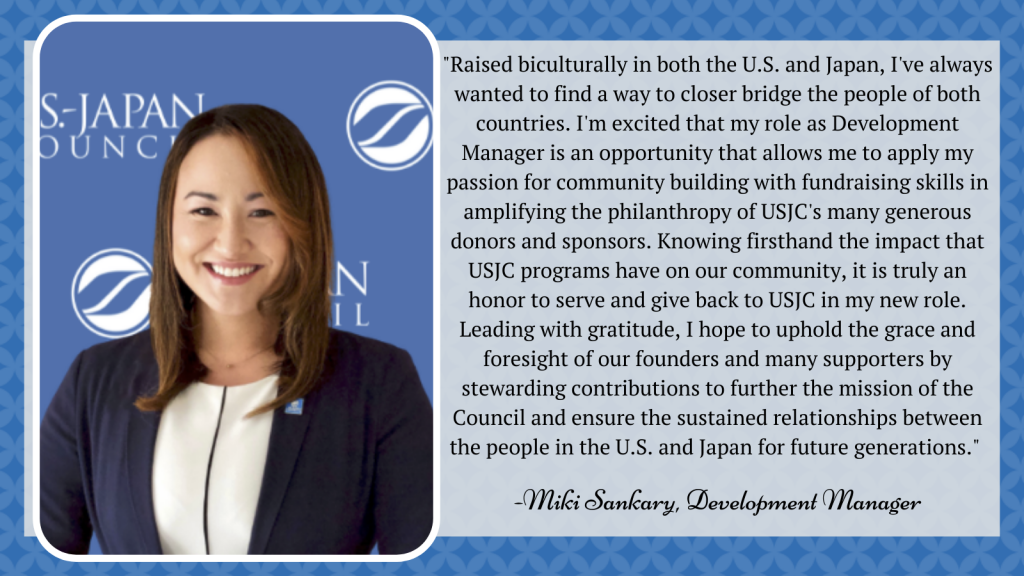 We are excited to welcome USJC's new Development Manager, Miki Sankary! 

Miki joins us from Bethlehem, Pennsylvania, where she works remotely. Her responsibilities include managing the donor relations program through identifying, cultivating and stewarding donors to support key programs and fundraising initiatives for the organization. She was first involved in the TOMODACHI Softbank Leadership Program at University of California, Berkeley in 2012 and was a member of the 2015 Emerging Leaders Program cohort.

Miki brings to USJC her experiences from previously working as an Associate Director of Development for innovative, entrepreneurial programs at Lehigh University. Prior to that, she was a project manager and a sustainability consultant certifying green buildings in Chicago and across the U.S. and Canada. She was recognized by the Chicago Scholars Foundation as one of the "35 Under 35" young professionals impacting the Chicagoland community. In Pennsylvania, she organized a group called the Lehigh Valley – JAJAJA to build a community of Japanese in America, Japanese Americans, and Japanese Aficionados in the region to continue to celebrate her bilingual and bicultural passions. She received her B.A. in Political Economy and Conservation Resources from the University of California, Berkeley.
About her new role, Miki says: "Raised biculturally in both the U.S. and Japan, I've always wanted to find a way to closer bridge the people of both countries. I'm excited that my role as Development Manager is an opportunity that allows me to apply my passion for community building with fundraising skills in amplifying the philanthropy of USJC's many generous donors and sponsors. Knowing firsthand the impact that USJC programs have on our community, it is truly an honor to serve and give back to USJC in my new role. Leading with gratitude, I hope to uphold the grace and foresight of our founders and many supporters by stewarding contributions to further the mission of the Council and ensure the sustained relationships between the people in the U.S. and Japan for future generations."