Many thanks to Council Leader NobukoSaito Cleary for providing this article!
I was honored to be a part of a sesquicentennial celebration in June that was a major example of strong U.S.-Japan relations. The American River Conservancy honored the 150th anniversary of the arrival of the first Japanese immigrants on U.S. soil.
On June 8, 1869, a group of Japanese colonists from Aizu-Wakamatsu, Japan, arrived in Gold Hill, California to start a tea and silk farm. They were samurai, farmers, craftsmen and their families, including a 17-year-old girl named Okei Ito. They brought from home thousands of mulberry trees (used for the cultivation of silk worms), tea plant seeds, fruit tree saplings, paper and oil plants, rice, bamboo and other crops to establish the Wakamatsu Tea and Silk Farm Colony.
Unfortunately, the enterprise was short-lived, as there was a serious drought, and the water became contaminated with iron sulfate. The fate of only a few Wakamatsu colonists is currently known. Some may have returned to Japan and others have descendants here. Okei-san rests in peace today at Wakamatsu Farm, and is recognized as the first Japanese woman and immigrant buried on American soil.
It was my honor to serve as the Director of the Wakamatsu Japanese Committee, working on many activities and events held over the course of three days. I was grateful for the help of Japanese Government officials, including Consul General Tomochika Uyama. This celebration welcomed many dignitaries and guests from Japan, including the Honorable Matsudaira Chikamori, the 15th Aizu Matsudaira; Mr. Tokugawa Iehiro, the heir to the 19th Tokugawa Shogun Family; the Honorable Oguma Shinji, a member of the House of Representatives in Japan; and the Honorable Kevin Kiley, California State Assemblyman.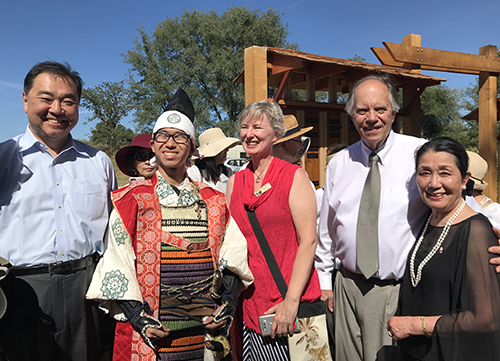 I appreciated the many Japanese Americans who participated or volunteered to make this ambitious project successful. Additionally, there were many supporters and sponsors, including the Japanese Chamber of Commerce of Northern California, the Japan Society of Northern California, Hitachi and Dr. Gary Cleary.
We had a full program that included speeches and performances, a presentation of memorial plaques, as well as introductions of a few descendants. We printed the program so that the large contingent from Aizu would have a commemorative remembrance. Special services at the grave of Okei-san involved ministers from the Northern California Koyasan Temple, Daikokuji and the Sacramento Buddhist Church Hongwanji Betsuin.
Today, this significant site is a Registered Historic Landmark (#815) and is listed on the National Register of Historic Places. It was an exciting undertaking to commemorate the first Japanese immigrants who bravely traveled to a foreign country. Their actions left a legacy that was acknowledged by all in attendance, recognizing that this was a significant start to what we now celebrate as a successful relationship between the United States and Japan.