Over 200 people attended the first virtual edition of the Regional Women In Leadership (RWL) series. While this online event had a decidedly different feel to prior in-person events held throughout the RWL's six-year history, the increased accessibility enabled more speakers and listeners to participate in the event.
The session was organized and moderated by Council Leader Masami Izumida Tyson, who serves as the Global Director of Foreign Direct Investment and Trade for the State of Tennessee, Department of Economic and Community Development. Ms. Tyson was joined by Kayoko Fukushima (Consul-General of Japan in Nashville), Christine Karbowiak (Vice Chair, Chief Administrative Officer, Chief Risk Officer, and Executive Vice President, Bridgestone Americas), Miyuki Mangrum (General Manager of Specialty Steel and Wire Division, Metal One America Inc.) and Lori Odom (Vice President of International Business, Nashville Area Chamber of Commerce).
The 90-minute event was divided into two 45-minute segments. After introductory remarks by USJC President & CEO Suzanne Basalla, Ms. Tyson and Ms. Fukushima delved into Ms. Fukushima's background as a career diplomat and the challenges she faced in Part I. "When it comes to continuing my work while rearing children, it was not easy," Ms. Fukushima stated. "When my first daughter was born in 1991, there was no parental leave, so I went back to work a few months after the delivery […] I had no relatives living nearby [to help take care of my children]. So I asked my mother to travel several hours from my hometown, Osaka. After she repeated her trips, my grandmother, who lived with my mother, became sick and my mother could no longer travel. I felt that it was the end of my career."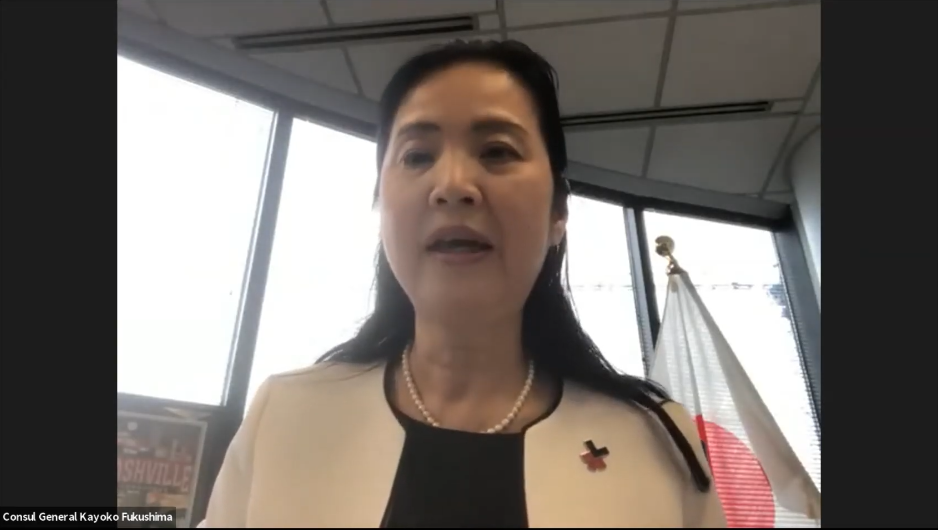 Ms. Fukushima's boss encouraged her to continue her career overseas, where balancing her familial commitments with her work life was more manageable. Ms. Fukushima was assigned to the Consulate General of Japan in New York in 1993, where she found nurseries and daycare centers more accessible. While Ms. Fukushima was able to continue her career by moving to the U.S., she acknowledged that many working women do not have these opportunities. "I think opportunities to pursue happiness, both at work and private life, balancing the two should be available to all women more easily and without depending on their luck," Ms. Fukushima said. "There have been some improvements in Japan […but]  having said this, still many [changes] need to be done and there is a need to accelerate the changes."

Ms. Fukushima also highlighted the various ways the Japanese government is furthering women's empowerment through collaborative initiatives with private sector firms, the United Nations, and other nations. "It is crucial to empower young women to believe in themselves, make challenges and develop their career. Let's encourage and support them to pursue their career, balancing it with happiness in their private life."
In Part 2, Ms. Tyson welcomed Ms. Karbowiak, Ms. Mangrum, and Ms. Odom to a roundtable discussion about gender equality and women's empowerment. The four women engaged in a lively conversation about gender stereotypes, differences in job opportunities based on gender, variances in women's empowerment initiatives between the U.S. and Japan, and future initiatives that can be undertaken to further women's empowerment and promote gender equality. "I think there's been progress, but I think we still have a really long way to go" Ms. Karbowiak said. "I think that we have to recognize that we've had a long, long time that we need to make up for [gender equality.]"

The Regional Women in Leadership series is a program generously supported by the Embassy of Japan. Click here to watch the webinar online.