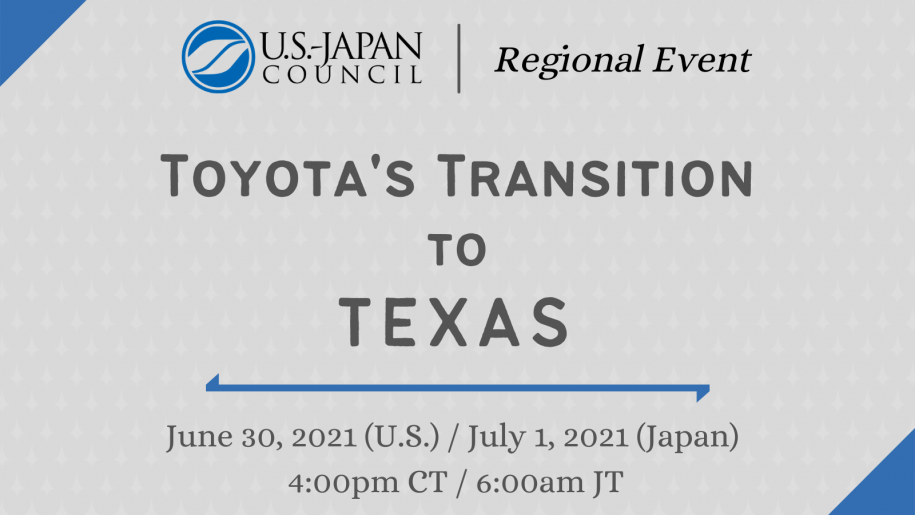 On June 30, the USJC Texas Region hosted a virtual event on Toyota North America, Inc.'s transition to Plano, Texas from Torrance, California. Vice President & Deputy General Counsel and Council Leader Christopher Yang shared with the audience highlights of the automaker's move to Texas. The event was hosted and moderated by USJC members Kei Ashizawa (ELP '11) and Ginger Vaughn (ELP '12). 

In 2014 the company announced its move to Texas from California and the physical transition commenced in 2017 when the company's sales, engineering and finance operations consolidated Toyota Motor North America, Toyota Financial Services, Toyota Motor Engineering and Manufacturing, and Toyota Motor Sales into one campus in Plano, Texas. Nearly 70% of Toyota's employees opted to make the move with their employer, bringing 4,000 jobs from California, Kentucky and New York. The new campus in Plano occupies 2.1 million square feet of office space on 100 acres of land, and has additional amenities, including on-site dining, a fitness center, conference center, pharmacy, museum and healthcare clinic.

Toyota's priority of supporting various nonprofits and civic affairs is demonstrated through the company's Toyota Asian American Society in Alliance (TAASiA). Through TAASiA, the company celebrates and advances the Asian and Pacific Islander community and empowers, develops and mobilizes team members. In light of recent social injustices against members of the AAPI community, Toyota donated $1 million to 11 national and local AAPI organizations. Funds promote awareness, provide general community support and develop AAPI leaders. TAASiA recently hosted panel discussions with AAPI activist Amanda Nguyen, Senator Mazie Hirono (Honorary Member of the USJC Board of Councilors), Representative Grace Meng and leaders of the LGBTQ community.

The event also included Q&A with Mr. Yang and ended with breakout rooms for networking.