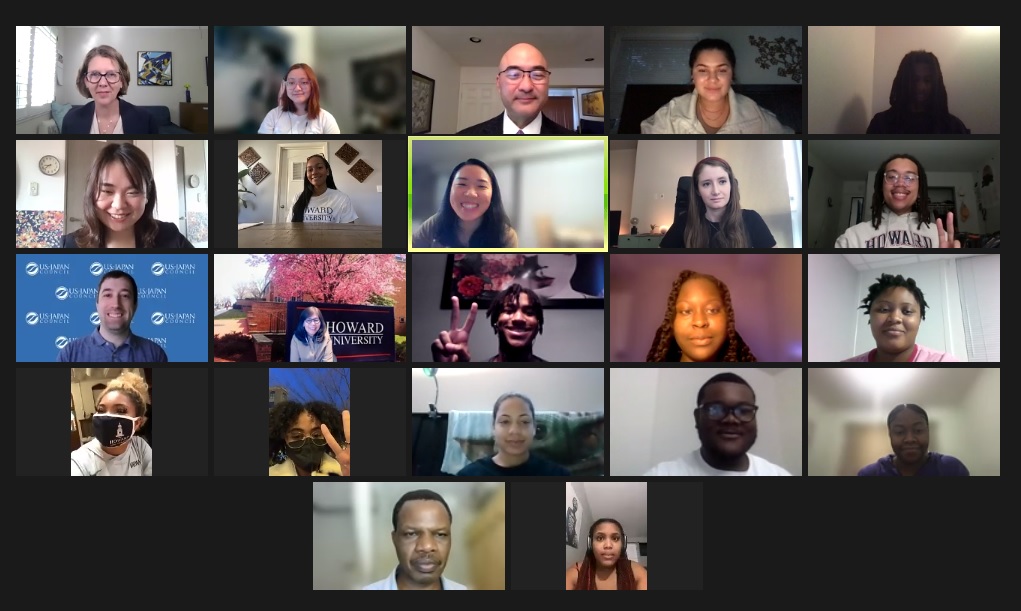 On March 8, a private virtual event for TOMODACHI KAKEHASHI Inouye Scholars Program participants from Howard University. The event was organized by USJC and Japan International Cooperation Center (JICE), the implementer of the program.  The TOMODACHI KAKEHASHI Inouye Scholars Program is a youth exchange that provides American and Japanese university students an opportunity to learn about each other's countries and cultures. Initiated in 2014, one of the goals of the program is to honor the life and legacy of Senator Daniel K. Inouye and offer the participants an opportunity to learn about his contribution to his country, heritage, and to the U.S.-Japan relationship.
Participants from Howard University gathered for a special opportunity to engage with Member of the USJC Board of Councilors Ken Inouye, who is the son of Senator Daniel K. Inouye, and alumnae Samsara Counts and Honoka Nishio. The event kicked off with special remarks from Kohei Akiyama, Director at North American Affairs Bureau at Ministry of Foreign Affairs of Japan, and Dr. Leonard Muaka, World Languages & Cultures Department Chair at Howard University. Both Mr. Akiyama and Dr. Leonard emphasized the importance of people-to-people exchanges across different cultures, and importance cultural and language exposure in shaping future leaders.
In a dialogue led by USJC President and CEO Suzanne Basalla, Mr. Inouye shared stories of his father, including the Senator's motivation for pursuing politics and the highlights of his career, from Hawaii to the Capitol. Upon hearing Senator's story, program participant Terry Jones Jr. asked Mr. Inouye for ways in which he and his program participants can help continue the Senator's legacy. In his response, Mr. Inouye shared a message that his father believed deeply in: civic engagement. "[My father] saw civic engagement as a vital importance… No matter what you do in this world, you need to participate and be an active participant."
The participants also heard from alumnae, Samsara Counts and Honoka Nishio, who participated in the 2017-18 iteration of the program as students from George Washington University and Sophia University, respectively. In recounting their experiences, Ms. Counts and Ms. Nishio shared the lasting impact that the TOMODACHI program has made on them, leading to their continued involvement in TOMODACHI alumni activities as well as other opportunities presented by the USJC.