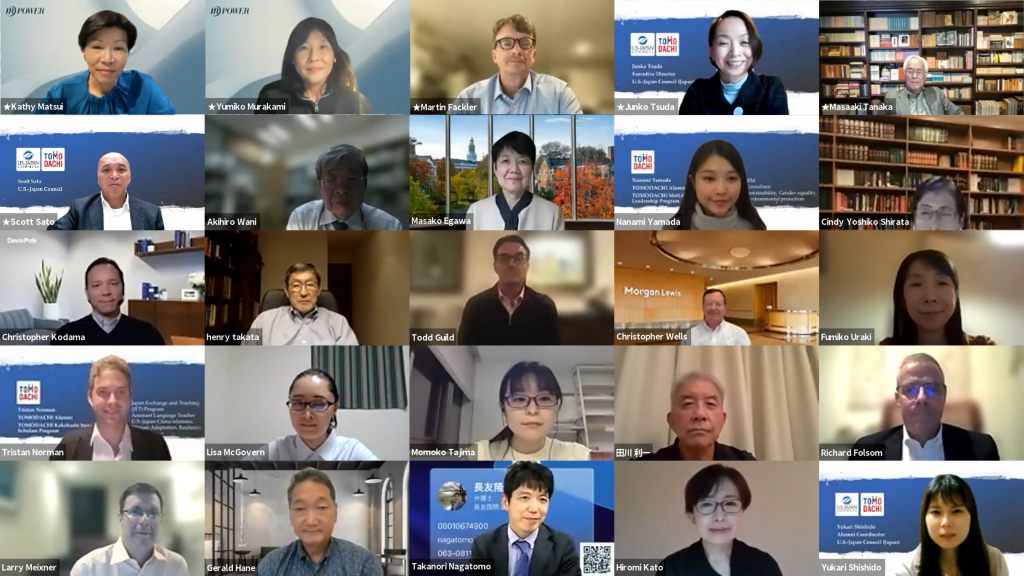 On October 26, 2021, the 25th U.S.-Japan Council Business Advisory Board (BAB) Meeting was held online. The discussion featured a fireside chat with Ms. Kathy M. Matsui and Ms. Yumiko Murakami, General Partners at MPower Partners. They were joined by Mr. Martin Fackler, adjunct fellow of the Institute of Contemporary Asian Studies of Temple University, who served as a moderator. Titled "Bringing up Japanese Ventures to Global via ESG Investing: New Endeavors of MPower Partners," the dialogue attracted over 40 industry leaders from diverse fields, including four TOMODACHI Initiative alumni.
The event began with opening remarks delivered by Member of the U.S.-Japan Council (USJC) Board of Directors Scott Sato. Mr. Masaaki Tanaka, Vice Chair of the Board of Councilors of the U.S.-Japan Council and Chairman of the Business Advisory Board, delivered welcome remarks. Junko Tsuda, Executive Director of USJC (Japan) closed the beginning of the session by highlighting some past and future events.
At the beginning of the fireside chat, Ms. Matsui and Ms. Murakami shared the story behind the launch of MPower Partners, the first ESG-focused global venture capital fund in Japan, which leveraged their extensive financial and global backgrounds. They introduced the audience to the idea of investors as change agents in the Japanese economy, which has one of the lowest growth rates among OECD countries over the last 30 years. They target middle- to later-stage venture companies in Japan, as they believe that there is not enough risk capital to support passionate and innovative entrepreneurs.
They reported that they engage with the companies that make up their portfolio closely. As investors, they provide not only the capital, but also hands-on support as startups prepare to go public. Drawing on their experience working with large institutional investors, they assist organizations in a variety of ways including identifying areas of focus that can be different in every enterprise, introducing companies to environmental issues and diversifying the organization's leadership structure. Ms. Matsui discussed the reasons behind the rising interest in ESG investment. Ms. Murakami concluded the dialogue by expressing their desire to see many other investors who employ non-financial risk metrics and more female venture capitalists following in their footsteps.
During the Q&A session, one of the TOMODACHI alumni in the audience asked about the importance of mindset as a young career professional. Ms. Murakami advised her and other young leaders to refrain from putting themselves into small boxes. She also advised the audience to and to try to accommodate for the unpredictability of life by refraining from trying not to time everything perfectly. Ms. Matsui encouraged them to find and seek advice from mentors and advocates in order to make difficult decisions in their personal and professional lives.
The meeting concluded with a networking session in which the speakers and the audience freely exchanged their views on the subject.