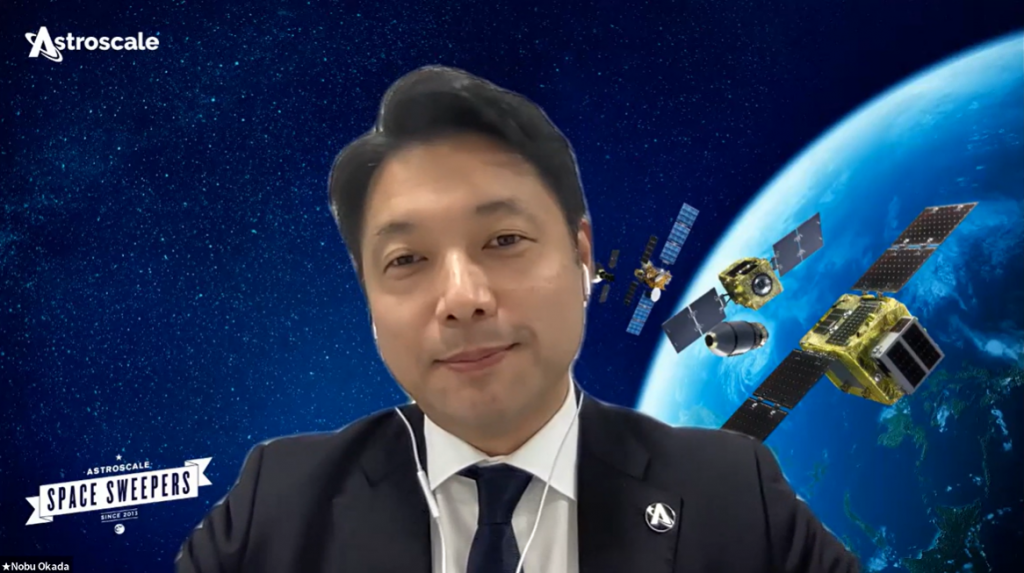 On February 22, 2022, the 26th U.S.-Japan Council (USJC) Business Advisory Board (BAB) Meeting was held online. This meeting marked the sixth time the meeting has been held virtually since the COVID-19 pandemic began. USJC hosted keynote speaker Mr. Nobu Okada, Founder & CEO of Astroscale Holdings Inc., a venture company in the space debris removal business. His presentation, titled "Space Sweepers: Building a Space Debris Removal Business for a Sustainable Tomorrow," attracted almost 50 audiences, including business leaders and four TOMODACHI alumni.
The event began with opening remarks by the USJC Board of Directors Scott Sato. Mr. Masaaki Tanaka, Vice Chair of the Board of Councilors of the U.S.-Japan Council and Chairman of the Business Advisory Board, delivered welcome remarks. Following that, Royanne Doi, Chairperson of the U.S.-Japan Council (Japan), highlighted past events and announced the next BAB.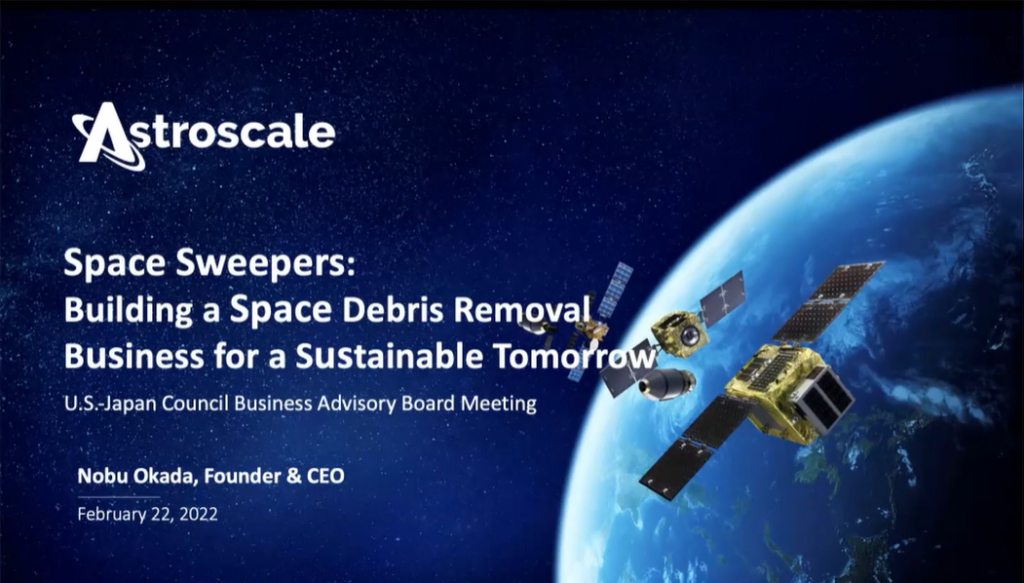 Mr. Okada opened the presentation by sharing why he founded Astroscale in 2013. As a teenager, he was inspired by Mamoru Mohri, Japan's first astronaut, at NASA's Marshall Space Flight Center in the United States. Mr. Okada started the company to address the need to keep space and the surrounding environment sustainable. He shared that he believes that keeping space and the surrounding environment as sustainable as possible was not only a business opportunity, but also an environmental necessity.
Mr. Okada pointed out that modern society is dependent on satellites for a variety of everyday needs including traffic control and GPS functions. More and more of these satellites, many of which are recyclable, repairable and removable will be launched in the coming years. They are more likely to be hit and damaged by debris.
Mr. Okada concluded the presentation by sharing Astroscale's current impact on government policy and international organizations before emphasizing the major role human beings have played in the creation of this environmental issue and imploring the audience to address it for the sake of the next generation.
Following that, the audience enjoyed interacting with others through a Q&A and breakout networking sessions.